13 Keys To Peak Performance
Use these 13 keys to unlock your full potential
By MIKE MOORE
I have spent most of my life studying, teaching, training, observing, and learning from great coaches and peak performers – including my father who was a very successful high school Coach and an even better father. He started teaching me about coaching and peak performance at a very early age. We all grow up thinking our childhood is normal until we find out how unique our experience might have been. Tiger Woods' son walking up the runway after the Masters Golf Tournament comes to mind; to him that is now normal. My normal was all about coaching, being a peak performer, and helping people reach their peak performance.
I have learned from my father and all the coaches he worked with and competed against, and the coaches whom I was fortunate to hear at coaching clinics. We discussed how to apply what we had learned from sports to business and life.
After all the years of study and application I have narrowed down these 13 keys. I am sharing these keys so you can realize that the things peak performers do are more about their attitude and effort than their skills.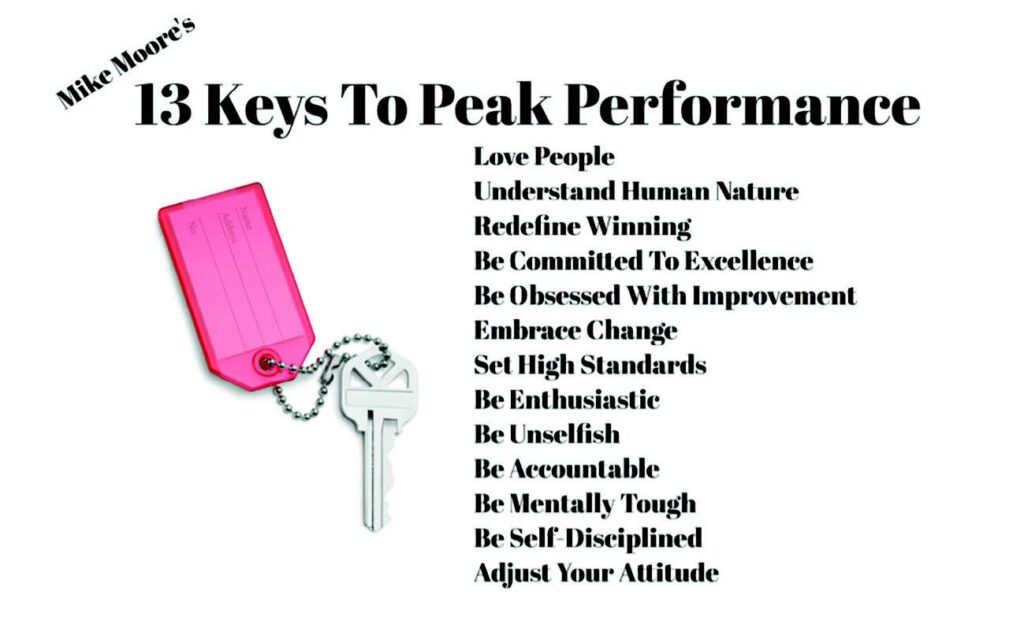 These 13 keys are traits, attitudes, and mindsets we can all develop. They do not require any special skill, but they can transform us into extraordinary people who are at our best when our best is needed. They are what a peak performer is, more than what they do. They define why deciding who you want to be is more important than deciding what you want to do. They are the core of the most important list you can make: Your 'To Be List'!
We have all been asked what we want to be when we grow up, and we usually answer with what we want to do. If we can stay focused on who we want to be, then what we do will improve, and the quality of our life will rise to new levels of success.
These 13 keys will help you stay focused on the things that make you a better leader, follower, friend, spouse, and, ultimately, a better person. The better type of person we are, the more what we do is affected in positive ways. In life and especially work, we are all just tools! The quality of the tool we bring to everything we do is what affects our results. If you want things in your life to improve, then improve who you are. These 13 keys will do just that.
These 13 keys always work; they have always helped me reach my peak performance, and helped me bounce back when I fell short. They have also helped me coach others and help them reach their peak or set new standards of excellence in their lives and careers or rebound after falling short.
These 13 keys don't require talent; in fact, inherent in them are all the qualities needed to become an exceptionally talented individual and extraordinary teammate. These traits will help you be ready to play each day, and make no mistake, in the great game of life, every day is game day.
My message to everyone I have coached and every audience I speak to is simple…
There is not one thing peak performers do regularly that you cannot do. None of these keys requires you to have anything you weren't born with the ability to develop. The only thing holding you back from becoming a peak performer is you.
If you want to transform your life, reach new heights, and become a peak performer, stop waiting for your circumstances to change, complaining, or making excuses, and start being these 13 things today!
Mike Moore is a motivational speaker, leadership and peak performance coach. He combines his expertise in retailing, interior design, vendor and new home sales to address all aspects of the home buying experience. He may be reached at makingcustomers.com.