2018's Evolving Home Market in Terms of Current Home Prices
The growth of price appreciation is moderating, which is to be expected
By ALI WOLF
The growth of price appreciation is moderating, which is to be expected. Mortgage rates are just below 5.0 percent, year-to-date existing home price appreciation is up between 6 percent and 15 percent YOY for the top housing markets, and national affordability is hitting a tipping point. Meyers Research's Director of Economic Research, Ali Wolf, provides three considerations about today's pricing.
Prices Stabilizing Should Be Good For Future Demand
Meyers Research wrote last month about a price ceiling, which holds true today. If a household could afford a $460,000 home in Riverside, CA at a 4.0 percent rate, all else equal, the home price would need to be $420,000 to keep the same monthly payment at 5.0 percent. The math shows that a 100 basis point increase in rates translates to roughly 10 percent in home price nationally. If we see homes on the market adjust their asking price or standing inventory with hefty incentives, this could offset some of the pressure from rising rates and help reignite demand*.
Price Appreciation Can Slow But Still Grow
The industry is quick to reflect on the housing boom and bust of the 2000s when housing data starts to falter. Looking beyond this period, there are other examples of changing pricing dynamics.
• The 1990s appreciation: After the savings and loan recession of 1990 and 1991, the housing market started to take off again. Price appreciation was generally steady from 1992 onward, hitting a high in 1996 where growth averaged 8 percent across the top housing markets. The following two years averaged only 5 percent appreciation. The slowing trend then reversed course starting in 1999 and, for most markets, growth continued all the way through the housing boom in the 2000s.
• Four years ago: Existing home listings with price cuts reached their highest since 2014. This period was similar to today in that rates jumped 100 basis points leading up to the price cuts. In 2013, home price appreciation averaged 14 percent across the top markets, and again, was followed by a more reasonable pace of 5 percent in 2014. It is worth noting that new home sales grew 2 percent in 2014 YOY even as rates moved from sub-3.5 percent to around 4.5 percent.
In the past, the media portrayed the changing dynamics in a less sensationalized manner.
Realtor.com's article dated December 2014 stated, "After two years of abnormally high levels of home price appreciation in 2012 and 2013, price increases moderated throughout 2014. We are now experiencing increases in home prices consistent with long-term historical performance."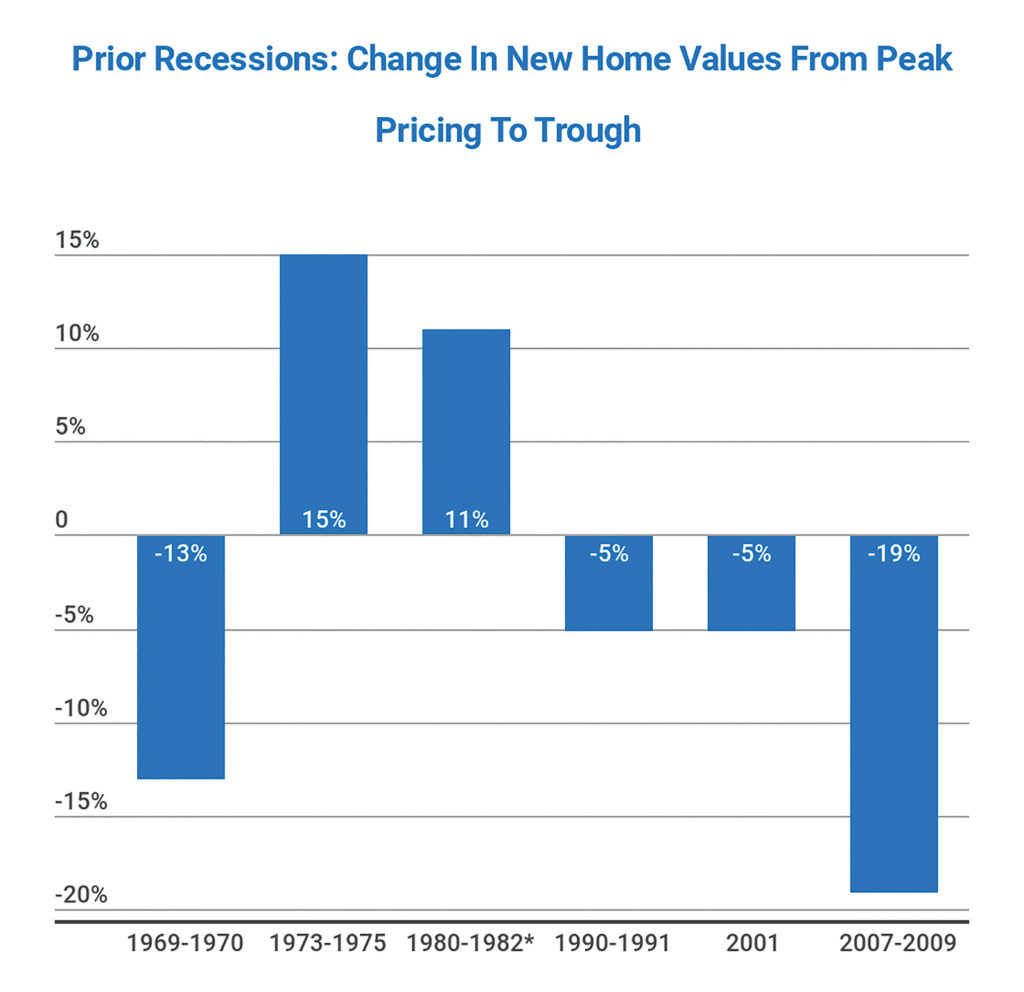 Changes in home prices vary recession-to-recession.
As we plan for the next downturn (which we don't believe is imminent), remember that prices do not historically plummet as they did during the Great Recession. Our analysis comparing values at the peak of a given cycle and the economic trough over the past 50 years show prices can fall double-digits, slip single-digits, or even grow double-digits during a recession (see the graph below).
While there are some reasons to be concerned about housing fundamentals, we also want to make sure the statistics are absorbed in context.
*We recognize this comes at the expense of margins.
Ali Wolf is the Director of Economic Research at Meyers Research. She may be reached at awolf@meyersresearch.com