2nd Quarter Housing Economy
The likelihood of a Federal Reserve rate hike seems off the table for the remainder of 2016 given heightened global risks and increased market volatility
By Meyers research
The startling decision for Britain to leave the European Union sent markets tumbling across Europe, Asia, and even the US. The responding flight to safety and uncertainty about the global economy drove investors to bonds and gold. As a result of this investment strategy, both US Treasury rates and mortgage rates were pushed down almost instantly, and this decline could continue in the coming months. In addition, the likelihood of a Federal Reserve rate hike seems off the table for the remainder of 2016 given heightened global risks and increased market volatility (some are even suggesting a rate cut).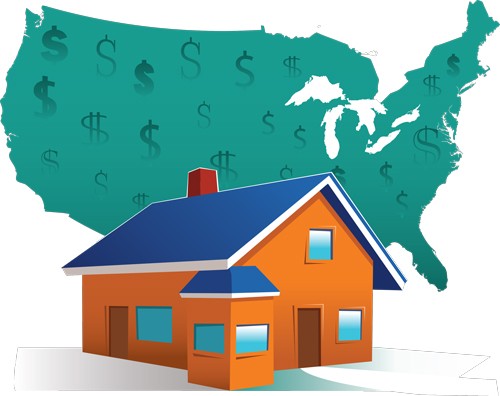 The likely boon of even lower mortgage rates for the US housing market comes at a time that other economic data has been surprising to the positive. For example, consumer spending is up as retail sales posted solid results for May, personal income is on the rise, and  housing supply grew (both in permits and months of new home inventory), albeit still at historically low levels. Risks in the economy haven't dissipated, but there are bright spots. As Janet Yellen, the Federal Reserve Chairwomen, would say, "it's important not to overreact to one or two reports" when the overall picture still looks favorable.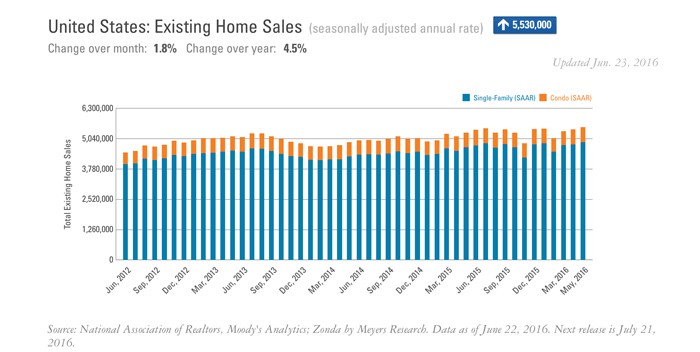 Existing Home Sales Hit Highest Pace in 9+ Years
The latest data shows steady housing demand amid the spring selling season. Existing home sales in May increased 1.8 percent MOM and 4.5 percent YOY to 5.53 million. Existing sales make up roughly 90 percent of the market share so they are a good gauge of industry health. Low mortgage rates (the 30-year fixed clocked 3.56 percent in the most recent Freddie Mac survey), an advantageous price spread compared to new homes (existing homes costs 20 percent less), rising rents, and a healthy labor market all support current and future growth in the segment.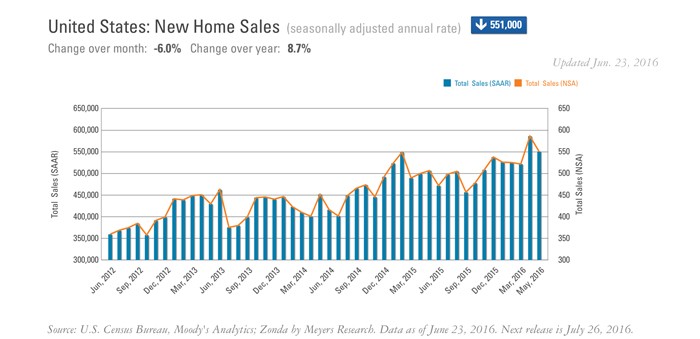 Another Solid Report of New Home Sales
Don't let the MOM fluctuation fool you. Headlines across the newswire suggest there is reason to be concerned about the pace of new home sales. After all, they are down 6 percent MOM. However, don't forget that last month new home sales hit a post-recession high and the MOM margin of error is +/- 13 percent. Looking at the year-over-year change, new home sales grew 9 percent compared to May 2015. In addition, the YTD sales advanced 6.4 percent compared to the same period last year. May's read was the second highest since the recession ended 7 years ago.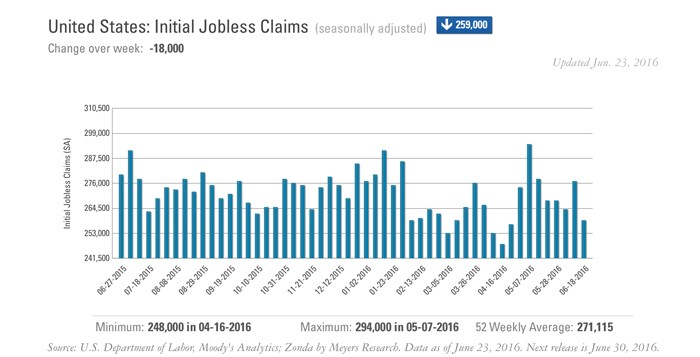 Unemployment Jobless Claims Are At the Lowest Level since April
Claims have come in under 300,000 for the longest run since the early 1970s. Applications for unemployment benefits declined by 18,000 week-over-week to 259,000; this was the lowest level since April and signals some resilience in the labor market after the hiring slowdown in May. Claims are important to watch since they tend to level off late in expansions before rising sharply in a recession. So far, they remain at historically low levels and represent a healthy labor market.
Meyers Research is a premier consulting practice and the housing industry's leading provider of rich data for residential real estate development and new home construction. For more information visit www.meyersreasearchllc.com.