3 Pandemic Design Principles to Bring the Outside "In"
Now and post-pandemic, maximizing every square inch of the outside and residential exteriors is critical to project success
By Josh Kassing
After a year of on-and-off, pandemic-imposed quarantines, outdoor residential spaces have gone from a "want" to a "need." Now they're a basic requisite for renters and buyers, so builders, developers and designers must take heed—especially since COVID-19 will be with us for many more months, if not years. Also, subsequent contagions may force further confinements, making outside indefinitely "in."
The upshot? No longer does "it's what's on the inside that counts" hold sway with renters and buyers, as we've learned from our work with builders and developers designing amenities, community spaces and model home interiors. Optimized exteriors count as much as, or in some instances more than, interiors today.
The solution is clear: Interior designers must expand their perspective to embrace outside spaces—even in multifamily projects. Buyers and renters want living spaces that not only are smart, multipurpose, striking and comfortable but also offer them deep, lasting and strong connections to the world beyond their walls.
With that goal in mind, our commercial design team at Mary Cook Associates has forsaken curb appeal for a more sweeping and discerning look at a property and its assets—one that covers every square inch of a dwelling's exterior façade, outside features and grounds.
I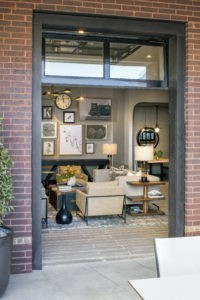 n this new world order for residential real estate, it's critical to bring the outside in, and vice versa. That means bigger and broader windows and apertures—and maximized, cunningly groomed grounds that offer residents tranquility, yet also use the land in myriad ways. Equally critical is the need to respect changing environmental conditions by making residences sustainable and resilient, qualities that are important components of health, wellness and safety.
Bottom line, people just want to be outside—even in bad weather. Throughout the winter in my home town, Chicago, I've witnessed people flocking to makeshift curbside cafes in below zero weather, warmed by fire pits and heat lamps. With their determination in mind, here are three strategies we rely on now to make the most of everything outside a project's walls.
Bring the Outside In: Cliché as it sounds, this principle represents a new standard in residential design. People want to live in residences that offer them the advantages of nature, which explains why outdoor living spaces were the most wanted residential feature in the American Institute of Architects' 2020 Home Design Trends Survey. Our work confirms the findings; we are seeing the proliferation of outdoor spaces in every development or model home we design today. Both single-family homes and multifamily projects must have a significant orientation to the outdoors, regardless of climate. Harsher conditions necessitate more infrastructure, such as semi-enclosed spaces and heated concrete. But overall, rather than just a backyard, patio or deck, these are spaces that blur the lines between inside and out; play to homeowners' or residents' wants and needs; and are optimized for year-round use. They can be as simple as window walls that let a space become open-air or as elaborate as complete outdoor rooms, so fully furnished that they can function as living and dining areas or even workspaces.
Add More Windows: Windows and sliding glass doors are taking on new magnitude, literally and figuratively. New technologies make these windows more attractive, expansive, easy to maneuver and sustainable than ever before. Advances allow systems to offer mix-and-match options that can be configured to create bespoke window walls that open in specific ways and embrace a range of desirable properties at the same time. These include the ability to filter harmful rays, reduce noise, withstand storms and offer greater security. These systems allow us to pick and choose features to create options that best serve residents' and homeowners' needs. Kitchens, family rooms, dining areas and master suites can open completely to the outdoors for eating, relaxing, working, playing and entertaining. But as we open residences to the outdoors, we must also add seamless functionality with stronger Wi-Fi, strategically sited outlets, versatile heating systems and more.
Zone Outdoor Living Spaces for Maximum Usage: Buyers and renters want properties that will accommodate their lifestyles. This is even more important in dense urban areas, where outdoor spaces must be strategically optimized for frequent use. If the outdoor area surrounding an apartment or home is not optimized, it's useless. Decks, balconies and yards must all have innovative and versatile features that enhance them. The more attributes that make the space an easy-to-use outdoor living area, the better. Just as we lay out rooms in model homes to appeal to specific cohorts, outdoor spaces must be designed and zoned to offer residents and homeowners maximum value and enhance the way they live. Making places that people gravitate to time and again is equal parts art and science. For instance, we find many indoor/outdoor spaces are designed with little regard for the elements; don't have easily accessible power sources; and are under-lit. By participating in projects from the start, we are able to mitigate these design issues. We've found the most important features are covered shelters that allow outdoor spaces to be used much or all of the year yet retain all the comforts and conveniences of an indoor room.
Josh Kassing is the vice president of Design Development at Mary Cook Associates.