5 Design Trends That Add Value in Buildings
These are uncertain times for builders and developers. And for good reason: land and construction costs are rising and credit lines are declining, according to the most recent Mortgage Credit Availability Index from the Mortgage Bankers Association. Also, many remember all too well the 2008 economic downfall and its aftermath. Values have returned, but there's concern of a repeat.
A risk-adverse solution
To limit risk, many are choosing to focus on property types they see as relatively safe investments—and apartments are still pulling high approval ratings. They ranked second (after industrial) in the Property Type Outlook the Urban Land Institute (ULI) compiled in its 2017 Emerging Trends in Real Estate report.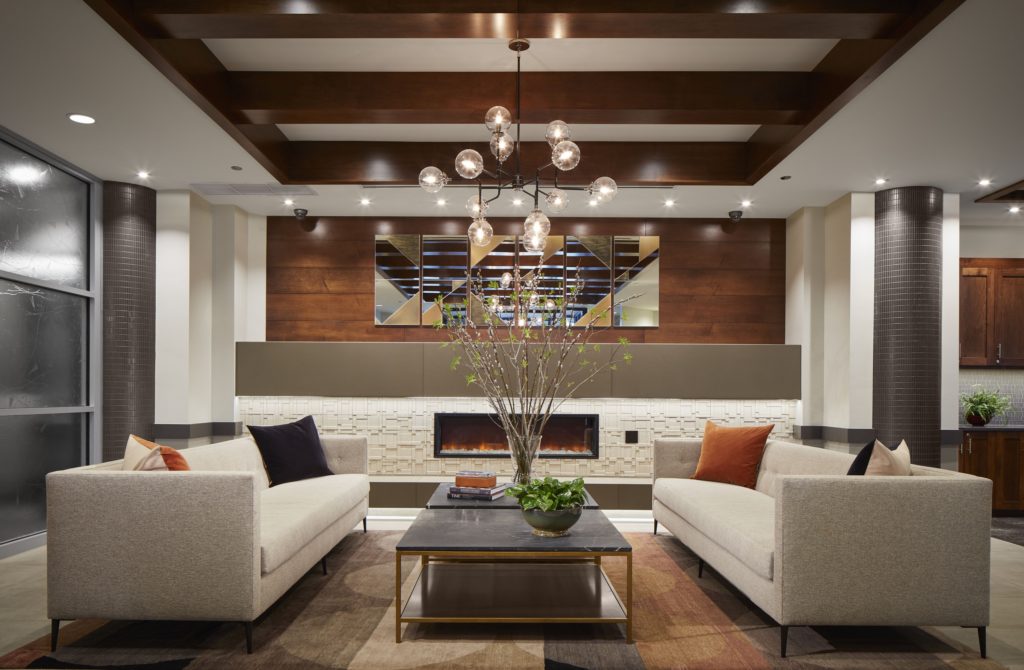 Surging demand for rentals
Rental apartments—both existing and new— are a win-win for builders and developers at the moment thanks to a number of market forces, noted the ULI. These include the sharing economy's de-emphasis on ownership; consumer wariness about for-sale housing's investment potential; credit issues compounded by tighter mortgage requirements; Millennials' lack of down payment funds; aging Baby Boomer's desire to rent instead of own; and a multigenerational mindset to remain footloose and fancy-free, which makes the flexibility of a lease very appealing. But apartments are also expensive to construct now, especially in the kind of high-density neighborhoods that have the high walkability scores Millennials and Boomers covet. These areas are already rife with high-quality properties, and are the target of a spate of post-recession luxury building. That means they may have new properties that recently delivered, built at lower costs than can be replicated right now.
Value Add offers the best value now
This makes the marketplace ripe for value add real estate projects, which allow builders and developers to maximize the potential of aging or underperforming properties in prime locations.
A value add strategy involves buying a building, improving it, and operating it profitably as a core property or selling it for gain, explains ActiveRain. Properties are considered appropriate for value add when they require physical improvements, have operational problems, suffer from capital constraints or show a combination of these features.
For commercial interior designers, value add projects challenge us to develop new and exciting ways to update existing spaces and carve out new ones to accommodate the wants and needs of today's renters. This cohort is diverse, sophisticated, and discriminating, and when we design model home interiors, community spaces and amenities for value add projects we must be cognizant of our targets' demographics, marketplace trends, sustainability, efficiency, and economy.
One upside is that rental apartments have broad appeal to many generations, from Millennials starting out, to Baby Boomers downsizing, single parents, and small families in-between. But such breadth of demand also represents a double-edged sword for designers as we try to accommodate and anticipate renters' changing lifestyles.
From our work on many value add projects, most recently the Hyde Park Tower Apartments in Chicago, we have identified five trends architects, builders, and developers should consider when pursuing the value add niche. Add definition to sweeping spaces. No longer carved into separate rooms, public space–indoors and outdoors—is now one big area. The look is less claustrophobic and more light-filled. But here's the real benefit: openness leads to greater sociability and healthfulness. Since it is also important to carve out intimate spaces that accommodate renters' individual needs, it's essential to create zones by varying furnishings, color palettes, materials, and lighting. In the Hyde Park Tower, a welcoming fireplace and lounge seating is the new reception desk. Gone, too, is a leasing office, replaced by an area that serves that function by day and at night becomes a gathering hub.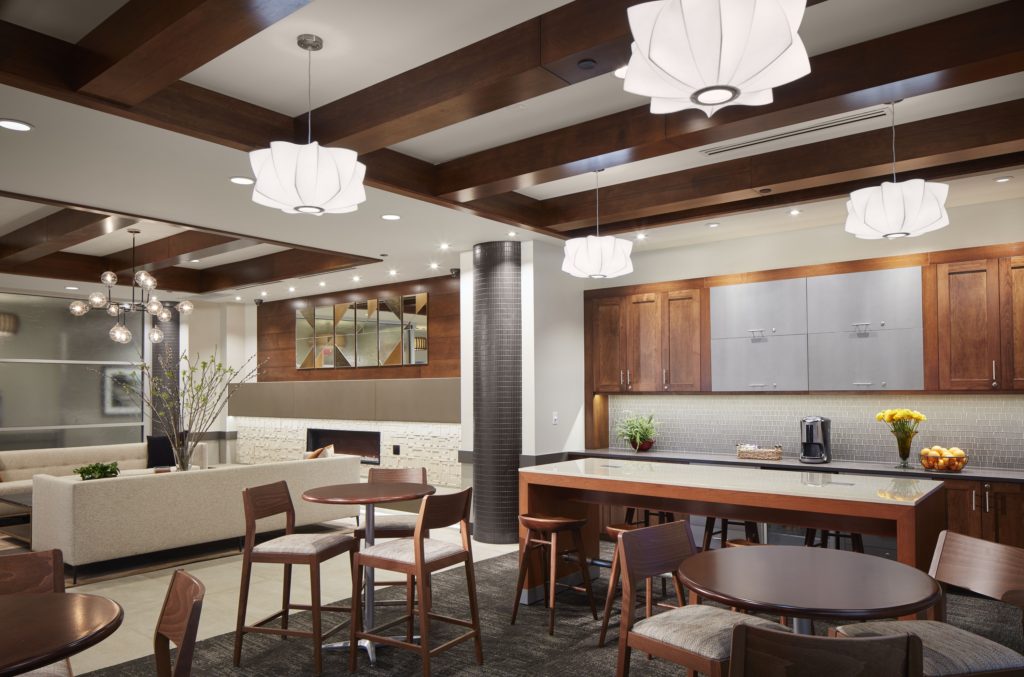 Prioritize technology. Technology drives all building functions today, from the leasing process to security, concierge services, maintenance, package and mail delivery, programming, tenant communication, and more. Wi-Fi—and the fastest broadband—is the No. 1 desired amenity when consumers choose one building over another, and even spurs many to move when service is sub-par.
Make the community more welcoming. Technology via texting and email has isolated people rather than brought them together. As a result, we strive to create settings that encourage gathering and inspire managers to plan and execute meaningful community programs. The result? More fire pits and communal dining tables, kitchens and organic gardens, as well as social directors to schedule group events. And any chance to do so with sustainable materials or from charitable companies wins points, especially with Millennials and Boomers.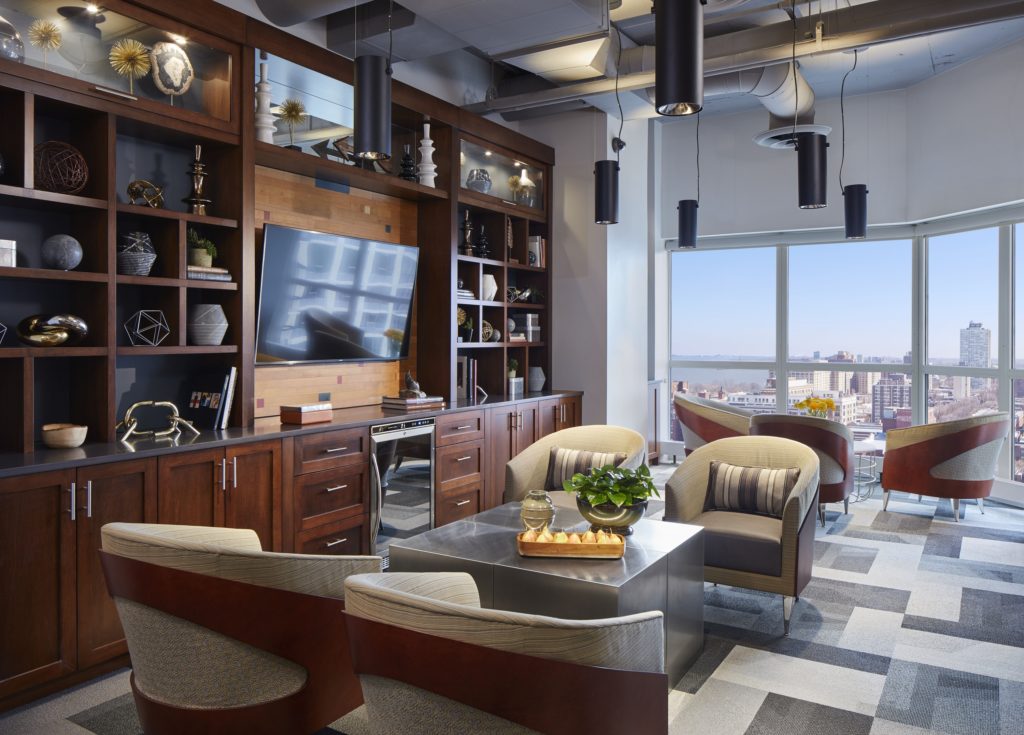 Help occupants shape up. Some may still belong to an off-site gym but having a state-ofthe- art fitness center with 24-hour access and on-staff trainers and yoga teachers helps increase occupancy rates. Key, too, is to play up healthfulness through high quality air filtration, filtered drinking water, low VOC paints and finishes, materials that don't off-gas, LED lighting, and big windows for valuable sunlight.
Make maintenance invisible. Nothing dates a building more than outdated paint colors, finishes, and furnishings and worn carpeting. Change them up regularly, tapping into new wood veneers, vinyls, and porcelains that don't catch germs. Add soft-close hardware and easy-to-turn levers, scrubable quartzite counters, and water conserving, low-flow faucets, showerheads, and toilets. Don't forget Universal Design features for people of all ages and abilities, according to the Institute for Human Centered Design. Among the most requested features we find important are places to put packages when opening a door, lighted doorbells, wider doorways, and layouts that allow easy circulation for walkers and wheelchairs.
The payoff is a financial windfall for developers and builders when they reconfigure and plan new buildings that reflect the value add strategy.
Mary Cook is the founder and principal of Mary Cook Associates (MCA), a full-service commercial interior design firm that focuses on the homebuilding and hospitality industries. She may be reached at www.marycook.com.