7 Ways to Design Residential Developments for Millennials
Millennial lifestyle trends must inform housing features and amenities to attract renters and buyers
By Mary Cook
If you build it, they will come. This motto, born in the 1990s, holds new meaning today for builders and developers looking to target Millennials, the fastest-growing segment of the housing and rental market. With employment figures on the rise, Millennials are finally ready to move out of their parents' homes and find their own. And as we've discovered in our work designing amenities and model home interiors, they're looking for a place that meets their very specific needs.
In fact, the 2016 State of the Nation's Housing Report from the Joint Center for Housing Studies of Harvard University predicts that this generation will establish 2 million households per year, reaching 40 million in 2025. Given the sheer numbers, builders, architects and developers must know what to integrate into their projects to attract the Millennials who are looking to rent or buy homes.
So what do Millennials want?
Properties must cater to their definitive and specific wants and needs, as noted in my recent Huffington Post piece. And Millennials' requisites are quite different from those of past generations. Design features, such as flexible open spaces and sustainability, are must-haves, along with neutral but stylish design, technological efficiency and low-maintenance finishes and furnishings.
Our top seven qualities a residential development must posses in order to attract Millennials is based on our analysis of demographic trends and our experience in the field. We are often hired by developers to fix or revamp unsuccessful public spaces and model home interiors. Here's our short list of features that do sell: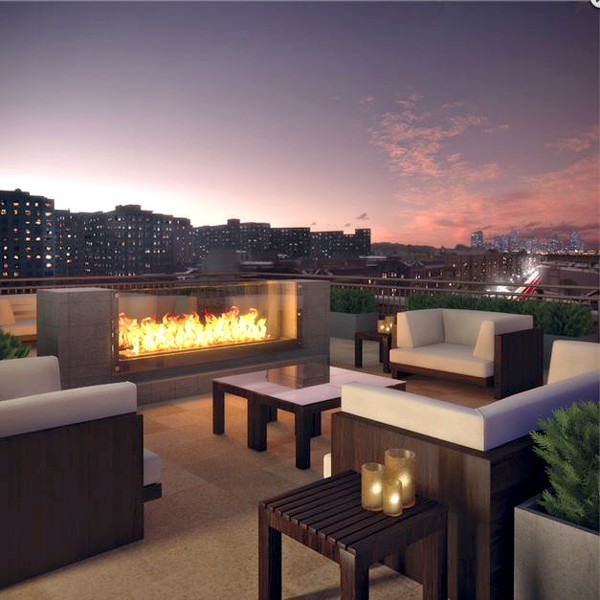 Foster a sense of community: A large percentage of Millennials telecommute, which means they typically have little interaction with co-workers and managers. They look for residential developments that offer community-building amenities that foster relationships between people from all walks of life. To accommodate millennial lifestyle trends, consider full-service fitness centers, double duty dining and refreshment lounges and tech hubs boasting the latest equipment, tech-enabled laundry spaces that are far from pedestrian and more. All encourage residents to gather and get to know each other.
Make Functional Flexible: Millennials want smartly appointed, multi-functional spaces. To achieve this, builders and developers need to think outside the box and bring the back of the house forward. Common areas resemble lobbies found in luxury hotels, incorporating everything from reception and mailroom functions to transformable workspaces and visible property management headquarters. We were successful using this technique in a recent project, where the mailroom, leasing headquarters and management office are all located in a sizable entrance hall. Once the workday is over, the layout and double-duty furnishings allow the space to transform into a state-of-the-art tech center and lounge.
Cater to modern lifestyle needs. We achieve this by sprucing up areas like laundry rooms, storage spaces and even bicycle rooms, designing them to be areas where community can happen, and also offering additional amenities that are on par with current trends. Parking in urban areas can be expensive, so a place where bicycles can not only be parked and stored, but also repaired, is crucial. Pet-friendly buildings are also becoming a must-have for Millennials, and many offer grooming areas, daycare services and fenced in dog parks.
Maximize outdoor spaces. Gone are the days when a simple balcony or rooftop pool would suffice as acceptable green space. Today's Millennials demand swanky resort-style outdoor living areas, complete with state-of-the-art outdoor kitchens; infinity pools overlooking a city skyline; covered cabanas complete with outdoor television and Wi-Fi and more. Outdoor entertaining areas are particularly important: grills, brick pizza ovens and fireplaces all create community and add to the experience.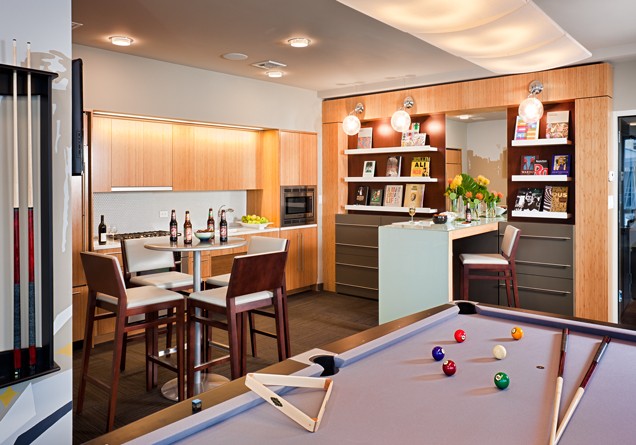 Be stylish and smart. Millennials are the most diverse generation in history, and this is often reflected in the wide-ranging furnishing choices they make. Also, they're looking for turnkey, low-maintenance homes, so amenities and interiors must match their taste and lifestyles. To ensure public spaces and units have the right decorative appeal, think Restoration Hardware meets CB2. Both brands incorporate ethnic and artisanal influences, and together strike a balance between traditional and contemporary decorative styles. Furnishings must also be durable and sustainable to make sure they offer the value and economy this generation reveres. And this hybrid industrial-yet earthy aesthetic should be topped off with kicky colors and meaningful art.
Appeal to a high-tech lifestyle. Millennials want to be plugged in at all times. Outlets with USB ports strategically placed around the units as well as the common areas help residents stay connected and maintain their work-life balance. Cloud-connected devices that allow remote monitoring and regulate heating, lighting and cooling give them more control over their environments. And how many Millennials still watch cable television? It may be time to cut the cable cord if most tenants prefer Internet streaming.
Offer green living. Millennials identify sustainability as a shopping priority, according to recent research from Nielsen. They're also tired of waiting patiently for their elders to do something about climate change, notes Scientific American. Energy-efficient appliances and lighting are features that can help reduce carbon footprints while at the same time save money. Structures that accommodate recycling and compost services, as well as in-wall hydration stations for refilling water bottles and in-unit HVAC systems, will appeal to green buyers and renters.
Mary Cook is the founder and principal of Mary Cook Associates (MCA), a full-service commercial interior design firm that focuses on the homebuilding and hospitality industries. She is nationally known for creating innovative environments targeted to market demands and designed to increase property value. She may be reached at www.marycook.com.