The LEED Gold certified, gardenstyle apartments bring a breath of fresh air to Brea, Calif.
By Carina Calhoun
Within the Blackstone masterplanned community developed by Shea Homes and Standard Pacific Homes, Bonterra consists of 94 units of gardenstyle apartments in Brea, Calif. The affordable housing community is Leadership in Energy & Environmental Design (LEED) Gold certified and perched atop the hills overlooking Orange County. Jamboree Housing Corporation, one of California's largest affordable housing developers, opened Bonterra in February 2012 with their ongoing commitment to sustainability as a major component to the community.
As a critical component of the Blackstone master plan, Bonterra was built as a part of a development agreement between the Blackstone developers and the City of Brea. "Bonterra plays an important role in Brea's housing strategy by making significant strides towards fulfilling the city's long-term commitment to provide a spectrum of housing to its residents," said Michael Massie, director of housing development for Jamboree. Bonterra provides workforce housing for families who earn between 30 percent and 60 percent of the area median income (AMI) and the property encompasses seven three-story buildings arranged around central courtyards and are linked by treelined, pedestrian-friendly landscaped walks. It provides 21 one-bedroom, 34 two-bedroom, and 39 three-bedroom apartments.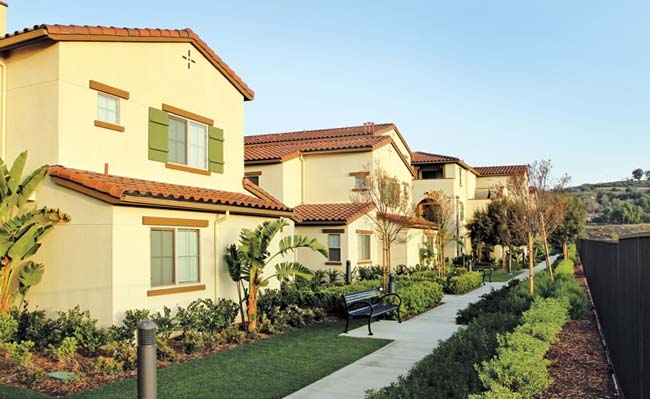 The Spanish-inspired architecture features private garages for each apartment along with additional surface parking areas for residents. Massie stated, "As the architect for Bonterra, KTGY Group was challenged with designing a workforce housing development that integrated seamlessly with the aesthetic fabric of the surrounding Blackstone community. KTGY's success is clearly evident. Bonterra's architecture blends perfectly with Blackstone's market-rate neighborhoods." Massie also pointed out that the Blackstone community is ideally situated for residents living in the new Bonterra community as it is located near major retail, entertainment and employment centers. Residents will also have exceptional views of surrounding cityscape and open space.
Bonterra also includes a 3,500 square-foot community recreation center for use by residents as well as landscaped community spaces for outdoor recreation. The building amenities include property management offices and classroom space designed for resident services provided by Housing with HEART, Jamboree's resident services group. "The Blackstone community will also provide Bonterra residents with a variety of community services within walking distance, services that would not otherwise be available to them except by driving," said Massie.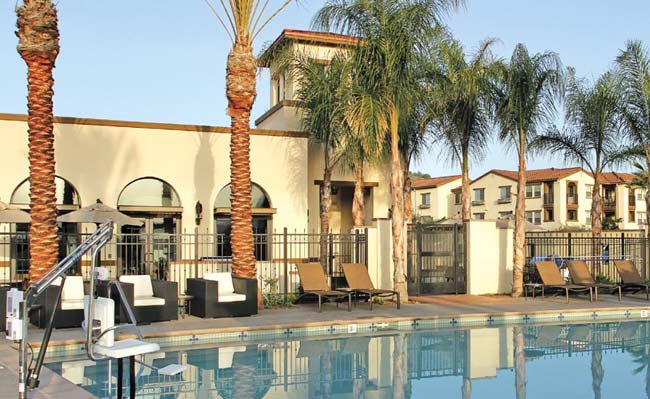 Embracing environmental-friendly elements, Bonterra is LEED Gold certified and includes an abundant of features to reflect this commitment to sustainable building practices. Bonterra's Energy Star appliances and other sustainable features reduce energy demand and lower the property's monthly utility expenses. The design exceeds California's Title 24 energy efficiency standards by 25 percent, significantly lowering energy consumption and providing cost-saving benefits to residents. The landscape and irrigation system reduce water usage by 60 percent and incorporate extensive use of drip-irrigation and moisture sensors, with irrigation designed specifically for each plant-type zone. This cutting-edge eco-conscious system earned bonus points for Exemplary Performance beyond the maximum LEED requirements. "Bonterra is one of Jamboree's first LEED certified developments and is a real world laboratory for how to successfully design and build a sustainable property within budget. From the earliest stages of design and construction planning, what we learned about sustainability at Bonterra is being incorporated into our other new development," Massie explained. In keeping with the smart growth development goals of the Blackstone community plan, Bonterra was designed as workforce housing that exemplifies a state-of-the-art, eco-friendly neighborhood that complements Blackstone's market-rate properties.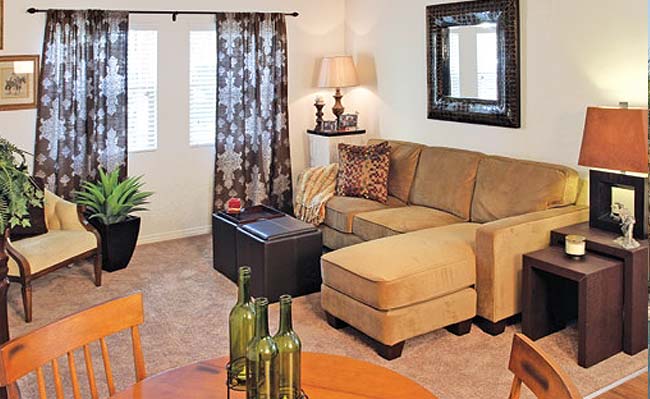 "Although its development was exceptionally challenging and took a decade from beginning to end, Bonterra was built due to the persistence and dedication of the public/private partnership that was determined to see it through to completion," stated Massie. Financing for the housing development consisted of funds from tax exempt bonds, California Tax Credit Allocation Committee (TCAC) four percent federal tax credits syndicated by Merritt Community Capital Corporation, a $14 million construction loan and a $4 million permanent loan from Bank of America, construction and permanent financing from the City of Brea totaling $1.2 million and a County of Orange permanent loan of $4 million including $2 million in HOME funds provided by the U.S. Department of Housing and Urban Development (HUD) at the outset of construction. Financing also consists of Multifamily Housing Program (MHP) funds of $7.7 million from California's Department of Housing & Community Development (HCD), American Recovery & Reinvestment Act (ARRA) funds of $7.8 million as a bridge loan to guarantee HCD's permanent loan commitment, and a $.5 million pre-development loan from Enterprise Community Loan Fund.
Massie stated, "For Jamboree, being truly green with projects such as Bonterra is the underpinning of our asset portfolio and an important benefit for our residents' health and welfare. We are proud of our LEED achievements as symbolized by this exceptional development and we firmly believe that sustainability in all of its forms and measurements is here to stay."
Carina Calhoun is the editor of Builder and Developer magazine. She may be contacted at ccalhoun1@penpubinc.com.