A Look Back at 2020 Trends
COVID-19 in 2020 shifted design and real estate trends to meet homeowner's needs
By Josh Kassing
They say hindsight is 20/20, but there was no way we could have anticipated the hardship, uncertainty and change the year 2020 wreaked on the world. Virtually every industry has been forced to face sweeping paradigm shifts that will last long after the pandemic subsides. In our industry, residential builders and developers must face the fact that office and home real estate became inexorably intertwined as COVID-19 made working from home compulsory.
When, how and which workers will go back to the office? What will those workers need at home now and in the future? In mere months, the pandemic has changed the way we will design, build and use homes and offices for the foreseeable future. COVID-19 didn't really create new trends but rather fast-tracked existing ones. Commercial interior designers needed to provide home and office solutions for working remotely, bringing the inside out (or vice versa), incorporating technology into every aspect of life and embracing affordability.
COVID-19 didn't really create new trends but rather fast-tracked existing ones.
However, COVID-19 also stopped other trends dead in their tracks this year, Urban Land Institute noted in its 2021 "Emerging Trends in Real Estate" report. Chief among these was the rising appeal of big gateway cities and dense urban districts loaded with amenities and attractions. After decades of revitalization and growth, our largest cities—and their office and residential properties—are losing people. Heirs to this exodus range from the hipsturbias (ULI identified in its 2020 report) to smaller cities with far less density, or even rural areas where people are decamping to their second homes.
The upshot? Commercial and residential property values are falling swiftly, along with retail, hospitality, entertainment and transportation revenues. Eventually, they will come back. But the next three to five years will be difficult in the real estate industry, the ULI report concluded. The impact of the pandemic will impose density restrictions in offices, stores, restaurants, entertainment venues and on public transit, and that doesn't bode well for big-city life.
During 2020, this economic plague had big consequences for home builders, developers and designers. We believe the fallout from the pandemic will continue to impact our industry for far longer than ULI predicts. As commercial interior designers, when we've planned and executed projects this year the focus went from thinking out materials, specific aesthetics, fixtures and furnishings to considering psychographics, well-being, sustainability and versatility first.
Here are the five paradigm shifts we can attribute to 2020 forevermore. We're willing to bet that everyone in the industry will have very vivid memories of the circumstances that spurred these changes, but they are particularly relevant to us as commercial interior designers as we work on homes, apartments, multifamily communal spaces and development amenities going forward.
The Rise of Remote Working: As a few weeks of working from home stretched into a few months and then many months, it became clear that remote working is here to stay. Gartner's June survey of business leaders found 82% plan to let employees work remotely some of the time and 47% will let them do so permanently—a change with major implications for workers. Now many can reduce their living expenses by moving to less expensive areas and residences, or even lower cost cities.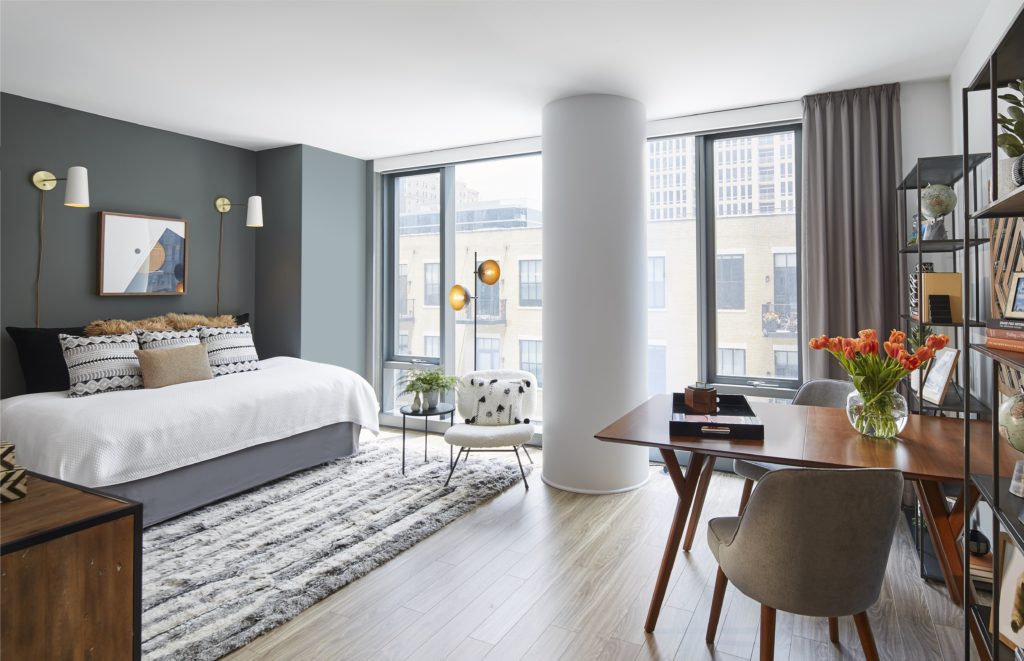 The Importance of Affordability: Millennials have long been proponents of doing "more with less"—without sacrificing what they really want in their homes. Their Boomer parents have jumped on the bandwagon, and Gen Z is emerging as frugal and unmaterialistic. Yet all are determined to get exactly what they want in their homes. Now their choices are just as likely to be in vibrant suburbs or smaller cities, where it's possible to have more square footage, better amenities and greater access to green space. Regardless of location, this has led commercial interior designers to redefine the high-end market with highly curated, high-quality options to give buyers and renters exactly what they want—and where they want it. Bottom line, it's a whole new housing category—affordable luxury.
The Necessity for Mutable Space: As we worked from home this year we had to deal with finding quiet and private spaces for concentrating on projects or participating in virtual meetings, not to mention space to spread out. Some of us had children at home to keep occupied or make sure they were doing schoolwork. All we wanted was space to accommodate our needs, making mutable spaces a requisite for the home building industry—forevermore in our opinion. 
Making Inside/Outside Connections:   As we sheltered at home this year, those without access to the outdoors were not only frustrated but also compromised; access to the great outdoors, and especially green spaces, offers copious health benefits. The upshot for our industry was made clear by both buyers and renters this year: Everyone wants access to the outside—even if just a tiny balcony or tiny patio.
The Meaning of Home: It's changed. Our research on psychographics tells us people care more about their homes than ever before: It's their source of sustenance and support rolled into one. The research on this trend hasn't reflected a new reality, but you can bet we'll be writing about it as we work on residential projects in 2021.
Josh Kassing is the vice president of Design Development at Mary Cook Associates.