A Modern Home with Traditional Appeal
By Marco Martinez
The Galatea Estate, developed by Spinnaker Development, is located in the high-end residential community of Corona Del Mar, CA, called Irvine Terrace. Irvine Terrace was developed in the late 50's and still features many smaller original condition homes situated on some of Orange County's finest viewing properties. 1933 Galatea Terrace was just that, an exceptional property with an original condition "tear down" structure remaining on the lot.
"We have focused heavily on Irvine Terrace for our projects since this is one of the most coveted communities of coastal OC. New product is rarely available in Irvine Terrace and we have realized past success on both new construction and remodel projects within this superb community," said Mike Close, president of Spinnaker Development.
"This particular lot provided the opportunity for a subterranean development, which would allow us to construct a significantly larger home than the community standard," said Close. "This specific property was centrally located between 5 or 6 of the premier lots, which featured straight on views of the Newport Harbor, Jetty and Catalina Island. We aggressively pursued the property and were extremely fortunate to have acquired this magnificent lot."
The architecture of the Galatea Estate could be classified as a "soft contemporary" design. The homes aesthetic was designed to evoke a warm, comfortable, elegant feel that would appeal to traditionalists and modernists alike.
And, as most modern homes, Galatea has some significant green features included within. There is LED lighting throughout most of the home. The home was plumbed for a solar panel, although a solar panel wasn't installed during the build phase. All mechanical systems in the home were designed with efficiency in mind, and the entire home was outfitted with the industry's most state of the art components. The home is a unique project in an already eclectic community.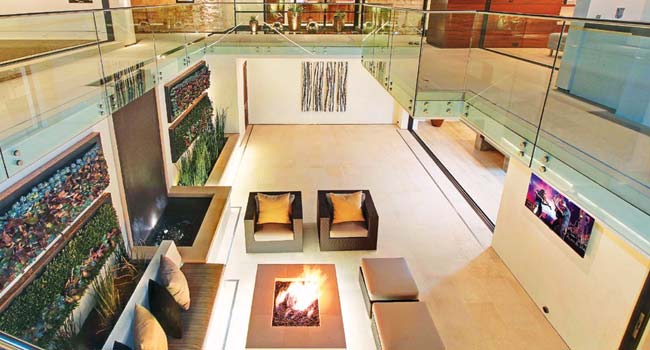 "The sale of this home set a 'price per square foot' record within the community," said Close. "We were also one of the first builders to undergo a significant development of the bluff; this has changed how other homeowners perceive these lots as far as build or developmental opportunities. The home has been nominated and recognized for several industry awards and accolades." Among these accolades, Galatea has been nominated for the Gold Nugget prize at this year's Pacific Coast Builders Conference in San Francisco. The prize recognizes homes that improve their communities through exceptional concepts in design, planning and development.
The reason for these awards and accolades can be attributed to the successful collaboration between Spinnaker Development and Brandon Architects. This project's great success has inspired several new developments between them. The sale of this property shot community values through the roof. The existing homeowners recognize that this was "ground breaking" sales mark.
During the build phase, there were some challenges faced by Spinnaker and Brandon Architects. They were limited to their allowable square footage with a slab on grade build. This forced them to build underground, which can be a challenge in the communities of Newport Beach and Corona Del Mar. They also underwent a significant undertaking developing the bluff side of the property. Many homeowners have shied away from this in the past possibly due to cost issues or lack of vision. The bluffs are typically left bare without landscape and become an eye sore to the community.
Spinnaker terraced down the bluff with several retaining walls cladded with split face limestone and water features. They constructed a massive pool & spa and planted mature bamboo across the rear property line for privacy. The positive feedback throughout the community was overwhelming.
Part of that positive feedback was based on all the unique features that the home offers. Architect Chris Brandon's vision was to create an indoor-outdoor program for this home. He was able to create stunning curb appeal considering the community restricts all construction to a 14-foot roof height limit. "This is always a major challenge when designing a new home on a very wide footprint," said Close, "the interior courtyard is the design masterpiece of the home. The very private entry opens to a two story courtyard complete with water features, built in fire pits, gorgeous limestone and dramatic mahogany paneling."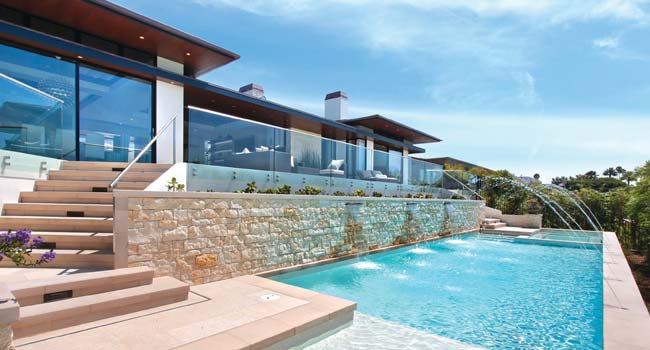 "The entire home encompasses the dramatic ocean views and private outdoor spaces with pocket door systems. The property features 5 beds, 6 baths and nearly 6,000 sq ft of living space," said Close. "The home's amenities include french oak flooring throughout, quartzite and onyx slab counters and baths, a Control 4 home automation system, elevator, pool, Jacuzzi, dedicated movie theater, wet bar, walk in wine cellar, and gym. The Design Build team spared no expense on the level of finish and detail and this is truly one of Orange County's finest view properties."
Mike Close and his wife are residents of Irvine Terrace, and this is one of the main reasons he was extraordinarily passionate about the project. His vision was to develop an incredible property that would remain timeless in its design. Spinnaker's goal at the onset of our design development was to create a home that the community, neighbors and industry professionals would be proud of.
Launching off the success gained from Galatea, Spinnaker Development is currently building a very similar style project on a very similar footprint in a neighboring coastal community of Corona Del Mar (Cameo Shores). The Galatea project provided evidence that this style, feel, and design is in high demand in our immediate marketplace. We intend to incorporate many of the same elements of the "Galatea" design while pushing the boundaries to create another unique and timeless masterpiece for their future clients.
To this day they hear remarks about how inspiring and game changing the build was for the community's aesthetics and property values. "It's an honor to have this project in our portfolio of work. Irvine Terrace is one of Newport Beach's greatest communities and most definitely Spinnaker's favorite to develop within. We can't wait for the next opportunity," said Close.
Spinnaker Development is a boutique residential Design/Build firm. They provide architectural, interior design and project management services for new construction projects. With decades of experience as a custom homebuilder in Orange County we have garnered the respect of our clients and homeowners as well as our industry professionals. They strive to make each home they build unique and timeless.
Marco Martinez is an assistant editor for Builder and Developer magazine. He may be reached at mmartinez@penpubinc.com.