A New Light for Colorado from TRI Pointe Homes
Innovative home builder TRI Pointe Homes is playing its part in both new and redevelopments as they expand across the state of Colorado. From both high-profile urban neighborhoods close to downtown Denver to now on the map masterplans in large open spaces, this major league player is excelling in both areas. For example, the builder's latest development, Platt Park North, shows just how much a properly executed infill community can breathe new life into an area, while Terrain, a community only five minutes from Castle Rock, has already made a name for itself as something special.
Headquartered in Irvine, California, TRI Pointe Homes as a company designs, constructs and sells innovative single-family homes and condominiums through its portfolio of six brands. These include Maracay Homes of Arizona; Pardee Homes of California and Nevada; Quadrant Homes of Waof Texas; TRI Pointe Homes of California and Colorado; and Winchester Homes of Washington DC and Virginia. The company recently completed a $2.8 billion acquisition of Weyerhaeuser homebuilding operations. As a result of the merger with WRECO, TRI Pointe's land inventory has increased to approximately 31,000 owned or controlled lots with more than 19,000 of those lots located in entitlement-constrained California, where TRI Pointe's management team has substantial experience and an established history of success. The additional land holdings provide the necessary land supply and diversification for future land and lot sales as well as increased home deliveries. In short, these latest Colorado endeavors are only the beginning of what is now one of the top 10 builders in the nation.
First of the newest developments is the singlefamily homes in Platt Park. Now sitting adjacent to the old Gates Rubber Plant, a factory that has been inactive for nearly two decades, the Platt Park North community occupies a portion of the 90-acre redevelopment area. As business developed, the parcel that is now Platt Park North has been owned by some of the most influential employers in the city's history, passing hands from Samsonite, Shwayder and the Gates family.
Today, the property is enjoying a new life as a residential community in a core area near downtown Denver. While a section of this renovated space is dedicated to row homes from another developer, a vast majority is being developed by this Irvine, Calif. based builder, TRI Pointe Homes.
Comprised of 29 homes with a modern aesthetic, the infill project is an anachronism in most metropolitan cities. The space offers the appeal of new single-family homes situated in a prime location––the sense of both an escape and being in the city is present.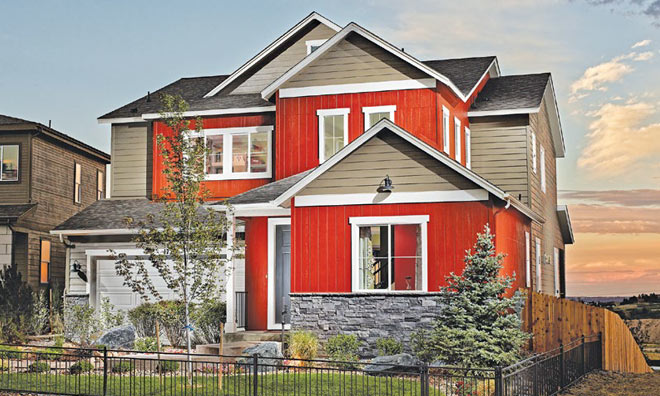 Starting in the $600,000s, the homes encompass all the necessities of modern living; at approximately 2,200 square feet of main and upper living space, they expand to more than 3,000 square feet with a finished basement. These detached homes also feature flexible floor plans, ranging from two to five bedrooms and up to three-and-a-half baths, with many of the residences featuring benefits like great rooms as opposed to out-dated (and segregated) living spaces.
The interior spaces feature surprising benefits at that price-point: state-of-the-art kitchens and 42" maple cabinets. "The idea was to bring together the best of historic and modern living to create dream living spaces and homes," said Matt Osborn, President of TRI Pointe Homes' Colorado Division. The master baths also evoke a luxurious feel, promising a sense of escape even in the city. The exteriors, too, evoke a quiet luxury; Woodley chose rear garages allowing for an even more refined finish. Both transpose brick aesthetic with modern paneling, resembling either that of mid-century modern or a cottage aesthetic. The eclectic coupling of the multiple design distinctions creates a community that although modern, does not seem to be out of place in this thoroughly developed city. While the small offering is typically not a scale that TRI Pointe Homes opts for, the unique ability to contribute to the urban landscape of such an integral city proved to be an opportunity the builders were not willing to pass up.
However, urban development is not the only work this builder has been doing in Colorado. TRI Pointe's Terrain master-plan project is a great example of the builder's ability to adapt to multiple housing needs across the state, while still preserving the trend of working within the land's capacity. The innovative community won the Denver MAME award for 2013 Community of the Year, and had over 60 sales in their first year, with over 30 homes closed year to date––and for good reason. This development has done more than just launch five new single-family options all starting at the low $300,000s, but combines thoughtful equal ratio combination of homes to land, preserving the idea of wide-open space.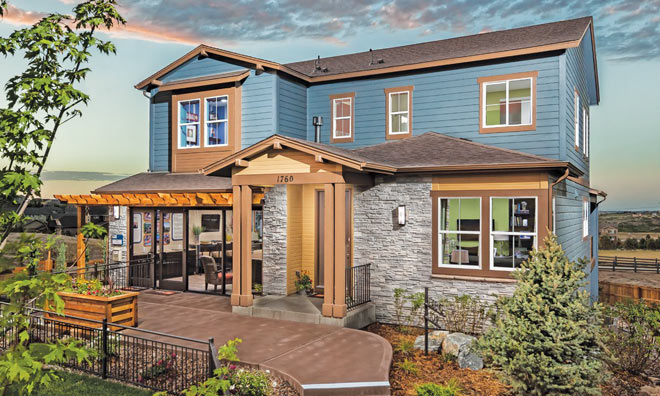 The preservation equates to roughly 50 percent of Terrain's total acreage––to parks, trails, and nature as well as to the preservation of historical sites and structures. Planning has eliminated the need to downsize many of the rocky outcroppings and stands of Gamble oak, preserving the characteristics that identify this part of Colorado's Palmer Divide region. By dividing the landscape in such an organic matter, the community becomes villages as opposed to the stereotypical sea of rooftops that become many master-plans, with unique, intimate enclaves of different home types tucked into a rolling topography. Much like Platt Park, the Terrain community exemplifies this builder's choice to work on properties within the scope of the land, and build with the community's needs in mind.
Also mirroring the urban infill community, Terrain adopts all of the benefits available in TRI Pointe Homes. This neighborhood, too, has the 42" maple cabinets and stainless steel appliances, with slab granite countertops in kitchens and oversized islands. For those with children, a new elementary school has recently been built, and the community has a swim club. Interior living spaces range from approximately 1,871 to 2,860 square feet with a project room, play room, study or loft, per plan. Finished basements are also available, with a rec room and additional bedroom and bathroom.
The pairing of aesthetic and environment become clear once it's obvious that these details are available just a five minute drive from a bustling area––a new master-plan trend that isn't exclusive to the TRI Pointe family, but growing in bounds as consumers recognize its value. Overall, TRI Pointe's developments in Colorado marks a transition in today's development: more than simply master-planned communities, TRI Pointe's additions to this state details a new way to build a conversation and update underutilized parcels of land. From strategic architectural choices to interior collaborations, TRI Pointe unites communities in both their construction of homes and building of relationships.
Stephanie Ornelas is the editor at Builder and Developer magazine. She may be contacted at sornelas@penpubinc.com