A New Sustainability Standard in Florida
By Scott McCourtney
Abeautiful development is ready for viewing and its name is Parkside. Located in the small but quaint suburb of Orlando, Florida, Doctor Phillips is home to the new development built by Meritage Homes and designed by BSB Design. Parkside is a Mediterranean themed luxury community featuring the Old World charm of tile roofs and architectural features that include the energy efficiency and convenience of a newly constructed home. Not only is this property new, but built to serve the environment in a cleaner and more sustainable way.
"Meritage has redefined the way homes can be and should be built, setting a new standard in production homebuilding. Through our work with customers, engineers and Energy Star, we've continually advanced our initiatives by giving specific consideration to all features, systems, materials and construction methods to bring homeowners unparalleled energy efficiency and both short and long term savings," said Steve Hilton, Meritage Homes CEO.
Florida has many great cities and suburbs with Orlando growing more and more each year. Doctor Phillips is considered one of, if not the most, desirable areas of Orlando. The site is one of a very select and rare available land positions in Doctor Phillips over the last 4 years and provides one of the only new home options within Doctor Phillips. At the completion of the last phase in the summer of 2014, Parkside will include 315 home sites. However, a wonderful model home is available for viewing that includes an entire room dedicated to sufficient green home technology.
Within the Family Learning room, anyone can learn about the sustainable green features that are built in each home. From appliances to green building products, some of the features include: CFL lighting and fixtures, Dual-Flush toilets, ENERGY STAR® Appliances, ENERGY STAR® Programmable Thermostat, Fresh-Air Intake, Low VOC Carpets, paints and finishes, Low-E2 vinyl windows, Merv 8 Air Filters, SEER 15 HVAC, spray-foam insulation, water-efficient fixtures, and weather-sensing irrigation. People can feel good about living in these newly built homes knowing that they are creating a better environment for the future. Parkside is a beautiful, large scale master planned community that has become a flagship for Meritage Homes in Orlando.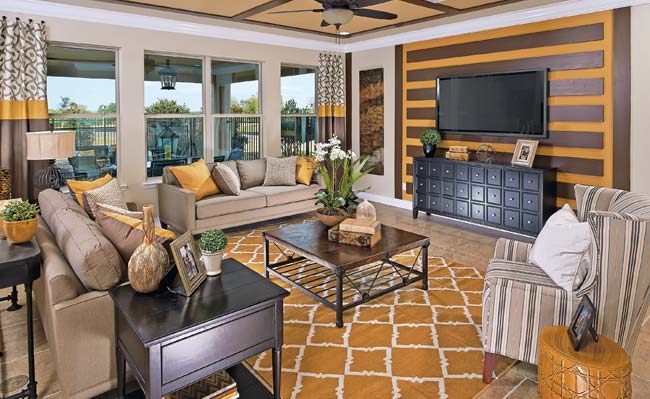 Energy Star was introduced by the U.S. Environmental Agency in 1992 as a voluntary market-based partnership to reduce greenhouse gas emissions through increased energy efficiency. In today's market, the program offers businesses and consumers energy sufficient solutions to save energy, money and help protect the environment for many years to come. Anyone can learn more about the Energy Star program at energystar.gov. "The EPA is recognizing Meritage's efforts for earning EPA's highest Energy Star award, the 2013 Partner of the Year- Sustained Excellence Award. Meritage Homes leads the field with their commitment to energy efficiency and demonstrates how all Americans can save energy, save money and create a healthier environment," said Bob Perciasepe, acting administrator for the U.S. Environmental Protection Agency.
The exclusivity of Doctor Phillips provides a unique opportunity to build luxury homes for buyers in a location that does not offer any other new home options. Homebuyers that wish to be in the Doctor Phillips area were exclusively confined to the resale home market until the opening of Parkside earlier this year. Any kind of buyer can now select a new home of their choosing from the various floor plans. They can then customize their home in a design studio by the builder, all while staying in the highly desirable Doctor Phillips area.
With every home built in Parkside, the company is focused on creating value and improving family lifestyles through dozens of features that work together to provide improved home function. The results are homes that are quieter, cleaner, healthier, have reduced pollution and allergens by cutting down with dust in the air with cleaner building practices. The energy efficient features save money without sacrificing lifestyle or compromising design.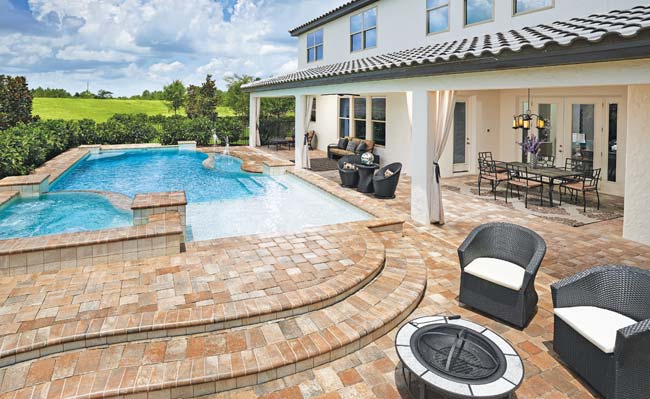 The design team worked closely with other neighborhoods to properly theme Parkside as its own new destination while incorporating features of the existing communities for a sense of unity amongst the neighborhoods. There was an extensive amount of earthwork involved with this project in order to construct the required storm water system and properly grade the site.
The development team coordinated this effort closely with the contractor and staged the project in an effort to reduce unnecessary earthwork. In addition, developing any infill project surrounded by existing residents always involves the development challenge of being a "good neighbor". Meritage Homes has worked hard to overcome this challenge with communication and willingness to work with the existing residents to minimize the impacts and create a new community that enhances the overall area.
The builder and developer, along with the entire project team involved, believe Parkside raises the bar for production builders in the area and sets a new standard for the buyer and their family or friends. Parkside features a grand entry promenade with cascading fountains and lush landscaping all leading to a world class amenity that will start construction early next year. The large home sites provide the opportunity for homes over 5,000 square feet.
Founded by Jack Bloodgood in 1966, BSB Design began with a strong emphasis in production housing design. Bloodgood brought architecture to the masses, and his philosophy was based on the idea that every person in America should have the opportunity to live in a home designed by an architect. He was a true innovator in the field, and his original inspiration lives on.
People from not only North America but across the world move to Florida for the warm weather and solid state government. The roots of the state run strong and have a major impact on the country as a whole. Orlando is one of the top metropolitan cities within the state that has massive tourist destinations from Disney World to the NBA's Orlando Magic. With pristine golf courses and homes for young and old potential residents, Doctor Phillips is a great area to start a family or retire. Parkside is the home for anyone that wants to live luxuriously and environmentally sound.
Scott McCourtney is an assistant editor for Builder and Developer magazine. He may be contacted at smccourtney@penpubinc.com.