A One-of-a-Kind Collection of Collaboration
Never before has an international design icon created a line of homes— until now. Home builder, K. Hovnanian collaborated with Piet Boon, known for designing one-ofa- kind homes, to create Line K at Willowsford in Ashburn, Va. The homes bring a modern interpretation of the community's historically inspired architecture to life.
Opening in May 2014, Line K began featuring 22 homes. Currently 17 homes have been sold, according to Becky Thorpe, Sales Consultant for Line K by K. Hovnanian® Homes®, LLC. The three models starting at $1.2 million introduce a straightforward approach on design—a simplified farmhouse style on the outside with modern sophistication on the inside. "The Washington Metropolitan area typically builds a more traditional colonial design. We felt there was a need in the market to bring something fresh and new—a true embrace of modern architecture with exceptional attention to detail," said Thorpe.
Boon's artistic instincts, combined with his sense for pure classic styling, create living spaces that are uniquely beautiful and nurturing. Line K at Willowsford brings to life his newest vision. Not only did Boon design the homes, but he also chose the entire line of interior features and finishes such as wood floors, cabinets, faucets and more. Ranging in size from 4,293- 5,458 square feet, each model has a Dutch name: Noorderwind, Oostenwind and Zuiderwind, to emphasize on the uniqueness of the design and Boon's involvement. Thorpe stated, "The designs are influenced by European architecture and modern building elements."
As to how the partnership between K. Hovnanian and Piet Boon came to be, Thorpe explained, "K. Hovnanian was established in 1959 and has grown into the national home builder that we are today. We keep an active pulse on trends and how that translates into what buyers are looking for. With the streamlined look of technology and how visually impactful that is with the consumer we felt that there was a need and desire for a sleek, streamlined and organized style of home design. Ara Hovnanian (Chairman, President, and CEO of K. Hovnanian® Homes®) discovered Piet Boon and collaborated with him to create the vision of what is Line K."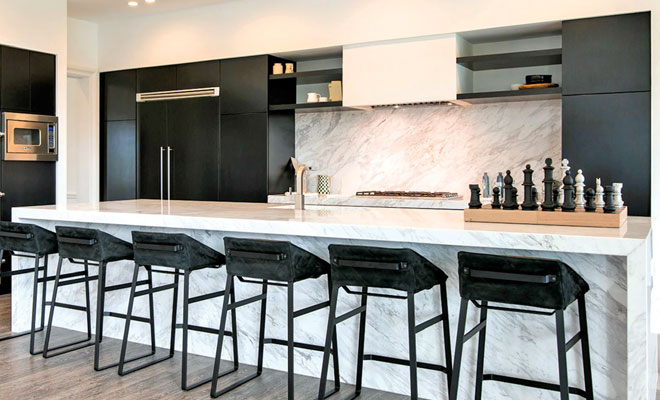 According to the The Washington Post, Hovnanian, whose personal taste runs to a modern, contemporary look, was captivated by the Dutch designers' houses. On a whim, he phoned Boon, and seven days later the two were sitting in Hovnanian's Fifth Avenue co-op, discussing the renovation of his home and the rest is, as they say, history. The Line K collection of homes collaborated with Boon originally debuted in Arizona and K. Hovnanian will continue to build the brand in markets where it makes sense.
Keeping with the one-of-a-kind design approach, the interiors of Line K homes offer a style that is not normally seen in production homes but rather custom built homes. With a level of craftsmanship and the quality of materials, these homes purposefully exclude the typical colonial details found in the area of the new home market. Instead, the walls are white, the trim is minimal and the windows are eight to 10 feet tall depending on the model. The simple yet sophisticated interiors produce a comfortable environment in these big homes with big rooms that extenuate bringing nature from the outside into the inside. A premium has been placed on wide-open spaces—both inside and out. Natural light flows throughout, materials speak to the surrounding environment, and artistic nuances are found around every corner.
The level of fit, finish and attention to detail is included with every Line K home. Additional examples include: three-inch height of all countertops, floating vanity cabinetry, custom showers with linear drains, family centers with upper and lower cabinetry, Mudrooms that are customized with benches and optional pet baths, designer powder rooms with wall mounted toilets, modern framed mirrors and a golden papillon vessel sink on Corian pedestal, just to name a few. Thorpe said, "Very specific design details and measurements are expected with a Line K home. We worked hand in hand with our subcontractors to guide them thru the expectations of the quality and demand of a Line K home."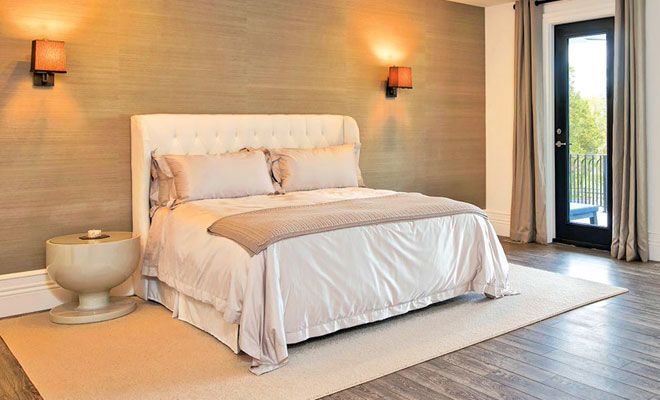 Not only are these homes formatted for exceptional style, they also include sustainable elements to deliver functionality. The significant eco-friendly features included at Line K consist of 90 percent efficient water heaters, highefficiency gas furnaces, air seal systems for the homes which result in excellent HERS scores, Low-E, high-performance, double pane Anderson 400 Series windows, programmable thermostats, water-saving, dual flush toilets and cement fiber-based siding which gives additional R value to the home.
This collection of new homes is exclusive to Willowsford, a community inspired by Virginia's strong agricultural heritage, and reflect design elements and materials authentic to historical homes in the region. "They're just so used to seeing the same pattern that this is just going to be refreshing. I think this is going to be different and inspirational," said Ara Hovnanian.
The 4,000-acre community includes 2,000 acres of conservancy-managed natural open space, with forests and parklands connected by more than 40 miles of nature trails. By offering a variety of lifestyle amenities as well as unique streetscapes and community layout and design, the existing development of Willowsford, allows Line K buyers the benefit of living in an amenity enriched community. Thorpe stated, "Willowsford has won multiple industry awards and has set themselves apart from other planned unit developments. They have a professional and polished approach with their marketing and with their design expectations of the builders featured here. It is because of these restrictions that you will not find the exact same homes in the immediate area and this creates a one of a kind experience for prospective buyers."
Boon's artistic instincts, combined with his sense for pure classic styling, create living spaces that are uniquely beautiful and nurturing. Thorpe added, "Line K is truly unlike any other homes available in the market. The strong lines and symmetry of each home will be appreciated from the moment you walk up to the front door."
Carina Calhoun is editor-at-large of Builder and Developer magazine. She may be reached at ccarina@penpubinc.com