A Personalized House for Every Homebuyer
By Cristina Paz
For over a century, the homebuilding professionals at Taylor Morrison have been building high quality homes for families across the United States. With communities in Arizona, California, Colorado, Florida, and Texas, ranging from all different prices and sizes, there is a Taylor Morrison home sure to fit your family's budget and lifestyle.
Over the years Taylor Morrison has observed the ever evolving needs of buyers and carefully considered what homeowners look for in a house. Taylor Morrison builds homes that emphasize style, design, quality and livability. In order to simplify and expedite the process of buying a home Taylor Morrison provides a one stop shop for home buying. Although buyers can use a Realtor®, a Taylor Morrison Sales Associate can walk buyers through the entire process, from buying to financing. Taylor Morrison Home Funding can help buyers finance their homes. They provide thorough pre-qualification before buyers sign purchase agreements, ensuring that buyers are at ease with the financial commitment and home loan options.
Taylor Morrison is dedicated to creating communities that serve home owner's needs. Before investing in any community, Taylor Morrison does extensive research so that homebuyers can be assured that their home is a good buy. Three recent communities in California are: Springhouse, Quinterra, and Bungalow 7. The most recent of these three communities is Bungalow 7.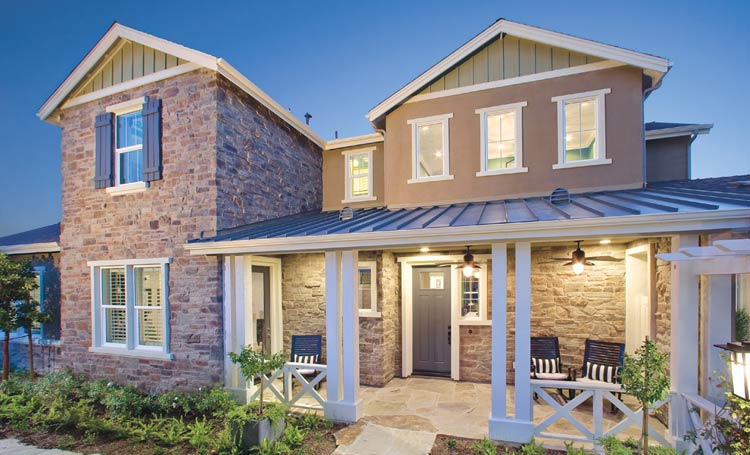 Located in sunny Costa Mesa, California, Bungalow 7 is Taylor Morrison's new urban chic townhome community. This Lively community has something for everyone. Singles and families alike will appreciate the big eateries and plenty of entertainment centers in the city. Rand/McNally and USA Today have called Costa Mesa the best small town for restaurants west of the Mississippi. In addition, parents will be happy to know that their children will be attending the exceptional schools of Newport Mesa Unified School District.
As there are only 30 townhomes, residents have the luxury of living in an intimate community, a rare feature among many townhome developments. The three story single family residences feature Santa Barbara Monterey and Spanish inspired architectural details and are available in two different floor plans. Ranging from 1,731 Sq. Ft. to 1,780 Sq. Ft. and located in the heart of Orange County the Bungalow 7 townhomes are affordably priced from the high $500s.
Homeowners benefit from easy access to 29 parks, including Fairview, not to mention the beaches are only minutes away. Acres of open space consisting of wetlands, pools, trails and bluffs, two community gardens and a twoacre bark park, are at residents' fingertips. In addition, two municipal golf courses as well as several prime retail centers, including South Coast Plaza and Fashion Island are located in the area. The Disneyland and Knott's Berry Farm theme parks, as well as major league sporting events are also only a short car ride away. For a quick getaway there are the Islands of Catalina and Balboa.
"Bungalow 7 offers a close proximity to employment centers, the 55 freeway and John Wayne Airport. That's really important to the development of this project. That, and the fact that we were able to offer a single-family, detached home in what's a very high-density site plan," adds Phil Bodem, Taylor Morrison's Division President for Southern California.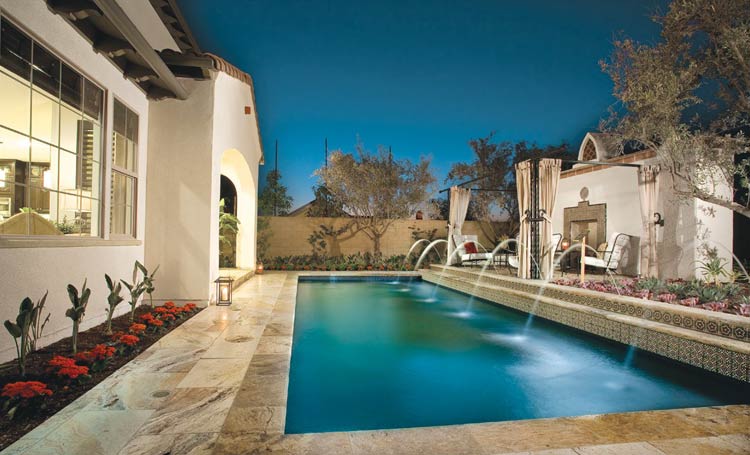 The 30 single family detached homes at Bungalow 7 are available in a mix of four unique exterior elevations, giving homeowners the opportunity to find a home that truly suits their style. Smart design and planning allow three to five bedrooms and three baths per home. The professionals at Taylor Morrison have spent time to make sure that the land space available was used to its full potential. "We were able to achieve a density of 17 units per acre, which is unheard of for this type of project. Usually 17 units to an acre is townhome living. This allows us to offer single-family homes at affordable prices. What we were trying to offer our homebuyers was a single-family home, located in the heart of Orange County that was still affordable. We've been able to accomplish that – and at a price point that's under $600,000. The style of Bungalow 7 appeals to the urban dweller and reflects the vibrant and varied lifestyles of Orange County residents," said Bodem.
Located only a short distance away, Springhouse and Quinterra, the other two recent communities, are both located in Irvine, California. Springhouse is located at Pavilion Park while Quinterra is located at Portola Springs. Both communities, like Bungalow 7, offer single family homes in communities that are ideal for singles and families. Both locations provide access to award winning Irvine Unified School District schools and are only a short distance from shopping, dining and entertainment centers.
As part of Taylor Morrison's effort to reduce its environmental impact, all three of these homes include tankless water heaters, central air conditioning, and forced air heating with digital thermostats to help reduce unnecessary energy usage. Dual-glazed low E glass windows improve energy efficiency within the homes and every Bungalow 7 home has a heating, ventilation, and air conditioning S.E.E.R. of 13. Every faucet meets the water Sense/Green building standards code. All together, these amenities will help homeowners reduce energy costs and conserve energy.
Taylor Morrison listens to homeowners' suggestions and then builds those suggestions into their homes. Each of these homes at Bungalow7, Springhouse, and Quinterra has been built to include everything today's modern family needs. Every new community provides a learning experience and naturally, experience brings improvement. Taylor Morrison has been perfecting their homebuilding techniques for over a hundred years and continues looking for ways to improve in order to better serve new homebuyers.
Cristina Paz is an editor at Builder and Developer. She may be reached at cpaz@penpubinc.com.