Builder Profile: David Weekley Homes | A Service-Centered Approach
Houston-based David Weekley Homes delivers enhanced lifestyles through its homes and communities.
There is a reason David Weekley Homes was the first builder in the United States to be awarded the place environment that exemplifies respect and Triple Crown of American Home Building, an honor which includes "America's Best Builder," "National Housing Quality Award" and "National Builder of the Year." For more than 40 years, the private Houston-based homebuilder has built more than homes and communities, but has delivered an enhanced lifestyle.
Operating in 20 cities in the U.S., David Weekley has recently rolled out a portfolio of communities across several markets. In Tampa, Florida, the builder broke ground in Persimmon Park, located within the Wesley Chapel community of Wiregrass Ranch. In Denver, Colorado, the builder broke ground on Brighton Crossings. And in San Antonio, Texas, the builder started selling the Copper Ridge community.
The carefully crafted home communities are a reflection of the company's culture, positioning David Weekley Homes as number 23 on FORTUNE's 100 Best Companies to Work For list, moving up 18 spots from its position in 2019. The list is based on the evaluation
of Weekley's policies and culture, in addition to the opinions of the company's employees. David Weekley Homes employs more than 1,500 team members nationwide. This is the 14th consecutive year the home builder has received this recognition.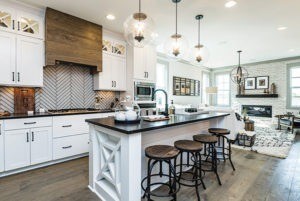 "We've built a rewarding and fulfilling workplace environment that exemplifies respect and fairness in all of our day-to-day operations," said David Weekley Chairman of David Weekley Homes. "From our newly-formed diversity and inclusion council called HEART to a multitude of training opportunities and our employee stock ownership plan, this distinction is a testament to the many ways we support our team members and their families." David Weekley Homes also works hard to enhance lives in the communities where it builds through its robust outreach program named CARE. This philanthropic program, which is active in all 20 markets, is dedicated to living out the company's purpose of Building Dreams, Enhancing Lives by partnering with nonprofit organizations to donate time, money and resources.
Last year, the company's outreach endeavors included nearly 150 projects that impacted more than 200,000 lives with Habitat for Humanity, Boy Scouts of America, National MS Society, YoungLife, Ronald McDonald House Charities and Salvation Army, and many more.
"We are fortunate to be able to make a positive impact by joining together with our team members, homebuyers and community partners to encourage a culture of caring and contribution," Weekley said.
To learn more, please visit www.davidweekleyhomes.com