ABC Green Home 2.0 Project Leads the Pack on Net-Zero
By Candice Chandler
ABC Green Home 2.0 is going to provide the same great quality, manufacturing, and sustainability for another wounded veteran with the same care and craftsmanship as the first ABC Green Home. Combined efforts with renowned architect, Manny Gonzalez of KTGY Group Inc., Southern California Edison, Peninsula Publishing, Habitat for Humanity, and many other partners, the ABC Green Home 2.0 is set to demonstrate the efficiency of net-zero energy while aiding a family in need. Coming after the success of the original ABC Green Home Project, which opened in October 2012 at the Great Park in Irvine, Calif., Green Home Builder magazine is pleased to announce ABC Green Home 2.0 that will be built in Walnut, CA.
"The biggest difference is that the 2.0 home is a two-story home and we went from approximately 1,700 square feet in the original ABC Green Home to 2,200 square feet for ABC Green Home 2.0. With two-stories, some of the Universal Design aspects of the first home will be more difficult to incorporate," explained Manny Gonzalez, AIA, LEED AP, principal of Irvine-based KTGY Group, Inc.
This new net-zero model is designed to accommodate a multi-generational family as opposed to the smaller two bedroom first version. Sitting on a large 10,000 square foot lot, the ABC Green Home 2.0 will take advantage of an internal courtyard that facilitates indoor/ outdoor living without losing the customary, albeit slightly smaller, rear yard. The back of the home features a great room layout similar to the first ABC Green Home, but 2.0 showcase a true entertaining kitchen.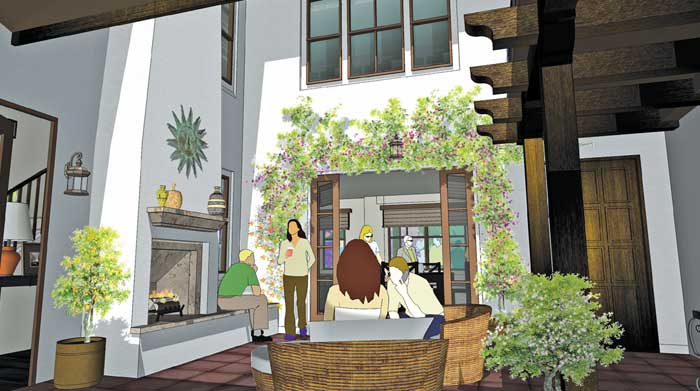 The three upstairs bedrooms are situated over the backside of the home and are highlighted by the balcony that overlooks the courtyard. The large master suite has an oversized walk-in closet and generous linen cabinet. The building envelope and mechanical systems will be maximized to reduce annual energy used. Large, highly efficient windows will maximize daylight and reduce energy demands, while adding to the spacious feeling of the home. Gonzalez explained the project team decided to plan a two-story home to maintain one of the project's main components, which is affordability.
"Larger than the original, the ABC 2.0 project is designed around a multigenerational floor plan and is more likely to be in a homebuilder's wheelhouse from a marketability perspective and for consideration of LEED, net-zero, and sustainability," said ABC Green Home developer Nick Slevin.
The home represents the average home size in the industry and it is hopeful that it will demonstrate to an even broader segment of the market that net-zero homes are being built for the typical American homebuyer that can also be affordable, buildable and certifiable.
"Its sets an example of what can be done within the industry today and cost effectively with materials that is readily available to the homebuilders. We don't have to design anything new and crazy. We didn't have to use a lot of fancy gadgets to get where we got to and it's only going to get better with 2.0 as we continually educate ourselves on what works and what doesn't work. Issues in construction happen so we can continue to go forward by what we have learned," said John Morton Program Manager-California Advanced Homes for Southern California Edison and Design Consultant for ABC Green Home.
Upon completion by Habitat For Humanity, The ABC Green Home 2.0 will remain open to the building industry and the general public to demonstrate best practices in High Performance Housing 2.0 prior to being donated to a combat disabled U.S Veteran and their family.
Candice Chandler is an assistant editor of Builder and Developer. He may be contacted at cchandler@penpubinc.com.