Active Eco-Centric Community in Georgia
By Carly Caumiant
Green living at its finest rests in Georgia's Serenbe Community, where residents benefit from an eco-minded community filled with entertainment, nature, and of course an energy-conscious home life.
"The community itself is a pioneer in sustainable development and national leaders in driving [eco-minded] construction/development methods," said Luis Imery, Owner, Imery & Co, LLC dba Imery Group.
The SerenbeCommunity is located just south of the Atlanta International Airport in Chattahoochee Hills, Georgia. The community is home to gardens and farms, walking trails, and hiking and biking opportunities along the 98-mile regional greenway system.
Three gourmet, destination restaurants sit just walking distance from residents with the Serenbe Stables located inside the community where homeowners can enjoy the freedom of riding for miles. Artists exhibit their work in the community art gallery and outdoor performances, films, lectures and readings are open to residents.
A community trampoline is available for family fun and a tree house sits on the premises for homeowners to gather with neighbors. Those itching for a bit of city life flavor can make the convenient 45 minute commute to Atlanta, just outside of Chattahoochee Hills.
The Proud Green Home, completed in May of 2012, is a custom, single family home built amongst the nature-infused and eco-minded community of Serenbe. The Imery Group home is designed with an open floor plan and contemporary exterior.
"Serenbe is a unique, sustainable community where each house, at a minimum, is required to be EarthCraft Certified. Seventy percent of the 1000 acres are designated as green space," said Jodi Laumer-Giddens, President, LG Squared, Inc. "The philosophy at Serenbe perfectly fit the goals and example we are trying to achieve with the Proud Green Home."


Each Serenbe build is set to the standards of the EarthCraft House Program. These standards include energy efficiency, low maintenance, air quality, water conservation, and resource-efficient building materials and systems. All EarthCraft Certified homes, including the Proud Green Home, reduce utility bills while preserving the environment's natural state.
The look and feel of the Proud Green Home were also built true to green standards. "The brick and metal siding on the exterior were selected in a monochromatic color scheme to maximize the beauty and richness of the material to be showcased," explained Laumer- Giddens. "The rich brown shade of the finishes allow the contemporary architecture to comfortably sit in a rural location. The interior has everything a savvy homeowner looks for, from the state-of-the-art kitchen to the striking fixtures."
All Serenbe homes utilize inexpensive reuse water techniques; treated effluent water is reused for irrigation or future water supply for bathroom features. All other wastewater is treated in a two-stage chemical-free passive system that incorporates non-disruptive filtration and dispersion.
Serenbe storm water runoff is sent to natural systems of vegetated filter strips and shallow channels of dense vegetation; the natural filters illuminate pollutants while dispersing water flow. Specifically, the Proud Green Home harbors Net Zero design and a HERS index of 45 prior to the incorporation of Solar Generated Power which is 50 percent better than homes built to meet code.
"LG Squared's goal for the Proud Green Home is to demonstrate how to design a high performance home that is aesthetically and functionally superior," explained Laumer- Giddens. "With the cooperation of many leading companies this project provided a unique opportunity to build a team that would produce the highest quality home in every sense of the word."
Building true to Serenbe standards, the Proud Green Home provides a healthy environment for homeowners with minimal impact on the environment. Dramatic design is balanced among details which help showcase the natural settings of the Serenbe Community.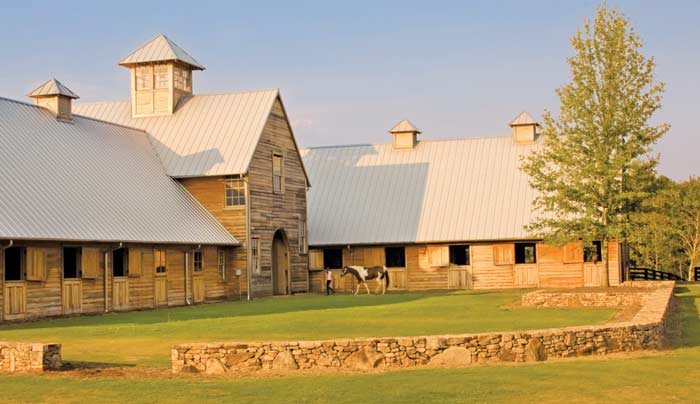 "This home is an example of the future of architecture and of the features that should be designed into every new home," said Laumer-Giddens.
"The high standards for sustainability and aesthetic design at Serenbe were the starting point for what this home is about. It was LG Squared's goal to meet and exceed those standards," Laumer-Giddens added. "Serenbe has a very strong identity so when we designed such a contemporary home we had to balance that departure from more traditional design with the individuality that is the Proud Green Home."
Martin Dodson Homes, another homebuilder among the selected Serenbe homes, developed the Walsh/Blanchard Residence. EarthCraft Certified, this contemporary barn-built home showcases open cell foam, renewable green products, geo-thermal HVAC, metal roof, a tank less hot water heater, Cambria countertops, water saver plumbing fixtures, and drip irrigation from a water reclamation plant.
"Martin Dodson is a leader in building high performance homes and Serenbe is the ideal community," said Toney L. Martin and Chuck Saleeby, Partners, Martin Dodson Homes.
The Walsh/Blanchard Residence harbors an exterior made of Cabot stain, mimicking an ageing process of wood. An outdoor fireplace rests on the back porch while the foyer features specialty hardwood flooring and a custom interior metal rail. A 125 year old beam is used to portion the kitchen from the living room area and custom kitchen cabinets with Cambria countertops showcase recycled quartz.
"All of the combined green and energy efficient products make this a high performance home," explained Martin and Saleeby. "Serenbe was chosen to build the Walsh/ Blanchard home because of the sustainability and green living at Serenbe," Martin and Saleeby added.
Serenbe prides itself on the values of nature, passion, creativity, and community. The community has built, and continues to build, connections between people, nature and the arts. Land is preserved and lessons are shared in the environment of Serenbe, where sustainable and green field development is stressed.
Each Serenbe project is built to flow along the terrain, never disturbing the natural landscape planted in Chattahoochee Hills. The community is painted with accessible walkways, encouraging active lifestyles for all residents. Native plants and organic landscaping techniques envelop the community, eliminating dependency upon chemicals or expensive lawn maintenance.
"Serenbe is the market leader in renewable energy and sustainable living in Atlanta," said Martin and Saleeby.
Carly Caumiant is an assistant editor of Builder and Developer magazine. She may be contacted at ccaumiant@penpubinc.com.