Aggressive Monetary Policy to Bring on Recession
Possible Recession – Housing Downturn Underway
By Robert Dietz
The risk to the U.S. economic outlook has increased significantly in recent months as supply chain disruptions and the Ukraine war continue to put upward pressure on consumer prices. Inflation in May reached a new 40-year high as shelter, energy and food prices continued to surge at the fastest pace in decades.  
In an effort to fight persistent inflation, the Federal Reserve raised interest rates by 75 basis points in June, the largest rate hike since 1994. The Fed is likely to raise the rate to 3.5% by the end of 2022 and to 3.8% by mid-2023. The economy will undoubtedly slow with this expected path of policy. The Fed also committed to reducing its balance sheet, including net sales of mortgage-backed securities by $35 billion a month when fully phased-in. As a result of these moves, mortgage interest rates are closing in on 6%, the highest level since the 2008 financial crisis and will continue to climb as further tightening is expected throughout the year. 
We expect a modest economic recession in mid-2023 given tightening financial conditions and increased economic uncertainty. Higher interest rates will undoubtedly slow housing and business investment, acting as a drag on economic growth. The unemployment rate is therefore expected to rise from near cycle lows to above 5% in 2023, while broader-based inflation will ease further as the economy slows. 
Higher interest rates coupled with rising home prices is pricing out many homebuyers and worsening housing affordability. A recent NAHB study shows that every quarter-point hike in mortgage rates would price out 1.1 million households. While the Fed can cool the demand-side of the economy (reducing inflation and growth), additional output on the supply-side is required in order to tame the growth in costs that we see in housing and other sectors of the economy. The best way to ease growing affordability challenges is for policymakers to address ongoing supply chain disruptions that will allow builders to construct more affordable homes.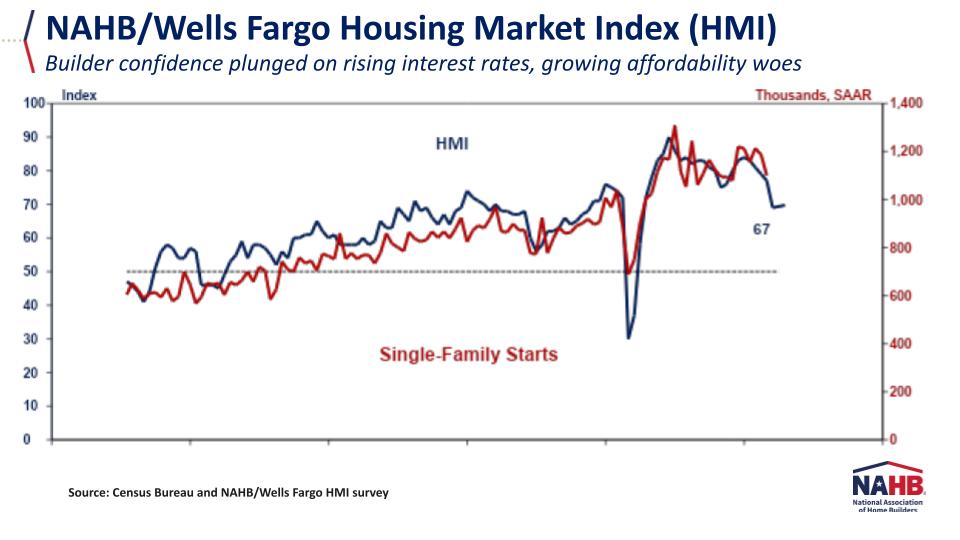 On the supply side, builders are also adversely affected by higher interest rates in terms of construction loans. Rising interest rates, ongoing building material supply chain constraints and skilled labor shortages continue to make it more difficult for builders to meet market demand.  In June, the NAHB/Wells Fargo Housing Market (HMI) fell two more points to a level of 67. The HMI has now fallen six straight months, and the traffic component has fallen below the key breakeven level of 50 for the first time since the summer of 2020.  
Taken together, current economic and policy data indicate a housing downturn is underway. NAHB is forecasting a hard landing for the economy, with a recession in 2023. Although this will not involve a financial crisis, as the Great Recession did, it will mean declines for housing data and rising unemployment until the inflation threat has passed. 
We are anticipating single-family construction will post a decline in 2022 and decline further in 2023 as higher interest rates weigh on housing affordability. In contrast, multifamily starts posted strong gains this year due to low vacancies and rising rents, and the surge in home equity enabled more homeowners to finance remodeling projects. We expect both multifamily construction and remodeling will continue to expand this year, though high construction costs and affordability challenges are making some developers increasingly cautious.
Despite these medium-term macroeconomic headwinds, there remains a housing deficit in the United States. This means as the economy exits this period of higher inflation and a recession in the coming quarters, it will be the housing and home building sector that will recover and expand first. An aging housing stock will also support demand for remodeling activity, and as mortgage interest rates rise, the demand for rental multifamily and single-family housing will remain solid.  
Robert Dietz is Chief Economist and Senior Vice President for Economics and Housing Policy for the National Association of Home Builders. He can be reached at rdietz@nahb.org.