Agrihoods Are Gaining Popularity
Developers are applying agriculture into mixed-use communities
BY JIM MACRAE AND STEVE BRUERE
COVID-19 has certainly changed the way Americans are living their lives, from shifting to working at home full time, homeschooling their kids, to making sure social distancing is at play during an outdoor excursion or trip to the local market. These changes have made many people rethink their home and the neighborhood they live in, questioning if it was designed to provide a safe refuge from uncertainties like a pandemic and food supply disruption. An urban-rural blend of lifestyles like you get in an Agrihood offers the best of both worlds, farming and mixed-uses at one's doorstep. This type of neighborhood starts with agriculture as the building block creating the framework for a new community.
Outside of Des Moines, Middlebrook Farm is one of the nation's newest Agrihoods, and the first in Iowa. It is focused on enhancing the quality of life and mercantile for residents and businesses through improving access to fresh local foods that are grown, harvested and prepared in their neighborhood. The farm offers fresh produce, and meat and dairy products to residents and local restaurants in the region, creating true farm-to-table experiences for people. Additionally, the Farm provides community activities and educational offerings that provide residents, patrons, and visitors with new experiences.
The idea of Agrihoods is not new, it was created long ago, when people lived off the land and relied on each other for sustenance, happiness and well-being. Now that COVID-19 has created more fear about living in denser places, it is likely that the pressure to live in the countryside will remain, causing loss to more farmland as our population continues
to grow. Middlebrook Farm is responding to these issues and others by:
Providing a Solution to Sprawl: By 2050, the demands on agriculture to provide sufficient food, fiber and energy are expected to be
50% to 70% higher than they are now. Given the dwindling land area of prime agriculture and the need to feed and house an increasing number of people, it is important to find a balance for development with agricultural land and natural resources needed for long-term sustainability. Agrihoods enable development to preserve land for farming where people live, invest in critical farm infrastructure and subsidize a portion of the cost to operate a diversified community farm.
Connecting Communities: Agrihoods make it possible for people to foster a deeper connection and appreciation for the land and those who cultivate it because it is outside their back door. The proximity to their food sources provides assurance to its quality and freshness. Additionally, access to locally grown fresh fruits and vegetables encourage a healthier diet and lifestyle.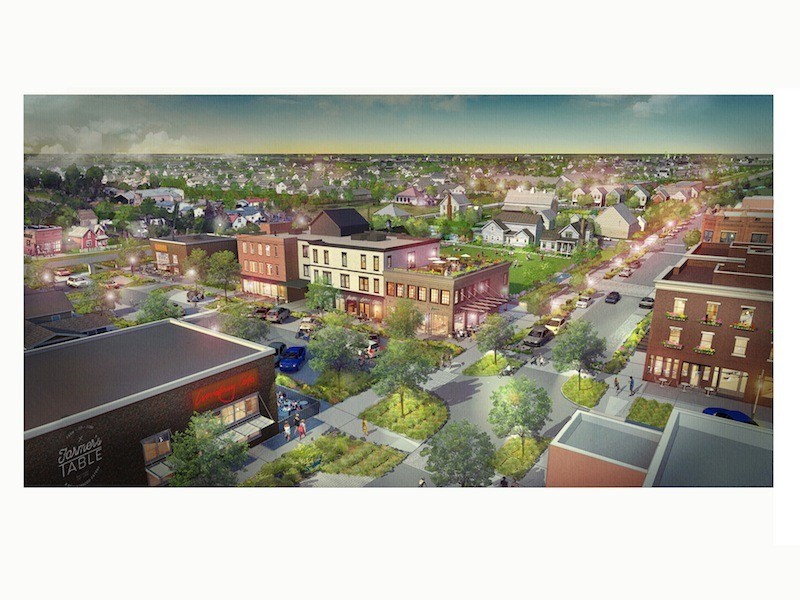 At build-out Middlebrook Farm will provide over 1,000 dwellings ranging from single family homes, townhouses, apartments, senior living and high-end estate home, but 75-acres are devoted to agriculture and animal husbandry, with plans to include an apple orchard, sheep meadow, winery and greenhouse / hydroponic site and flower fields. At full capacity, the collection of farms and gardens at Middlebrook will supply enough vegetables and fruit to serve a community of over 1,000 families with locally grown, seasonal produce, enabling the Farm to be commercially viable for the residents and businesses. Additionally, 40 acres of land remains devoted to natural open space with bike/pedestrian trails, neighborhood gardens, a naturalistic adventure playground, court games and other park spaces.
Agrihoods can be an important step in preserving productive farmland while balancing the need for new real estate development in growing cities. It is a way in which America can future proof itself against the circumstances we currently live in and which are likely to continue happening in the future.
Jim MacRae is a principal at Design Workshop, a land planning, landscape architectural and urban design firm.
Steve Bruere is the land developer who has created Iowa's first Agrihood, Middlebrook Farm, just outside of Des Moines.