Alliance Residential Brings Sustainable Luxury
Alliance Residential is one of the largest multi-family home development companies in the country and they have been pioneering the sustainable building movement most recently with two large apartment complexes: Broadstone Candara at Hancock Park in Los Angeles, Calif., and Broadstone Lincoln in Scottsdale, Ariz. Both complexes are third-party certified green communities, and have been awarded LEED-H Platinum certification and Silver level of the National Green Building Standard certification, respectively.
In the busy city of Los Angeles, Broadstone Candara hosts 103 brand new bungalows that began leasing in January. The exteriors are donned in Spanish Colonial Revival Architecture, and the interiors are dressed in a collection of a boutique hotel-inspired style with a whimsical Moorish appeal. Elegant velvet draping, chandeliers, arched doorways and moody signature lighting create an ambiance for residents to enjoy throughout the community's shared spaces. The theme continues outdoors seamlessly, matching the landscape of the outdoor gathering nooks, pool and barbeque stations.
The Broadstone Candara community is aimed at a diverse group of professional individuals, according to Alliance's Partner and Senior Managing Director for Southern California, Drew Colquitt.
"Broadstone Candara is a premier luxury rental-home community, serving a diverse group of single and married creative professionals, studio and entertainment executives, and downsizing empty-nesters from Hancock Park, who are interested in high-quality finishes and state of the art amenities in an in-fill, walkable location," Colquitt said.
All units were designed to be personal sanctuaries, and each is equipped with patios, washers and dryers, walk-in closets, wood plankstyle flooring in the kitchen and living rooms, state of the art stainless steel appliances and were wired for smart home technology. "Our target market realizes and is attracted to the easy flexible low-maintenance rental lifestyle," Colquitt said. "It's very much like living in a resort."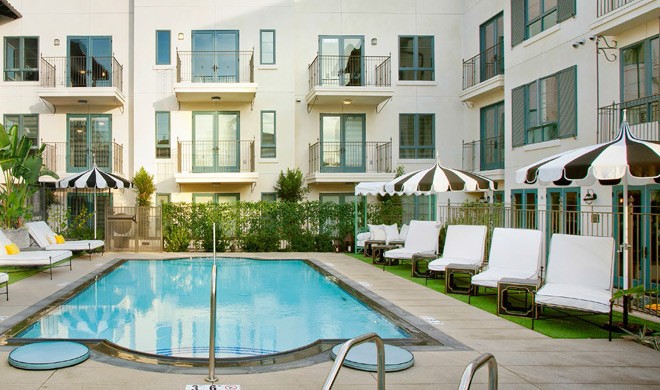 A resort-style community is of course flush with amenities, and Candara residents enjoy access to the Lion's Den Lounge; the Study—a workspace complete with full HD presentation and conferencing capabilities; the Enchanted Fig—an indoor entertainment bar with TVs and wifi; and a Puppy Parlour—a high-end dog wash spa. The community features four courtyards and a roof top deck with a stunning view of the Hollywood hills.
Alliance went beyond aiming for luxury with the Candara apartments, they also aimed for sustainability, and the complex has been certified green at the Silver level by the National Green Building Standard. Residences are on average 25 percent more energy-efficient with lower utility bills, and all lights and appliances are ENERGY STAR certified. Carpets and flooring are certified with GREENGUARD and Floor Score labels, along with low VOC flooring and paint products.
Additionally, builders utilized green methods through all stages of construction, according to Senior Vice President of Construction for Alliance in Southern California Bill McCann. "Green practices have been incorporated in the project since early design stages," McCann said. Upwards of 50 percent of all construction waste was recycled for other use.
Alliance's other green community sits in the beautiful desert scenery of Scottsdale, Ariz. Broadstone Lincoln is another luxury multifamily complex aimed at empty-nesters who are also eco-conscious, and Alliance went the extra mile yet again to receive a green certification. The apartment complex was recently awarded LEED-H Platinum Certification, making it Alliance's second development nationwide to achieve that certification level, according to Ian Swiergol, the managing director for Alliance Residential Southwest.
"To support certification, Broadstone Lincoln implemented a range of innovative measures for energy efficiency, water conservation and sustainable operations," Swiergol said. "Improvements include: an energy-efficient building enveloper; recycled building materials; high-efficiency mechanical systems; water-saving fixtures and irrigation systems; environmentally conscious landscaping, high-efficiency low-E windows and ENERGY STAR appliances."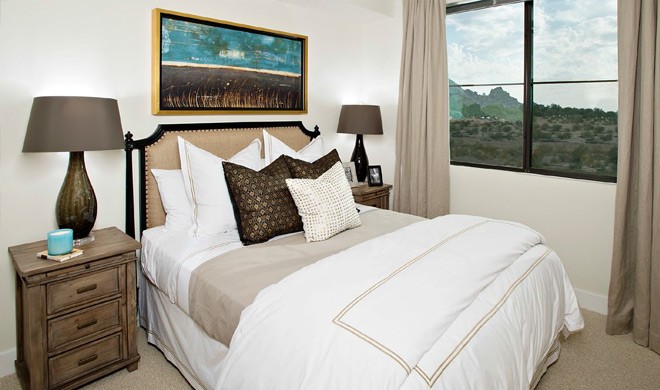 Additionally, the project team used sustainable finishing materials with exhaust fans and drains/ pipes for moisture-control durability, and created a reduced-heat island effect by using reflective roofing materials, paver ground covering, and landscaping that minimizes heat absorption. Indoors, air quality was improved by eliminating unvented combustion appliances onsite and installing enhanced exhausts in each resident's bathroom, Swiergol said.
Broadstone Lincoln has brought 264 units atop 5.31 acres of land located within the city of Scottsdale, and sits on the border of Paradise Valley. It is a community geared at 35+ individuals, professionals or empty nesters who are renters by choice. It's location within an area where the average home value is upwards of $390,000, and the average income is well over $100,000 annually, makes the luxury apartment community a competitive choice in the Valley's growing urban rental market. It was designed to feature a mix of high-end finishes and luxury amenities.
"Broadstone Lincoln is designed to appeal to professionals who are renters-by-choice and desire to live in premier locations with easy access to office space as well as upscale shopping, dining and entertainment options," Swiergol said.
Homes within the community are filled with upgraded fixtures and appliances, such as gas cooktops, hard-surface counters and climatecontrolled corridors. Additionally, the community features direct-access elevators, underground parking, private garages, a state-of-the-art fitness center, luxurious common areas for entertaining and a separate flex studio to coordinate fitness functions and host resident events. Or, residents can take a dip in the pool or lounge alongside the water in a covered cabana—or perhaps even rent one of the community's available bikes.
"Premiere amenity spaces were extremely important to the overall vision for Broadstone Lincoln, due to the fact that social interactions and activities are increasingly taking place in public settings," Swiergol said. "People are spending more time in groups or working privately in public areas (i.e., Starbucks). In contrast, units are slightly smaller thanks to open, more efficient designs—core spaces (bedrooms, closets, kitchens, etc.) remain the same size while unusable, non-livable spaces (such as hallways) are minimized. Additional elements of sustainability and convenience, as well as unique lifestyle amenities, demonstrate the commitment to exceeding the desires of the renter-by-choice demographic."
Looking forward, the Southwest region of Alliance has four projects in construction throughout the phoenix area.
The Southern California division of Alliance Residential currently has eight projects underway.
Jessica Burger is the Assistant Editor for Builder and Developer magazine. She may be reached at jessica@penpubinc.com.