Alta Verde Takes Modernism Into Production
By Stephanie Consiglio
Building a home isn't only about creating a 3D puzzle with lumber, insulation, plumbing and furniture, but about creating an art that people can live within. Alta Verde Group stands behind this ideal every time they purchase a development area for their lots and begin the design process. Homebuilding is a passion of design, construction and lifestyle features that builder Andrew Adler devotes his life to and this shows through each one of his projects. Adler's newest company, based out of Beverly Hills, Calif., helmed by award winning industry leaders who have been creating great architectural projects for 20 years. They formed Alta Verde in 2009, but already made a huge impact on a largely uninventive industry of homebuilding. Alta Verde Group has become one of America's most celebrated homebuilders with dozens of national and international honor awards, and Adler has received both Builder of the Year (from the NAHB) and Developer of the Year awards (MultiHousing News).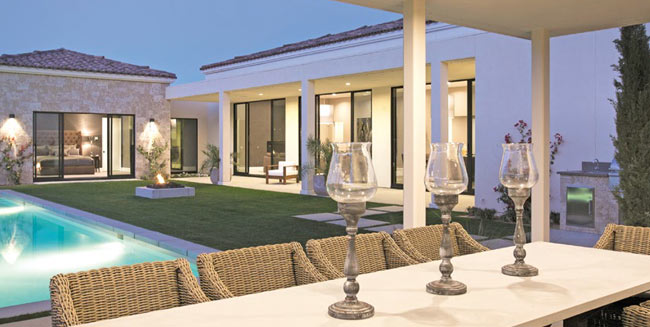 Alta Verde projects focus on the niche homebuyer: second-home, move-up buyer who arewell-to-do and cultured or the down-sizing affluent retirement buyer. Their homes are motivated by modern architecture and their buyers appreciate every aspect and detail that go into each home.
They pride themselves on purchasing land and building stylish open modern homes that deliver inspiring 'art homes' on their lots. Their mission is maximizing architecture in lieu of square feet. Adler works closely with design partner Anthony Poon, and designers John Kim and Barbara Leon from Poon Design to achieve this goal. Poon has a huge influence when creating Alta Verde's signature look. This is done by utilizing all the space that is given, and not creating a room just for the sake of creating a room "We create better quality architecture in a smaller space," said CEO Andrew Adler. "There is inspiring art built in each residence that makes people feel renewed."

Palm Springs has a rich history of home architecture and Alta Verde goes to the effort to keep that history in their design, while also incorporating a unique modern look. Escena in Palm Springs is only one of the many and biggest Alta Verde projects to impress the homebuilding industry. With a mid-century resort style theme, this gated community has 130 lots with four exceptional modern home styles ranging from 2,000 square feet to 2,800 square feet. Escena is "the resort amenities matched with modern architecture." These homes reside at the base of the stunning San Jacinto Mountains and are located near the Palms Springs Airport. They also are surrounded by the fifth best golf course in the state. Every home design is known for its open floor layout with their no-hall effect utilizing 20 percent more of the living space by excluding hallways and vestibules, adaptive architecture and panoramic breathtaking views.
These homes are completely sustainable as they are elegant and beautiful. Part of the Alta Verde Group is what they call the AV Lab.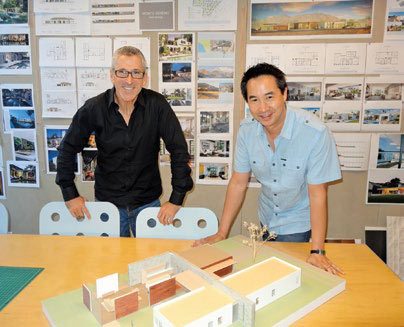 These "thought leaders" work within Alta Verde to nurture and integrate new technologies into each home. The mission of the AV Labs is to advance the quality of life of their homebuyers and decrease the effect of their communities on the environment.
Green features range from double-pane windows to solar power to landscape design to 'core' passive design concepts that enhance thermal efficiencies afforded to modernist approaches to design. A select feature done in the Alta Verde design is a wall down the center of the house, where the heating and cooling is carried throughout the home within the one wall. This is Alta Verde's Special Core Wall efficiency plan. Escena homes exceed Title 24 (California standards for energy efficiency) by over 15 percent through careful passive design techniques. The complete solar arrays are integrated in the base design, not an optional feature in an Alta Verde built home. Other green features include special conditioned space design for HVAC, tankless water heaters, reflective roof and low water desert tolerant landscape. The homes also encourage energy efficiency in other aspects of life by supplying car charging station circuits.
Alta Verde Group believes in the need for passion in homebuilding. When Alta Verde builds a home, each step is meticulous and wellthought out. Everything in the home has a purpose, including their concrete filled fiberglass doors for durability. New materials for homes are available, but most homebuilders don't utilize them. Homes have to be adaptive in design and in use.
Alta Verde's goal is to design homes that most homebuyers don't have access too. Most homebuilders tend to stick with the traditional "Americana knockoff," Alta Verde does and will continue to create more interesting and quintessential homes. Adler explained that it is important to watch the demographics and how they are changing. "There is a huge shift to modern concepts because of technology," he said. Homes should be changing with the other essentials in people's lives, such as smart cars and smart phones.
Alta Verde Group creates a new level in modern design and construction methods that provide extraordinary architectural experience to their homebuyers at value price points. "We constantly stretch our creative process to deliver new concepts in homes that enlighten and excite our market," Adler explained. "But in doing so we maintain our artistic integrity and avoid the common approach to homebuilding that is often solely about economics and not the art of living."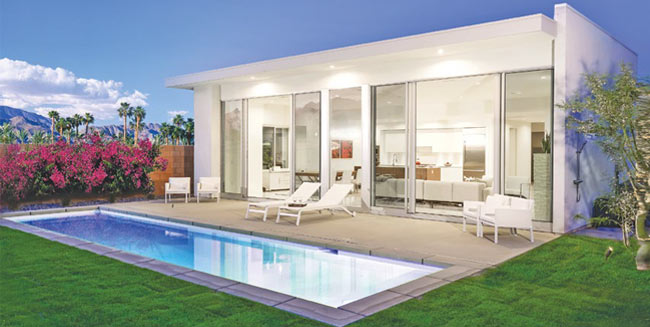 Alta Verde Group's other architectural endeavors in communities include their newest estate style homes at Monte Sereno, also located in Palm Springs, Calif., which are built on larger lots at 4,200 square feet and run for as high as $1.5 to $1.8 million. Monte Sereno is comprised of 70 lots with a Tuscan farmhouse inspired theme that is then transformed with modern extensions and additions. Their Modern Villa centerpiece to the development also received 3 national awards this year for best in design including winning the BALA award (Best in American Living) and PCBC Gold Nugget Merit awards. Their Coral Mountain project in La Quinta is a series of Balinese modern homes that have also won national attention. All Alta Verde Group projects have an exclusive ambiance, but all incorporate symmetry and balance to fashion a refreshing lifestyle. Designing luxury homes is not an easy task, especially making them accessible to your average move-up buyer. "Keeping to a budget is always a creative challenge in designing refined and elegant homes," Adler said. "We have this largely down to a science of what we want impactful, while controlling costs." He also adds that Alta Verde has high qualified field personnel to oversee and control construction of this type of building, which is "less tolerant of sloppiness."
As part of the construction process, Alta Verde makes it a point to conserve natural resources and recycles 50 percent of their construction waste material. As part of the Alta Verde revolution, Alta Verde is committed to true innovation in home features and technology, adapting their homebuyers comfortably to the green economy.
Alta Verde Group is currently working on a large modernist project that will be an exploration in white minimalist estates. To be released in the coming year, LINEA- Palm Springs- the highly anticipated signature project by the Adler – Poon collaboration is sure to be yet another architectural benchmark in Palm Springs.
Stephanie Consiglio is an assistant editor at Builder and Developer magazine. She may be contacted at sconsiglio@penpubinc.com