Amcal & Temecula's Commitment To Affordable Housing
Portola Terrace, the latest development in affordable housing for Temecula, CA, is ready and looking great. The Withee Malcom Architects designed, AMCAL Multi- Housing Inc., $13.6 million development is the first LEED certification home for homebuilding in the entire City of Temecula.
"We are very excited to have Portola Terrace in Temecula," added Mayor Pro Tem Maryann Edwards. "This is one more piece to transform Old Town into a hub for working families and young professionals. They are the heart and soul of Temecula, and communities like this keep us moving forward."
Architect Ricky de la Rosa, from Withee Malcolm Architects, LLP, notes that in Portola Terrace, "…we created a timeless design that defines the beginning of the Pujol Street redevelopment effort. The buildings are modulated to reflect a more 'townhouse' like character along Pujol Street, with street accessed entry stoops that encourage pedestrian activity. With enclosed balconies, strong color palette that compliments the modulated building mass, metal railings and stuccoed walls, the communities' material palette & details make this a welcome addition to Temecula's rich heritage." "It is particularly rewarding to be involved in the development of Portola Terrace because it is affordable housing done right," said Ms. Noami Pines, Director of Development for Las Palmas Foundation, AMCAL's non-profit partner, "including LEED certification and resident empowering social services provided by LifeSTEPS."
Ms. Beth Southorn, Excutive Drirecto of LifeSTEPS comments that, "…what is wonderful about working with this team is that they not only provide a beautiful aesthetic that cultivates pride in their residents, but they really 'get it' when it comes to the need for enhanced resident services. Beacuse of this, Portola Terrace residents have a deeper opprtunity to become self-sufficient and financially stable in a sustainable way."
Sustainable design practices that have been implemented at Portola Terrace include:
Infiltration of all storm water that hits the site through vegetative landscape.
Infiltration features reducing the amount of storm water that enters into the city storm drains.
Exceptional Energy Performance exceeding Title 24 Part 6 Building Energy, •Efficiency Standards by over 30 percent.
High efficiency ENERGY STAR appliances.
Diverting over 80 percent of all construction waste from local landfills.
Social services from LifeSTEPS are offered to residents of Portola Terrace. Technical training and educational classes include parenting, health, ESL, and computer technology.
"AMCAL is very proud of our partnership with the City of Temecula to bring Portola Terrace, high quality AND affordable housing, to this community," said AMCAL CEO Percy Vaz.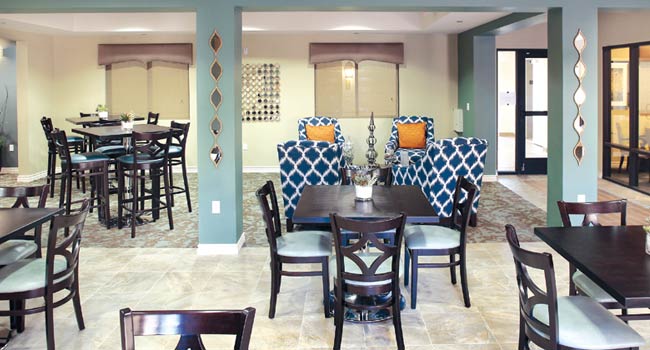 Ms. Beth Southorn, Executive Director, LifeSTEPS comments that "what is wonderful about working with AMCAL is that they not only provide a beautiful aesthetic that cultivates pride in their residents, but they really 'get it' when it comes to the need for enhanced resident services. Because of this, AMCAL residents have a deeper opportunity to become self-sufficient and financially stable in a sustainable way."
The builder established the Partnership for Hope with LifeSTEPS in 2011. According to Ms. Southorn, "this partnership has raised nearly $250,000, establishing college scholarships, and strengthening employability services and enhancing our client assistance crisis safety net program for their residents. Because of this commitment by AMCAL lives are being transformed every day and a brighter hope for the future is being created."
Mrs. Corrina Maldonaldo, holding newborn Aiden, articulated best what housing really means to families. The Maldonaldos (9 months pregnant) moved into Portola Terrace on a Wednesday and on Saturday, Aiden was born. Mrs. Maldonaldo said that "moving into Portola Terrace changed out lives… it was so nice to bring our family back to our house where we can start our own traditions. This is a great place to raise a family."
Portola Terrace is a multi-family apartment complex that provides 45 affordable family units. The 30 two-bedroom, two-bath, 860-square-foot residences and 15 three-bedroom, two-bath, 1,100-square-foot residences are available to households earning between 50 percent and 60 percent of area median income.
The community has been designed to beautifully serve residents, with Spanish- Mediterranean style architecture that complements the elegant floorplans. Open, airy spaces and amenity-filled interiors feature modern kitchens, generous bathrooms, balconies/patios, abundant storage space, and wood slab doors.
An on-site community room gives residents space to relax, play, and entertain, with a social services area, kitchenette, sitting area, media room, and computer room. A community pool and tot-lot give Portola Terrace residents even more reason to celebrate.
The community also features extensive landscaping with barbeques and walkways, elevator access, and laundry rooms on each floor for the convenience of residents. The location puts Portola Terrace residents in the heart of a thriving area with convenient access to public transportation, Rotary Park, and the numerous dining, shopping, and entertainment opportunities of Old Town Temecula.
Funding for Portola Terrace was provided by:
City of Temecula: $5,578,000 Construction & Permanent Financing
California Tax Credit Allocation Committee
Raymond James: $5,365,146 Tax Credit Equity
Funding lender Citibank, N.A.
California Statewide Communities Development Authority
Construction funding: $5,010,000
Permanent financing: $2,380,000
Co-Contributed by Scott McCourtney and Mary Jean Duran is a Principal at Duran Alvarez Solutions.