Amenities are the Key to Enticing Buyers
More and more people are interested in moving strictly because of the possibility that there may be something better out there
by Jeff Meyers
What products do your buyers want in their new homes? Meyers Research can help you understand who your consumers are, what they value, and, most importantly, the products they're willing to pay for.
The level of change we are living with as a generation is unprecedented. We can't assume anything in the way we operate will avoid disruption. With so many moving parts, how do you step back to see the bigger picture and understand what your consumers want? Here are the highlights from Meyers Research's ongoing survey, spearheaded by their Principal, Mollie Carmichael:
Overall, we found that 42 percent of consumers move or are willing to move simply because they want better design, which matters far more than traditional lifestyle changes.
WHAT PRODUCTS WOULD CONSUMERS MOVE FOR?
"Twenty-five percent of your consumers (that's one in four) don't have to move. They're happy with their home, but if you give them something better, they'll think about it." – Mollie Carmichael
Of the most desired products that consumers would move for, we found that:
• 66 percent of consumers want bonus garage space, aka a "Man Cave"
• 65 percent of consumers would pay $800+ for a dual shower head (another 39 percent will pay for steam)
• 62 percent still want the tub along with dual shower heads
• 56 percent want a modern fireplace
• 41 percent want a recessed kitchen cabinet door
• 40 percent want a super garage with 14' ceilings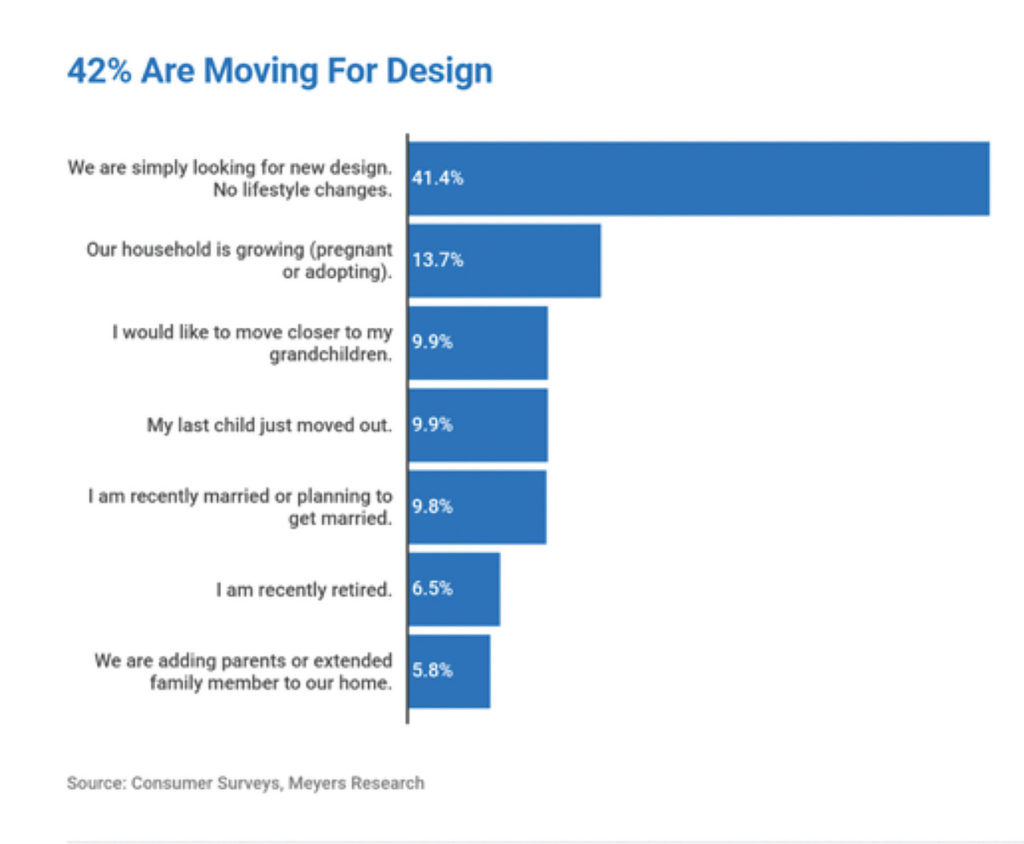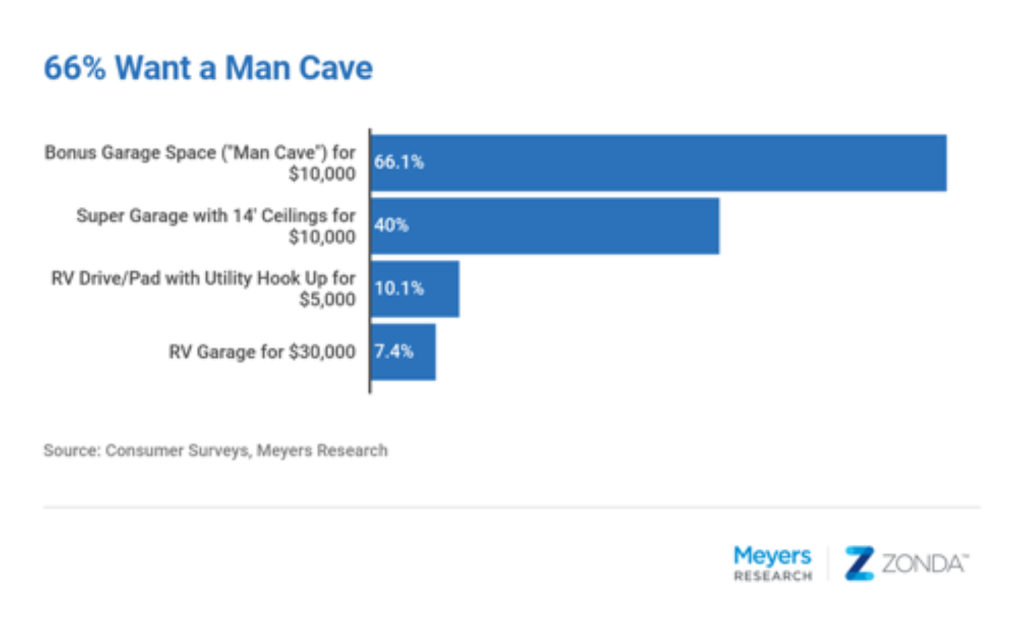 BRIGHT SPOTS IN INNOVATION AND IMPROVEMENTS
• Create spaces to connect. In an age where we are glued to our devices, people crave more spaces to connect. It's important to create authentic experiences that consumers can connect to. For example, consider adding a fireplace to allow the owners to gather with friends or build a treehouse for early morning hangouts.
• Lifestage conscious housing is attractive. Families with kids under the same roof now have options with the multigenerational housing with separate doors and garages.
• Aim at delivering experiences. Gelsons and other grocery stores are be coming more of culinary experiences instead of just a place to buy food. AirBnB advertises excursions instead of bed/bath counts. Companies across different industries are delivering the extra wow. Are you?
• Living right feels good and saves money. Consumers want green technology for environmental reasons, but the accompanying savings are huge, too. Make sure your consumers understand the math: saving $100 a month equals $20,000 in home value.
Jeff Meyers is the President of Meyers Research. He may be reached at jmeyers@meyersresearchllc.com.