How "life from home" impacts the way we live in America
By Nancy Keenan, Teri Slavik-Tsuyuki, and Belinda Sward
By mid-April, most of the nation was under some version of a stay- at-home order. Families wrestled with working from improvised home offices while suddenly fulfilling the role of teacher to school-aged children. Some were also finding ways (and space) to house adult children who were returning home as college campuses shut down and jobs were lost.
"Home" was suddenly everything, but economists, business leaders, and the media only predicted the impact of the pandemic on airlines, hospitality, sports and entertainment, restaurants, office space, retail, and small local businesses. There was little talk about what the pandemic could mean for the residential housing industry and com- munity development at large.
The only way to know was to ask consumers directly. The America At Home Study, conducted online from April 23 to April 30, surveyed a nationally representative sample of 3,001 consumers ages 25 to 74 years old with household incomes of $50,000 and above; 77% were homeowners, 20% were renters and 3% currently lived with relatives or friends. The study was spearheaded by marketing expert Teri Slavik-Tsuyuki of tst ink, consumer strategist Belinda Sward of Strategic Solutions Alliance, and Nancy Keenan, president of DAHLIN Group. When the survey was conducted, nearly half (48%) of respondents or another household member had lost a job or income as a result of COVID-19.
One thing was clear, home was the safest place to be. When asked to choose from a list of 10 factors to describe, "what does home mean to me?" 91% of all respondents said, "a safe place." The challenge ahead for the homebuilding industry in the recovery phase is to understand what consumers say is missing from their current home and what they are willing to pay for in their next home.
Actions Speak Louder Than Words
An oft-cited caution with consumer research is that people will say one thing but do another. The America At Home Study asked consumers about changes they had already made to their homes and garages; 92% of them had made changes to their homes, and nearly half had made changes to their garages. Open concept floor plans proved challenging when one room was simultaneously a home office, a classroom, and in some cases, a sleeping space. One respondent said, "I work in my wife's car in the morning for all my morning calls so my wife and daughter can sleep. Then I work from the breakfast table for the late morning/afternoon. I get a chance to work out a lot more since I'm home and can change into my exercise gear before my last meeting. We have dinner as a family to catch up on the day's events."
Most of the changes made by all demographic groups were related to hygiene, wellness and adaptability/flexibility of space. Of the changes already made, all respondents were disinfecting things more (73%), and reorganizing to create more space (44%). Millennial respondents had already made the most changes to their current situation and were most willing to pay for new features in their next home. Not surprisingly, they also had the greatest need for more and flexible spaces, as they were already using rooms for combined purposes (45%) and creating space for multiple home offices (31%).
Garages Present New Design Opportunities
Fully 70% of Millennials who have a garage made changes, including:
Space for a home gym or exercise area (23%)
Additional storage space (20%)
Home office space (18%)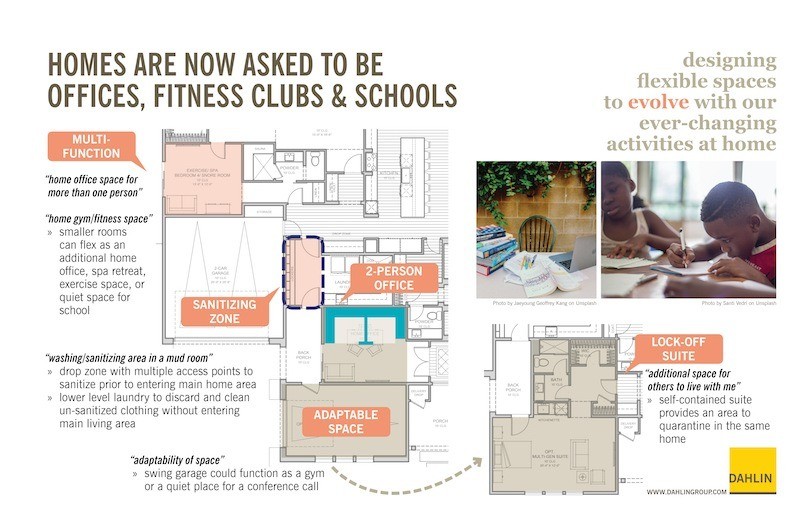 Desired New Home Features
Post-coronavirus, the need to demonstrate a commitment to health and wellness, and spaces that can adapt for the way life changes will be critical. When asked what features they want in their next home and would be willing to pay for, survey respondents were clear.
More than 50% said they want:
Germ-resistant countertops and flooring
Greater tech/energy efficiency
More storage, specifically for food and water
Touch-free faucets, appliances and smart toilets
A better-equipped kitchen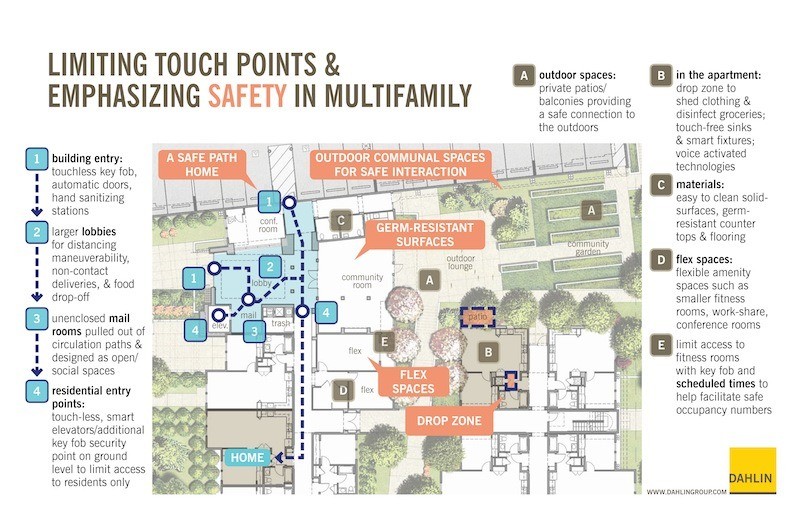 More than 30% said they want:
Touchless entry to the home
Home offices for more than one person
Adaptability of space with flexible walls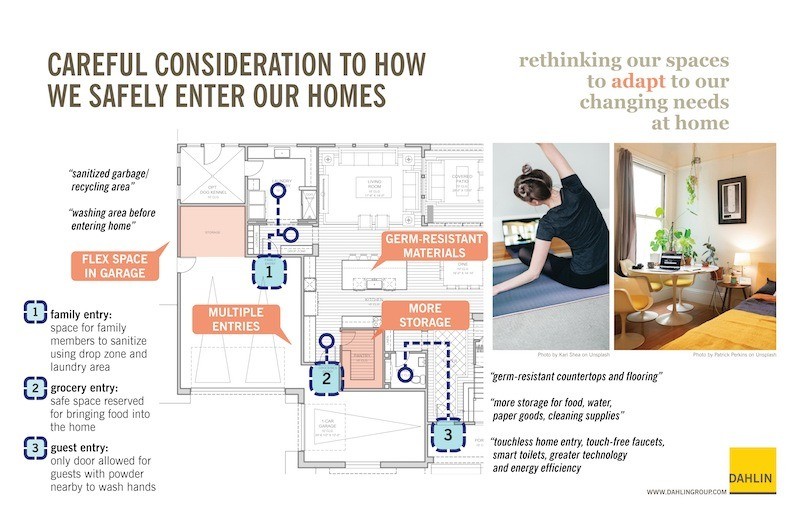 Desired Changes in Community Features
The increased focus on safety, health, and wellness may spur a change in focus for community amenities as well. Some of the amenities that ranked as very important were:
A large park with open fields and green space (52%)
Trails (47%)
Controlled environment for safety, sanitization, and maintenance (45%)
Picnic and barbecue areas and open pavilion (40%)
Health and wellness clinic (38%)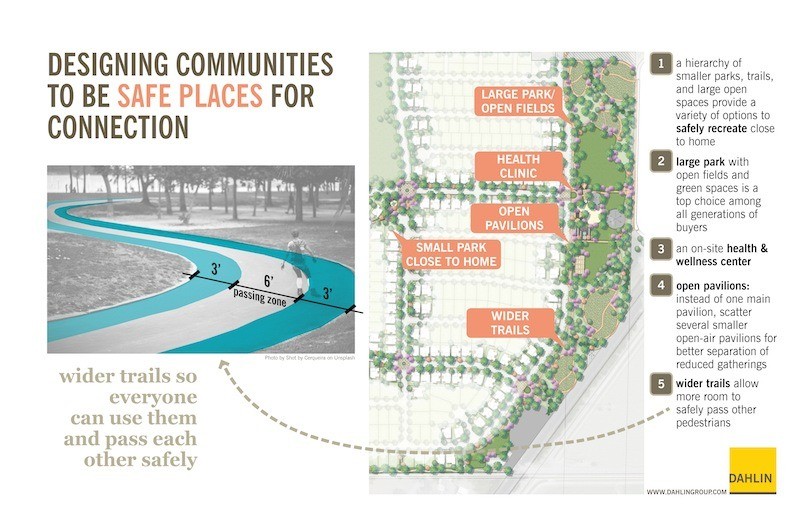 Renters Represent Significant New Home Demand and Have Money to Spend
Living with the pandemic has made nearly half (46%) of renters say that they are more inclined to want to buy a home now, representing a potential 7.4 million households in the United States. Clearly, being in control of their environment is more important now than ever. The majority are 25 to 44 years old, and despite common perceptions, they have the household incomes needed to purchase in most markets. Their preferred product type is single-family detached homes (79%). Of all buyer groups, the oldest Millennials/Younger Gen X (35-44) were most willing to make trade-offs to buy the home they want, including:
Access to open space via a balcony, porch, deck, or patio versus having a yard (57%)
Different/less expensive location (53%)
Smaller yard size (45%)
Fewer features or upgrades (44%)
Ability to rent out a room or apartment in the home with a separate entry (42%)
Smaller/no garage (39%) tied with attached home type (39%)
Concept Home Coming Soon
The Survey team is collaborating to design and build a concept home based on its findings. Design charettes are planned for August, and DAHLIN Group will work with North Carolina-based Garman Homes to design, plan, and build a home. The goal of the concept home is real-time research and development, sharing design, and planning decisions made along the way to provide the desired features and keep the home attainable. The America At Home Study will also be repeated in the fall to see if the changes consumers said they want in their homes while living through a pandemic will stick. One thing appears true—there is a need for all kinds of housing product to meet the changing needs of both owners and renters.
Nancy Keenan is President and CEO at DAHLIN Group, a global architectural and planning firm.
Teri Slavik-Tsuyuki is principal at tsk ink LLC, a marketing and brand experience design company.
Belinda Sward is founder and chief strategist at Strategic Solutions Alliance, a consumer strategy and insights firm.
For more information on the America at Home Study, visit www.AmericaAtHomeStudy.com.