An Emphasis on Energy Efficient Outdoor Living
By Candice Chandler
Florida is a state that has consistently been an influence in the marriage of outdoor living and community unity and a new development, Oakland Park, showcases these qualities with an energy efficient twist. Ashton Woods Homes, David Weekley Homes, J&J Building, and Crescent Communities is currently building a major addition to the green standard of modern living on 306 acres of historic, beautiful land. With a plan to include 750 residences, a small neighborhood center, and a variety of parks and open spaces, Oakland Park is setting the new standard for outdoor/indoor living.
Oakland Park spans just over 300 acres of stretching from Lake Apopka south to Oakland Avenue. In an unusual set of twist, the dividing boundry between the Town of Oakland and the City of Winter Garden runs through the Oakland Park site. Depending upon where in Oakland Park residents live, buyers can either be a resident of the Town of Oakland or the City of Winter Garden. Both communities bring a unique history and ambience to Oakland Park.
"The community was conceived in 2004 and was dormant through the economic downturn. Beginning in early 2012 activity picked up and has been steadily increasing since then. The community is comprised of approximately 306 acres and is currently planned for approximately 750 residences, a small neighborhood center and a variety of parks and open spaces," said John Classe, Vice President of Residential Florida Crescent Resources, LLC.
Much of what will make Oakland Park feel like a naturally occurring community is a staunch commitment to preserving and enhancing the beautiful Old Florida feel of the land. Lake Apopka has now been greatly rehabilitated and is returning to active use.


Oakland Park borders on one half mile of shoreline that will be preserved as a community park with a shoreline trail. There are to be no lots at the water's edge, and native edge plantings are being reintroduced to the lake to further assist in rehabilitation.
"With over 70 acres of parks and open space planned, there is ample opportunity for residents to enjoy the outdoors in natural settings. From a health standpoint the opportunity to walk, enjoy the West Orange Trail, and the diversity of parks is an immeasurable added value," stated Classe.
In addition to the adherence to the natural beauty of the surrounding land, builders have also incorporated strict third party certification technologies to give all the homes in the community the maximum green affect. The community as a whole is a Green Development by the Florida Green Building Coalition (FGBC) and each home specific to the builder has also gone through separate third party certified processes.
Some of the many specific features that incorporate energy efficient design within the community include the integration of stormwater and park systems, the survey of tree location in the overall design, trails and sidewalks encouraging walking, interconnected street grid, the utilization of underground utilities including piping to reuse water for homes, dark sky lighting for all street lights, and the mandatory requirement of all homes seeking certification though the FGBC.
"Traditional neighborhood communities like Oakland Park share common design principles. Houses are close to the street, streets are connected, housing is diversified, and uses are mixed.
Architecture is controlled by style and detail, and civic places are an important element. Communities that embrace these principles have an environment that encourages walking, civic engagement and a generally healthier lifestyle," explained Classe.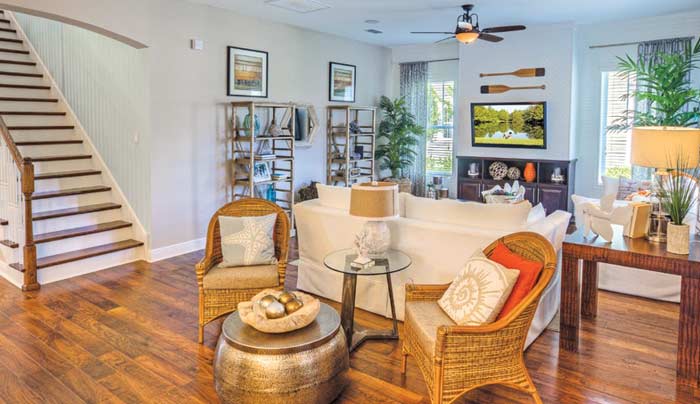 Oakland Park is also within close proximity to a number of cultural and civic destinations. Two elementary schools, Tildenville Elementary and the Oakland Charter School are within easy walking distance for residents residing in the community. Additionally, Lakeview Middle School is also a short bicycle ride down the West Orange Trail. The Oakland Nature Preserve is on the east edge of Oakland and also on the West Orange Trail. Several churches and community buildings are within easy reach of residents of Oakland Park.
The emphasis on not only energy efficient technologies but community unity through the natural environment enhance the green appeal of Oakland Park. From a design perspective, Oakland Park has been carefully planned to encourage people to interact socially in a natural environment. This is to be a walkable community of some density.
Oakland Park is planned around a connected network of streets and trails providing residents a variety of paths to attractive destinations such as Lake Apopka, downtown Winter Garden and the Tilden estate with neighboring Lake Brim.
Residents through the entire community of Oakland Park aren't far from the Oakland Park parks system. Numerous and strategically placed parks are woven into the very fabric of the landscape design of Oakland Park, encouraging interaction both socially and organically. In addition to small to medium sized parks providing civic space for smaller neighborhood areas, two major linear parks connect from Lake Apopka to the West Orange Trail and Meadowmarsh.
With 48 homes that are already sold and occupied and an additional 79 units currently under construction, the completion of Oakland Park as a whole is sure to attract a bevy of buyers seeking unity between indoor and outdoor living. As green trends continue to take hold, Oakland Park is far above the curve with big builders offering their efficient home designs as well as the eco-friendly vibe of the neighborhood as a whole.
Candice Chandler is editor of Builder and Developer magazine. She may be contacted at cchandler@penpubinc.com