An Energy Efficient Twist on Tradition
Warwick grove is a community that injects green building practices with traditional design while providing potential buyers with luxury.
By Candice Chandler
New England has developed a style all of its own, and the new active adult community in Warwick, New York only enhances the potential of combining sustainability with tradition. Warwick Grove, a master planned community with 215 units on 130 acres of land, is a certified green community and has earned accreditation by the National Association of Home Builders (NAHB) Green Program at the 4-star, Silver level.
Just on the outskirts of New York City, Warwick Grove took advantage of the dominant styles of homes originating on the East Coast and developed an innovative alternative to luxury living for the 55 and up sector.
Developed and owned by Warwick Grove Company, LLC, an affiliate of LeylandAlliance LLC, the new neighborhood utilizes architectural designs such as Dutch Colonial, Farm County, and Victorian.
"The inspiration for Warwick Grove is the wonderful historic and walkable neighborhoods found throughout the Hudson Valley," explained Louis G. Marquet, Executive Vice President for Warwick Grove. The community also includes close-quartered amenities that residents can access by foot.
Warwick Grove is located right near a bustling social atmosphere located in the main area of the village. A variety of shops, galleries, and dining options are walking distance from the homes in the neighborhood while the public library sits on an entrance road into the community. Within the confines of the neighborhood sits a conservation area with trails for strolling. The landscape architecture also includes parks throughout the development and encourages outdoor exploration of residents.
The master plan architect, Duany, Plater- Zyberk & Company, designed the community to be a natural extension of the existing traditional village. Warwick's Main Street in turn serves residents with a hub of activity that can be accessed on foot.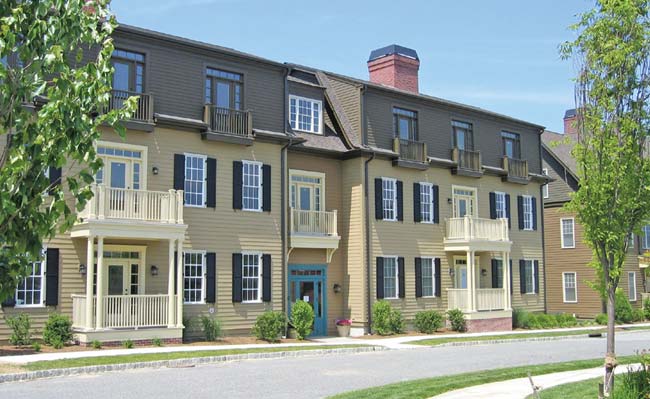 "Warwick Grove is truly beautiful and has been embraced by the market place and local community for excellence in design of the master plan and execution of its homes," said Marquet. "The homes are energy efficient and comfortable for their residents."
The master plan of Warwick Grove aims to blend completely in with the historical Village of Warwick established in colonial times. Although the community is single-family oriented, it also includes a limited multifamily component of apartment condominium homes. The singlefamily options include detached homes while attached townhomes are also available.
Warwick Grove, following the guidelines for the NAHB Green Program, implemented Energy Star approved construction. Through the guidelines mandated for this program, the homes have R-21 insulation in exterior walls, R-38 insulation in the attic, homewrap moisture barrier, high efficiency forced air heating and air conditioning, tankless, continuous flow hot water heater, low-e insulated windows, a high-efficient HVAC system, and superior indoor air quality provided through a central vacuum system.
"The homes of Warwick Grove have won a variety of design awards and are NAHB energy-certified. Warwick Grove was also one of the first PATH demonstration projects for advancements in energy technology," stated Marquet.
PATH (Partnership for Advancing Technology in Housing) conducted a case study on the community through consulting with LeylandAlliance among other parties involved in the construction of the homes concerning code issues, costs, and benefits of using advanced technologies to cut energy consumption and essential utility expenses for residents.
The benefits of using advanced technologies only added to the marketability of Warwick Grove. LeylandAlliance implemented Traditional Neighborhood Design (TND) features into the neighborhood and the company wanted to blend New Urbanist site design principles with high performance, energy efficient building techniques.
The PATH process introduced strategies for LeylandAlliance and contracting partners to utilize in the homes at Warwick Grove. One strategy was the use of unvented insulated crawlspaces to enclose mechanical equipment in semi-conditioned space to replace floor insulation.
PATH consultants first demonstrated the associated benefits through modeling and real-life examples. PATH then analyzed the builder's standard practice, trained crews on the new technique, resolved code issues, and examined costs. By sticking to these guidelines the project team had capabilities to apply numerous PATH technologies to homes throughout the community.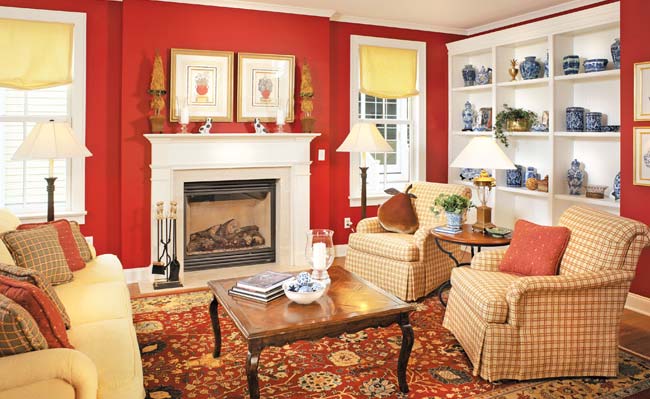 PATH, an organization originating from the U.S. Department of Housing and Urban Development, aim to accelerate the development and use of technologies that immensely improve the quality, durability, energy efficiency, environmental performance and affordability of the U.S. housing market. Green building is percolating throughout all sectors of the homebuilding industry, and Warwick Grove is a community that will make sustainability marketable.
Warwick Grove's homes are fit with a tight building envelope, efficient mechanical equipment, durable design and materials, and superior indoor air quality that are the skeleton to a luxurious home that can cut the costs of utilities for buyers. With its compilation of different designs for homes, the community can offer sustainable options for all of its floorplans.
The advanced technologies implemented in the homes cover a wide variety of important facets of the energy efficient design. The building envelope is equipped with Energy Star homes standards allowing for residents to earn major savings on the tight building envelope design. Energy modeling, insulation, air sealing, and low-e windows are united to ensure a costsaving and low energy-eating home.
Engineers were involved in the design of a highly sophisticated HVAC system that includes an efficient furnace, manual J sizing, air conditioners with Puron, programmable Thermostat and tankless water heaters. Homes are also equipped with durable design and materials such as water protection details, ceramic floor tile, and fiber-cement siding.
"LeylandAlliance wanted to create one of the first Traditional Neighborhoods in the northeast and hired Duany-Plater Zyberk & Company to design the master plan for Warwick Grove," explained Marquet. "The idea was to create a variety of floor-plans, each with a series of elevations, that would be based on a production method of construction, yet have the classical architecture and detailing, modern floorplans, and energy efficiencies that were desired by the marketplace."
Despite the overall success of the community, the development wasn't devoid of challenges. From landscape issues to endangered turtles, solutions were required to ensure that production wouldn't slow down.
"Building challenges included rocky terrain, an endangered Bog Turtle, tight lots with difficult grade issues, and training trades to utilize newer building technologies," stated Marquet. "The solutions included having to blast rock in order to build the homes; creating a protected habitat and a unique 'Leyland' bridge that was designed for safe passage of the Bog Turtle; custom fitting every home on the narrow lots and ensuring grading was done properly — in some cases rock walls between homes were installed to assist with this; and a Design Manual was created, along with training classes, to help the trades understand the new techniques."
PATH supported the project by providing energy efficient consultation, specification, and implementation training and media outreach. LeylandAlliance and Warwick Grove Company went for innovation married with historical influence and far surpassed that goal.
The sheer size of Warwick Grove is enough to make a ripple throughout the homebuilding sphere, and the fact that it is a sustainable and efficient community certified through the NAHB, the project is sure to not only satisfy the buyer's needs, but also set an example for an entire industry. Many builders are turning to green building techniques and technologies to intrigue buyers with cost-saving features. Warwick Grove meets the needs of potential buyers while inspiring fellow developers to go green.
Candice Chandler is an assistant editor for Builder and Developer magazine. She may be contacted at cchandler@penpubinc.com.