Aprilaire e-series Dehumidifiers: Energy-Efficient Indoor Air Quality Solution
Aprilaire e-series Dehumidifiers: Energy-Efficient Indoor Air Quality Solution.
By: David Carlson
New high-capacity Aprilaire e-series Dehumidifiers combine energy efficiency, expanded capacity, and ease of installation with sleek design and durability to keep your customers' homes free from excess moisture and the issues that come with high humidity.
Excessive Moisture Creates Persistent Issues
Excess moisture is an invitation for termites, mold, mildew, airborne viruses, and structural damage like warping and rotting. Contaminated air as a result of these issues will move throughout the home exposing your customer and their families to a risk of increased health problems like respiratory infections and asthma.
Additionally, excess humidity presents other comfort issues like musty odors. Not only that, if these issues persist, they can result in costly repair bills and leave the home exposed for recurring pest or mold infestations.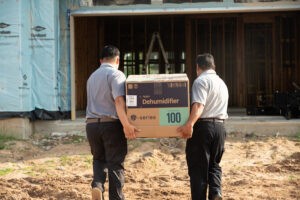 Balance the Humidity in Your Home Builds with Aprilaire e-series Dehumidifiers
Most people probably think it's the temperature in their homes that dictates comfort and air quality. While this is true, humidity also plays an important role in how safe and energy efficient the entire home is. At Aprilaire, we believe keeping a home's humidity in the Healthy Humidity Zone (between 40% and 60%) will lead to a number of benefits, both in everyday life and in the larger scope for your customers.
Help Your Customers Sleep Better
It's no secret that high humidity can be really uncomfortable, especially when we sleep. But it's not just feeling uncomfortable lying in bed. High humidity levels can actually increase the number of times we wake up, which can reduce the amount of deep, restful sleep we get. That deep REM sleep is important for bodily recovery and memory.
Lower Stress Levels
We all want to lower our stress levels, but sometimes it's not just daily tasks and responsibilities that cause stress. When we are exposed to great heat or humidity, our body systems find it harder to function and compensate. Overheating can cause weakness, headaches, and dizziness. Maintaining balanced humidity is an easy way to help keep stress levels down, both physical and mental, and keep your customers functioning at their best!
Even Fight Illness
Here's a fun fact: Studies have shown that flu viruses thrive in dry air environments. Other viruses, molds, and pollutants tend to like either excessively dry or damp conditions as well. Humans, on the other hand, are most comfortable and healthy in a nice, sweet spot between 40% and 60%. Keeping the air in your home builds balanced is not only best for your customers but will keep them safe from various airborne illnesses that thrive in extreme environments.
In addition to these everyday benefits, Aprilaire e-series Dehumidifiers demonstrate the power of practical science and its impact on your homebuilding.
Enjoy Energy Savings
If your customers have noticed higher energy costs than they should have in the past, it might be because their air is not being cared for properly. Having balanced humidity prevents the air conditioner or furnace from working overtime, thus saving your customers money on future energy costs.
Increase the Value of Your Home Builds
Owning a home is an investment, and one day your customers might want to cash in on that investment. If you're not focusing on the air in your home builds, it could be causing damage that you aren't seeing until it's too late. Dry air can lead to cracked wood, while damp air contributes to harmful mold growth and pests. Having proper humidity keeps your customers' homes safe and can help in the long run.
Even Help Save the Planet with ENERGY STAR®
Wouldn't it be great to know that the choices you make in your new construction projects have a greater impact on the environment? Aprilaire has worked on creating cost AND energy-efficient products and has received certifications from ENERGY STAR®, the nation's leading innovation and energy efficiency expert. Our new e-series™ Dehumidifiers, recognized as ENERGY STAR® Most Efficient 2021, have increased energy efficiency and removal capacity without sacrificing ease of install or their wide variety of install applications.
Go Above and Beyond
Our e-series dehumidifiers represent the very best in high performance humidity control solutions. We are proud to be recognized as the first whole-home dehumidifier manufacturer to earn the ENERGY STAR® Most Efficient 2021 certification. This achievement demonstrates our focus on energy savings and environmental protection, while continuing our mission to deliver Healthy Air to more homes.
The best builders don't simply choose products to meet home energy codes—they choose them because they know that quality air systems can also protect homeowners' health along with the well-being and preservation of the home overall. By constructing homes that meet or exceed codes for Indoor Air Quality with Aprilaire solutions like the e-series Dehumidifier lineup, systems, and support, you can distinguish yourself and build a reputation for designing superior homes.
David Carlson is Aprilaire's Director of Marketing