Aragon Sets the Standard for Townhomes
By Scott McCourtney
Confidence is back in the housing market and the new home community Aragon in Signal Hill solidifies that confidence. Located in Los Angeles County and completely surrounded by the city of Long Beach, Aragon is situated on 3.2 acres of pristine California land. Built by MBK Homes and designed by William Hezmalhalch Architects (WHA), this Spanish designed community is reminiscent of the early California architecture prevalent in the Los Angeles area.
The gated three-story attached townhomes offer five floor plans ranging from 1,189 to 1,879 square feet. They include 2.5 bathrooms, 3 bedrooms, a first level 2 or 3 car attached garage, private decks, and a community gathering area with a recreation room, spa and an outdoor kitchen. The standard features offered at Aragon include stainless steel appliances, granite countertops and walk-in closets. Energy efficient features include solar panels with a 20-year pre-paid lease, tankless water heaters, drought tolerant landscaping, and dual-glazed vinyl windows with low-E glass. Homes are also Energy Star and Build It Green certified.
"The launch of construction at Aragon signifies MBK Homes confidence that market conditions and new home prices have improved, and the timing is right to move forward. As one of the only new communities currently under construction in the area, it meets the demand we're seeing for affordably priced new homes within the greater Long Beach submarket," said Rick Fletcher, Vice President of Sales and Marketing for MBK Homes.
One of the main challenges on this project were existing oil wells on the site. Re-abandoning the wells to current California Department of Conservation, Division of Oil, Gas, and Geothermal Resources standards was a time consuming and costly endeavor. The existing housing project consisted of two bedroom townhomes ranging between two and four stories tall. MBK redesigned the product to broaden the square footage range, add three bedroom units, and eliminate the four story units.
"This was a challenge due to the City of Signal Hill's strict parking requirements as well as the necessity to maintain a two story façade along 19th Street," explained Matt Hamilton, Vice President of Residential Land Acquisition for MBK Homes.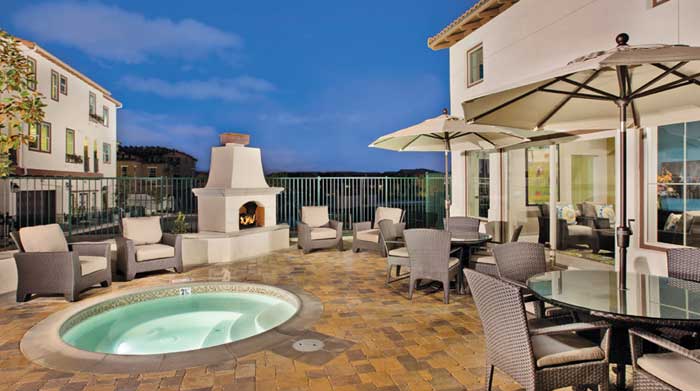 The success of Aragon will help MBK focus on higher density, larger projects with a low barrier to entry. Limited land availability, a steadily growing population, and the recent downturn have created a pent-up need for housing, spurring MBK to put renewed focus on expansion. With the support and financial backing of MBK Real Estate Ltd., the U.S. real estate development arm of Mitsui & Co., Ltd., the recent acquisition of Aragon and three other properties reflects MBK Homes' recent growth strategy put in place to meet the uptick in demand that is occurring as market conditions continue to improve. Sea House in Costa Mesa, CA will feature 33 detached single family homes, Jacaranda in Stanton, CA will feature 45 detached single family homes, and Vineland Metro in North Hollywood, CA will feature 27 detached single family homes.
MBK Homes is an active developer of for-sale single and multifamily housing communities, rental housing, apartment property acquisition and distressed asset renovation. Through its various housing solutions, their mission is to provide top quality shelter to residents in California. Throughout its nearly 20 years, MBK Homes has earned a reputation for delivering award winning customer satisfaction in housing that is innovative in design, comfort, sustainability and craftsmanship at an excellent value.
WHA is a global comprehensive land planning and design firm specializing in the shaping of new communities and reshaping of urban and existing in-town neighborhoods. Established in 1981, WHA has served numerous agencies, builders and developers throughout the world. As a leader in community and neighborhood design, the firm provides an integrated planning and design approach to every project. Working in collaboration with their clients, colleagues and consultants, they deliver projects that address the complexity of the contemporary marketplace as well as the environmental issues at hand.
Residents living at Aragon will enjoy the convenience of the community's close proximity to restaurants, shops, services, beaches, entertainment, employment centers and transportation corridors. Aragon is 22 miles southeast of Los Angeles International Airport, 21 miles northwest of John Wayne Airport, and just 3 miles from Long Beach Airport. Downtown Long Beach is minutes away and Downtown Los Angeles is just 25 miles north. The Blue Line service of the Metro is accessible from Signal Hill along with access to the 405, 710 and 605 Freeways.
"The location and price point make Aragon the perfect option for first time homebuyers," stated Fletcher.
"The location and price point make Aragon the perfect option for first time homebuyers," stated Fletcher.
The 81 townhomes built provide Long Beach, the South Bay cities, Los Angeles and North Orange County residents the opportunity to buy a home at an affordable price at a time when historically low interest rates are available. Aragon is located at 1870 Orizaba Avenue in Signal Hill, which is just north of PCH.
Scott McCourtney is an assistant editor of Builder and Developer. He may be contacted at smccourtney@penpubinc.com.