Architecture Firm Tres Birds Refines City Living, Brings Sustainability and Community to One Square Block of Denver
DENVER—A condominium development by the architecture firm Tres Birds is bringing an enhanced level of sustainability and community to one square block in Denver.
S*PARK—formerly known as Sustainability Park—is an eco-friendly, mixed-use project that is maximizing the use of sunlight, creating density and variety in living spaces, de-emphasizing the automobile, and opening the site for shared green spaces.
S*PARK features 91 condos ranging in size from 500-square-foot studios to three-story three-bedroom units, a linear private park surrounded by balconies and front porches, urban gardening plots, an installation of colorful birdhouses, and an award-winning Japanese restaurant, Uchi, with a greenhouse operated by Altius Farms on its roof. Retail tenants Lacuna Organic Juice Bar and Yoga studio are an important part of the community. An essential element of the plan is that all the parking is underground so more of the site can be used for people and plants rather than cars.
Tres Birds worked together with Jonathan Alpert of Westfield Development to create a master plan for the 100,000 square feet of land that was acquired by the Denver Housing Authority from the city of Denver in the 1990s.
Designed to minimize residents' carbon footprints, each unit uses the building's rooftop solar power system, which offsets common area electrical use. S*PARK is equipped with high-efficiency LED lighting, high-performance windows, and advanced insulation. Composting and trash valet services are also available. The underground parking has electric charging stations. Residential utility bills are showing that the electricity and gas used to operate the units is less than half of the energy used in equivalent contemporary buildings.
Well-thought-out details include metal lattice on the balconies for shading, growing plants, and extra privacy. On the park side, the buildings are clad in white so that reflected sunlight can further boost tree and garden growth, and bring vibrancy and color to the outdoor room.

Galvanized steel downspouts and custom-angled channels bring storm water from each roof down to the park, watering the plants and percolating back into the ground, reducing the load on the city sewer system and the need to water the landscape.  The park, planted with new trees while retaining a mature English oak, is home to an outdoor kitchen and dining area and a grass lawn with porch swings to foster community. The park is host to numerous events from community dinners to yoga sessions and urban farm classes and tours.
"S*PARK was designed to provide sustainable living and at the same time offer a community for its residents," said Mike Moore, owner and founder of Tres Birds.
Located at 2500 Lawrence Street, the site marks a transition zone between commercial and residential streetscapes in Denver. The transition is reflected in the density and mixed-use character of the project, which includes regional reclaimed brick facades on the street sides.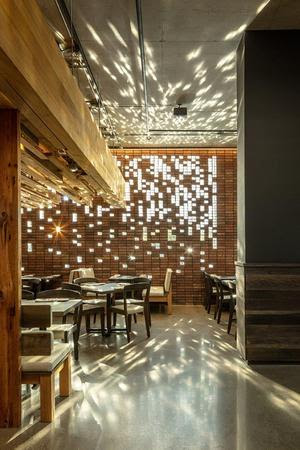 The various patterns and uses of brick create texture and support specific functions. Strategically omitted bricks at balconies and outdoor stairs allow light to pass through as well as offer a view out. Turned bricks on the ground level façades encourage greenery to climb.
The brick and glass brick wall system that wraps the southern façade of Uchi is a completely new wall system designed and engineered by Tres Birds.
The ground-level urban garden is adjacent to a 7,000 square-foot elevated greenhouse, which captures enough natural light to grow microgreens throughout the year. The greenhouse utilizes passive heating and cooling strategies, with automatic venting and thermal blankets that stretch across the interior on cooler nights. The high-tech glass building forms the roof of Uchi, which provides a "farm to table" experience.
Tres Birds has played a unique role in the development of S*PARK, serving as master planner, architect, and interior designer for the entire scope of the project, as well as general contractor for Uchi and the swing and birdhouse installations.
About Tres Birds
Tres Birds is a full-service planning, architecture and general contracting firm based in Denver, Colorado. Founded in 2000, Tres Birds creates dynamic designs for a better world―building sustainable community, respecting nature, and sparking innovation.
Working across the disciplines of architecture, art, engineering, and science, Tres Birds' transformative projects get to the core of what matters―beauty, timelessness and consideration of biodiversity. Without a need to proclaim a signature style, Tres Birds is free to create the best outcomes.
The Tres Birds team is made up of progressive systems thinkers and makers who create healthy and efficient spaces that reduce carbon footprints and bring joy to their inhabitants. With a belief that less is more, Tres Birds often repurposes humble regional materials leading to sustainable and affordable results. Innovative thinking results in singular solutions for multiple challenges.
Projects range from mixed-use developments and corporate headquarters to net-zero energy homes, museums and city parks. Each one is designed to bring wellbeing to the people who spend time there and the surrounding ecosystem. www.tresbirds.com
 # # #
Press Contact:
Nicole Straus Public Relations
Nicole Straus, 631-369-2188, 917-744-1040, nicole@nicolestrauspr.com
Margery Newman, 212-475-0252, MargeryNewman@gmail.com
 # # #
Images:
PHOTOGRAPHER JAMES FLORIO and © JESS BLACKWELL PHOTOGRAPHY