Avalon Quarter Creates Affordable Modern Homes
Wathen Castanos Homes opened their new community of Avalon Quarter last December, set in the up-andcoming location of Visalia, Calif., making 55 affordable lots available for eager first time buyers looking to purchase a new home.
Floorplans were designed by Wathen Castanos Homes and nationally recognized architects Bassenian and Lagoni. The community features single level and two-story homes along with open floor layouts in each model that allow for maximized livable space that connects well to outdoor living spaces. Currently, 30 of the 55 lots available have been sold.
Sales Assistant Stacey Eddy emphasized the overall community feel that exists inside Avalon Quarter.
"Avalon is a very unique community. The residents take an above average pride in Avalon which is reflected in the neatness of the common areas as well as each individual home," Eddy said. "There is a real sense of community here which is demonstrated in the day to day fellowship of neighbors—each day there are young and old alike walking dogs, playing with grandchildren, visiting on the public benches, kids playing, young families taking walks." The development on these lots began eight years ago under ownership of another builder, creating some difficulties during the developmental stages of Avalon Quarter for the builders at Wathen Castanos, according to owner and vice president of construction, Freddie Logue.
"This particular project was previously owned by another builder so we needed to make certain the product we were planning to build would fit the lots and blend well with the community," Logue said. "This required regrading the pads so we could utilize existing plans we had built on another project. We also had to make some small adjustments to components of the home to meet the jurisdiction requirements of this particular project."
Logue said that collaborating with the jurisdiction early on helped them to navigate through the plan check process quickly. One thing that builders made a priority for the community from the early stages of the building process was maximizing energy-efficiency and incorporating green features such as Techshield roof sheeting, Rinnai tankless water heaters, triple low-E argon gas filled windows, 16 SEER 13 EER air conditioning systems, 94 percent AFUE furnaces, LED kitchen lighting and low water consumption drip irrigation in all planting beds.
"We have worked with our HERS rater and other consultants to fully understand the benefits of building high efficiency homes," Logue said. "We have third party verification for our homes with our HERS rater to assure we are hitting the mark on the standards we build to."
During the building process, Wathen Castanos recycled approximately 70 percent of the building debris leftover at the job site. President of the Central Valley region for Wathen Castanos Homes, Joshua Peterson, elaborated on how the company prioritizes green building methods.
"Green building has become more than a cliché for us as we continue to build energyefficient homes that protect our environment and resources," Peterson said. "This also benefits our customers financially by significantly reducing costs over the life of the home."
Wathen Castanos went beyond minimum requirements for energy-efficiency, Owner and Vice President of Marketing and Sales Peter Castanos said.
"Unlike other home builders, Wathen Castanos Homes does not just meet the minimum requirements that are the 'industry norm' for energy-efficiency, but goes the extra mile to make our homes the most energyefficient in the region" Castanos said. "Our skilled builders bring a wealth of experience and use the latest energy-efficient products."
Additionally, Wathen Castanos Homes built the community of Avalon Quarter to be a modern one, by integrating smart home technology and connectivity options for homebuyers. The packages were created by Hi-Tech Home, an electronics system provider and installer, and for Wathen Castanos Homes, homebuyers could choose from three different packaged options: a smart security package, a smart energy management package, and an extensive smart automation package.
Hi-Tech Home president Jay Cobb said these packages meet growing homeowner demands.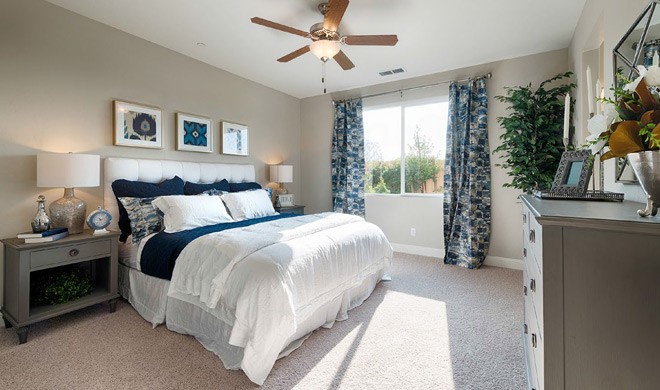 "Smart phones and tablets have driven the demand for connected homes. Homeowners want easy to use technology for both entertaining and security," Cobb said. "Hi- Tech Home has created smart packages for both Wathen Castanos and the homebuyer which are easy to understand, simple to use, and cater towards all types of homebuyers."
All three packages include a touch screen control panel to help manage security and energy functions from the homeowner's smart phone. It works with a free app that allows homeowners with a smart tech package to control things like alarms, windows and doors. All three packages are enabled for email and text message notifications.
The smart energy management package draws on the security package further, adding two smart thermostats with remote temperature control options along with remote lighting control. The extensive smart automation packages include all of these features, along with an outdoor security camera surveillance system and electronic front door locks and handles that can be locked or unlocked remotely from a mobile device.
Design coordinator for Wathen Castanos Homes Amy Liu commented on how the connectivity options blends flawlessly with the overall layout and design.
"One of the most appealing things that Hi- Tech offers is the clean, seamless design and integration of the products," Liu said. "It's very straightforward and simple."
Looking forward, Wathen Castanos Homes—which serves the communities of Fresno, Clovis, Visalia, Lemoore and the coastal cities of San Luis Obispo and Arroyo Grande—have four communities they are in the process of launching. In addition to Avalon Quarter, they have The Greens community located in Lemoore and the Oak Run community also located in Visalia. Additionally, they are looking to expand within the Central California area even more.
"We plan to develop future communities in the central San Joaquin Valley and Central Coast that embrace the ever evolving environmental and limited resource concerns," Castanos said.
Jessica Burger is the Assistant Editor for Builder and Developer magazine. She may be reached at jessica@penpubinc.com