Award Winning Community Accentuates Natural Environment
Painted Prairie is an award winning, neo-traditional community built by eight world-class builders
By Yvonne Nguyen
Painted Prairie, awarded Master Planned Community of the Year at the 2022 Nationals, opened in early 2020. Located just outside of downtown Denver in Aurora, Colorado, Painted Prairie is a master planned community featuring residences designed and built by eight world-class builders offering a mix of floor plans and architectural style within a range of varying price points.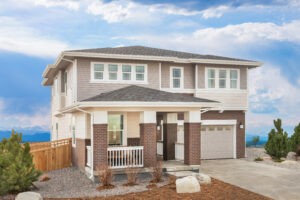 The inclusion of designs and newbuilds by David Weekley Homes, Epic Homes, KB Home, McStain Neighborhoods, Meritage Homes, Parkwood Homes and Remington allowed Painted Prairie developers to cultivate a neo-traditional community featuring a diverse streetscape, parks just a few steps from any front door and overall a highly walkable community and connected atmosphere.
Centrally located, the community sits directly across from the Gaylord Rockies Resort, is five miles from Denver International Airport, nine miles from Anschutz Medical Center and 17 miles from downtown Denver. This community, combined with the bustling surrounding neighborhoods, is perfect for young families looking to maximize the equity in their current home, dual income household with no children who may be looking to make an investment or for space to grow into and empty nesters ready for less maintenance and a smaller home to fit their new lifestyle.
The Painted Prairie ownership group is a collaboration of long-time Denver developers Alberta Development and Resolute Strategies. Painted Prairie is the only other Colorado community designed by Civitas and Calthorpe & Associates.
While construction is yet to be finished, over 300 residences are available for sale, with houses ranging from 1,148 square feet to upwards of 3,400 square feet. Although the amenities in each house changes depending on the builder, each high-performance house is ENERGY STAR certified. Houses are built with quality construction techniques and materials to ensure higher energy efficiency with certified appliances, energy efficient lighting and improved air quality.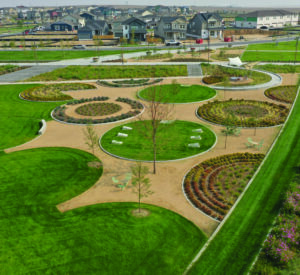 Upon completion, which is predicted for this summer, there will be well over 30 floor plans, from condominium units to townhomes, paired homes, single family alley-load homes and single family homes with tuck behind garages. When Painted Prairie opened, homes started in the $300,000s and now sit between $450,000s and $900,000s.
The master planned community is inspired by the land upon which it is built — the prairie itself. From native flora and fauna incorporated into the award-winning landscape design to the arroyo park elements, sculptured art, and naming conventions, every detail is a homage to the natural beauty of the land. Every aspect of Painted Prairie was carefully considered and designed to reduce the impact on the environment.
Slightly smaller individual lots make for phenomenal park and trail systems. Even the streets at Painted Prairie are narrower than typical to reduce reflective heat that raises temperatures in urban areas. For residents, this means a more comfortable, more natural environment requiring less artificial cooling in summer months.
Painted Prairie was developed not to recreate the natural environment, but to accentuate it. Native, drought tolerant grasses lend their color to the landscape, requiring minimal irrigation, fertilizers and maintenance. Similarly, residents are encouraged to embrace xeriscaping, a style of landscaping that requires little or no irrigation. And soon, in partnership with the City of Aurora, the curbside landscape areas that line the streets will be cared for by the Metropolitan District, whose special attention and expertise will help to further increase the efficiency and sustainability.
"Every aspect of Painted Prairie was carefully considered and designed to reduce the impact on the environment." -Cheryl Schuette, Marketing Director, Painted Prairie
The community opened right before the start of Covid, forcing Painted Prairie and the builders to pivot in an ever-changing landscape. In order to help drive traffic to models, the builders resorted to virtual tours and restricted by-appointment only meetings. At the developer level, the community was brought to life through the outdoor spaces and community activations—all following strict Covid safety guidelines.
Not only was Painted Prairie recognized as the Master Planned Community of the Year, it's also been awarded the Best Landscape of a Community by the Nationals, Best Innovative Use of Technology by Denver MAME and Best Signage by the Nationals and Denver Mame, just to name a few.Painted Prairie's goal is to deliver a wide variety of home site sizes, many of which sit on smaller lots than neighboring communities, which enables a diversity of price points. The builders and the community have created an eclectic mix of offerings and a compelling approach to architecture and overall community design with the vast park and trail systems.
Yvonne Nguyen is the Assistant Editor of Builder and Developer. She can be reached at yvonne@builder.media.