Beazer Brings Housing Variety to Nashville
Set in the rolling hills of Tennessee, major American homebuilder Beazer has an on-going development, the Villages at Riverwood, in a prime location just minutes outside of downtown Nashville. Currently 466 homesites have finished development, and by 2017, when the community plans to be sold out and finished, a total of 694 homesites will stand. The community consists of both single family homes and townhomes, offering a wide range of housing options.
The community sits in close proximity to a lake and is a short commute to the cultural epicenter that is Nashville—with its extensive shopping, restaurant and entertainment options. Riverwood is rich with the southern charm the area is known for, and all home designs were developed through Beazer, who works to collaborate with local architects.
One feature making this community unique is Beazer's Choice Plans program, which allows homebuyers to choose from interior space plans of strategic areas at no additional cost, according to Beazer's Nashville Division President Geoff Hart.
"Where most builders charge for all structural changes, our buyers are able to choose how they want to live in their home," Hart said. "For example, there may be two choices of kitchen, two choices of master bath, and two choices of bonus room, all at no extra cost to the homebuyer."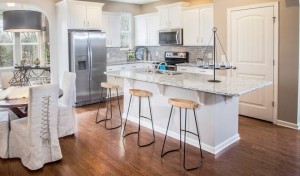 The community gives homebuyers options and homebuyers are responding. Whether it's a master bedroom on the first floor, a master bedroom upstairs or the buyer is looking to have 2-5 bedrooms or 2-3.5 bathrooms, the Riverwood community caters to a multitude of buyers whether they are family buyers or singles. Each home features a raised front porch and nine feet tall ceilings on every first floor, and is loaded with ample living space and open-concept layouts. Additionally, each home includes high-efficiency tankless hot water heaters.
These homes are also built to be connected, and feature smart home options. Beazer offers a wide range of smart home features, which can be personally selected in an interactive gallery from their technology supplier and installer.
"This allows our buyers to select those options that are most important to them, including home automation, home theater, whole house audio/video, security, energy management, networking and wireless options," Hart said. "Through these selections, our buyers are able to choose from the most current technology and customize their home to match their lifestyle needs."
The townhomes in the Villages of Riverwood give homebuyers two townhome styles to choose from, while the single family homes offer seven different home style options, including single story and two-story homes. All homebuyers receive a personalized appointment with an interior designer, allowing the buyer to fully personalize and integrate their own style choices into their new home to suit their own lifestyle needs. Homebuyers can visualize the options available in their future home in Beazer's 2,200 square foot design studio, where they can entertain different interior options from top manufacturers in flooring, countertops, lighting, appliances and more.
"Riverwood was inspired by the 'hometown feel,' where neighbors enjoy their front porches, take strolls down the sidewalks, gather at the community pool and enjoy the areas of open space," Hart said. "When you drive through the community, you may not notice the subtle design decisions that create the atmosphere, but you will definitely get the sense of 'home.'"
Currently 214 townhouses and 109 single family homes have been built, but in terms of units sold, 249 townhouses have been purchased along with 205 single family homes. Every home that Beazer builds—which includes ten communities within the Nashville area alone—is individually tested to achieve ENERGY STAR certification and receives a HERS rating specific to each home, allowing the homeowner to see the overall energy-efficiency of each residence. On average the homes at Riverwood have a HERS rating score of 66 and each home meets and exceeds ENERGY STAR standards.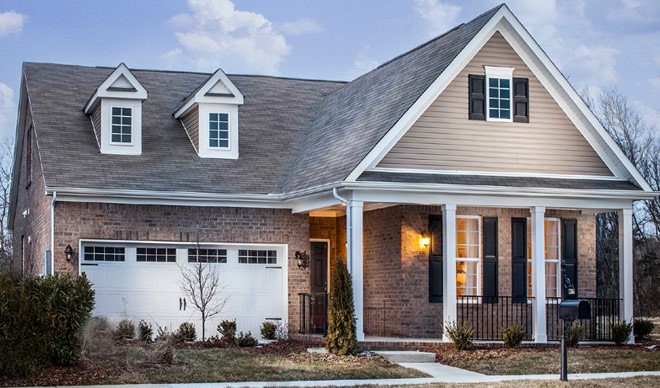 "With a wide range of homes and homesites, Riverwood is able to offer energy-efficient homes at an excellent price," Hart said. "There are numerous building practices that we incorporate into our homes to maximize the efficiency, including high-efficiency tankless water heaters as a standard in every home." The community is rich in character set among rolling hills—which proved to be difficult during development. "Riverwood features rolling hills, and as is typical in Nashville, that meant there were areas with a significant amount of rock," Hart said. "While that increased the time and cost to develop the homesites, the resulting views and feel of the community are what adds to the charm of Riverwood."
It is built to cater to many different lifestyles and has been successful in attracting different types of buyers. One feature that makes this community shine is the location.
"The convenience of being minutes to the interstate, the airport, medical facilities and shopping makes Riverwood a very desirable choice," Hart said.
Additionally, it features plenty of amenities for residents to enjoy, along with an outdoor space that promotes an active lifestyle. Its amenities include a million dollar clubhouse, a fitness center and an outdoor pool, along with acres of dedicated green open spice, sidewalks and walking trails.
Home prices range from the mid $100s to the mid $200s. When you consider the amenities available to residents along with array of options supplied through the Choice Plans program and design center, these prices make for very affordable and competitive choices in today's market.
Beazer continues to be a dominant force in the housing market, proving themselves to be a major builder in the Nashville area and across the nation.
"Riverwood continues to be one of our strongest communities," Hart said. "We currently have ten communities within the Nashville area, and we will be opening several new communities over the coming year. Nashville is a great place to live and work and we look forward to continuing to serve our local communities."
Jessica Burger is the Editor for Builder and Developer magazine. She may be reached at jessica@penpubinc.com