The Bold, Beautiful and Barrier Free
The importance of barrier free spaces.
By Amber Clore
When it comes to interior design one thing reigns true, design is subjective. Each person has their own view of what represents beauty, attractiveness and overall style. With an overload in visuals from all over the internet, there's a reason we aren't fitting into one design box or genre. 
Homeowners are asking for more creativity and character with practical design solutions, and the industry is ready to deliver. Manufacturers are coming to the table with bold and innovative products while installers are becoming versed in updated tools and techniques. 
Decorative materials like tile, stone and marble are becoming readily available in hundreds of beautiful colors, patterns and styles. Designers and builders are becoming aware of the importance of spaces that have ease of use and barrier free elements. These combined create a powerful combination; a bold, beautiful and barrier free space.
 "Bold, beautiful, and barrier free moments aren't always about what can be seen or felt but also the atmosphere that is created."
Being Bold
When redesigning a kitchen or bathroom, most tend to shy away from anything that will add too much personality or style. Be that of comfort or resale concepts, taking a risk in design selections can seem like an impossible task. 
The best way to look at a remodel is to break it down into smaller sections. Work with colors and finishes that are pre-determined to start your color palette. For example, if you know you're going to have stainless steel appliances, you might opt for a similar tone for the cabinet hardware and/or kitchen faucet. However, not all finishes have to match. There's an element of boldness with mixing and matching your hardware and other tones of metals. 
Paint is probably the easiest and most cost-effective way to change a space and add color. There have been big trends in the application of color, especially when it comes to cabinetry. Two-tone colorings have become a common design directive along with coordinating countertops. If classic colors are preferred, then there's always the backsplash trim to consider as being the best way to create visual interest in a kitchen or bathroom. 
Being Beautiful 
Trends seem to come and go, tapping into that perfect eye for a timeless design becomes more of a moving target. Being able to take notice of the items and elements that bring joy will help create an environment that feels familiar and inviting. Finding beauty in the simple side of design is sometimes a challenge and being able to see that beyond color, shape, texture and scale can be dominant characteristics. 
Texture is an element that can take a space to the next level. Be it a level 5 smooth wall texture or the rough edges of a stacked stone waterfall feature, utilizing texture with hard material surfaces becomes an important element. The use of texture, shape and scale also add depth and shadow to create the illusion of a larger and layered space. When the eye wanders the room, it becomes intrigued by its various shapes and beautiful details. 
Being Barrier Free
Barrier free is defined by creating a space or home that has total functionality, clear space and overall ease of use for all members of the space. These elements include; widened doorways, roll in showers, accessible plumbing, practical storage and many other necessities required for a home equipped to serve all ability levels. 
This could also be looked at in simpler terms, as in creating a clutter-free and organized environment where there is a place for everything. When a home is barrier free and operates with ingenuity and intent, the family can function at its highest capacity. 
Bold, beautiful, and barrier free moments aren't always about what can be seen or felt but also the atmosphere that is created. Experimenting with scent is a way to make a statement in your space. Try creating a signature scent for your home by using a mixture of different essential oils in a diffuser. Here's a scent recipe to try out:
3 drops- Lavender, 2 drops- Bergamot, 2 drops- Geranium, 1 drop- Marjoram, 1 drop- Citrus Fresh, 1 drop- Frankincense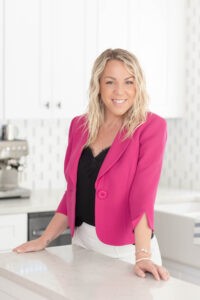 Amber Clore, ASID, CAPS is owner of A.Clore Interiors and will be a speaker at KBIS. She may be reached at amber@acloreinteriors.com.