Breathe Healthy, Breathe Easy
Panasonic offers the most cost effective ventilation solutions for meeting code and lowering your HERS® Index score
The average American spends roughly 90 percent of their time indoors, and the Environmental Protection Agency (EPA) estimates that indoor air is two to five times more polluted than outdoor air. The United States also has high rates of asthma in this country—especially amongst children. Buyers, especially those looking to buy a home for their family, will be especially interested in homes that can offer them a healthy and sustainable place to live. Health and sustainability can be the selling point that cements the sale.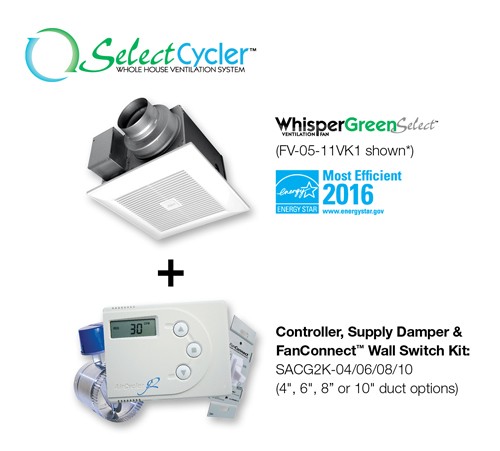 Although a tight building envelope does wonders for your utility bills, an air tight home can restrict airflow and pose danger to the home and occupant's health by trapping moisture and other detrimental pollutant indoor. There is an easy solution to this, the SelectCycler™ System by Panasonic.
The SelectCycler™ System is a cost effective, whole house IAQ ventilation solution for ASHRAE 62.2 compliance. By combining the best parts of both central fan integrated ventilation (typically forced air HVAC/AHU) and exhaust fan ventilation (exclusively designed to work with Panasonic WhisperGreen Select fans), the SelectCycler System provides the ultimate energy-efficient ventilation solution.
The SelectCycler System features two modes of operation. Hybrid mode achieves the lowest cost per HERS point for Supply Ventilation, while Balanced mode achieves the lowest cost per HERS point for Balanced Ventilation.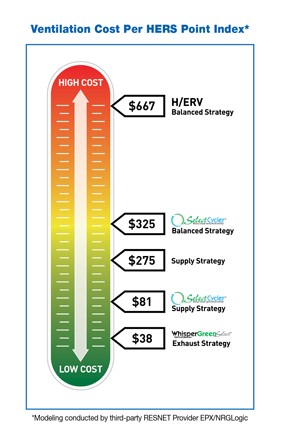 The SelectCycler System was designed exclusively to work with our ENERGY STAR® rated WhisperGreen Select fans, which incorporate Pick-A-Flow™ technology that lets you select your desired airflow (50-80-110 or 110-130-150 CFM). A set of patented four Plug 'N Play™ modules allows further customization. WhisperGreen Select also features an ultra-quiet DC motor that incorporates intelligent SmartFlow® technology, so it automatically adjusts its speed to ensure optimal CFM output, even in the case of a complicated duct run. SelectCycler™ can be used to comply with ASHRAE 62.2, LEED for Homes, ENERGY STAR® for Homes 3.0, CALGreen, CA Title 24 and WA Ventilation Code.
Panasonic offers the most cost effective ventilation solutions for meeting code and lowering your HERS® Index score. To learn more about Panasonic's high performance, low cost ventilation solutions visit us.panasonic.com/ventfans