Bringing a New Urban Lifestyle to LA's Westside
By Stephanie Ornelas
TRI Pointe Homes, Inc. recently opened its newest and perhaps most unique community, comprised of 66 single-family LEED Gold Certified detached residences, in the new urbanist community of Playa Vista on the west side of Los Angeles. Called Woodson at Playa Vista, the new luxury community features three-story homes between 2,100 and 2,300 square feet with three to five bedrooms and three-and-a-half to four baths. With prices starting in the low $1 millions, the homes are being released for sale in phases, with the community scheduled for completion in July 2015. Playa Vista is a walkable, sustainable community that includes a mix of for-sale and rental housing, retail, restaurants, office space, recreational facilities, parks and a new elementary school, all accessible to the business centers of greater Los Angeles via city streets instead of often congested freeways. The former site of the Hughes Aircraft Company, Playa Vista is located off Jefferson Boulevard between Marina del Rey and the Westchester Bluffs. It is less than one mile to the beach and 405 Freeway, minutes to Los Angeles International Airport and about 18 miles from downtown Los Angeles. The community is connected by a series of pedestrian walkways, punctuated by distinct neighborhoods, a creative office district dubbed "The Campus," and a neighborhood retail area called The Shops at Concert Park with "live-above-the-shop" residences. It also includes a 51-acre freshwater wetlands system consisting of a 25-acre riparian corridor and a 26-acre freshwater marsh. Among the amenities at Playa Vista are 19 neighborhood parks (with 12 more acres of parkland to come) and The CenterPointe Club, a 26,000-square-foot recreation and activity center with two pools, a spa, fitness center, business center, meeting room, and indoor and outdoor event spaces. The Resort, currently under construction, is the second and newest resident activity club with a two-level, state-of-the-art fitness center with indoor/ outdoor spaces and a pool deck with an outdoor fireplace, cabanas, junior Olympic pool, adult pool and spa, and kids' pool and spa.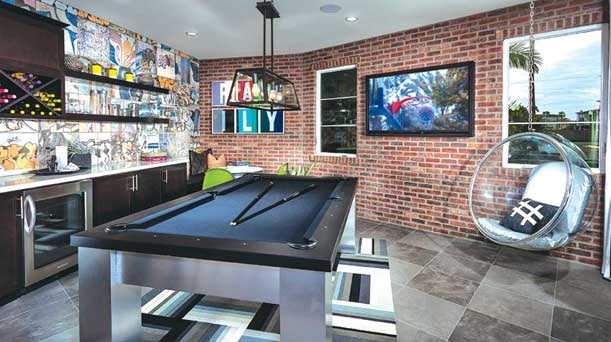 Construction is also underway on Runway at Playa Vista (located on the site of the former runway at Hughes Aircraft), the community's mixed-use lifestyle center that includes an approximately 200,000-square-foot shopping center with Whole Foods and Cinemark, apartments and office space. "Playa Vista is known as one of the most innovative and connected urbaninfill communities in the United States," said Mike McMillen, Vice President and Project Manager for TRI Pointe Homes. "With a walkable mix of homes, offices, retail, entertainment, fitness centers, parks and open space, a school and more, Playa Vista provides a unique lifestyle within an urban setting that makes it a very desirable place to live. More than a community, Playa Vista is really a city a within a city. Living here means having everything you need right at your fingertips." Woodson by TRI Pointe Homes is one of six new neighborhoods in the Playa Vista community that are open for sale or soon to come to market. Currently, there are over 3,100 for-sale and rental homes occupied in Playa Vista with the next phase and final development to include approximately 2,600 for-sale and apartment homes as well as 200 senior independent/ assisted living homes. Woodson was conceived with a nod to Irving Gill, the early 20th century modernist architect noted for his functional yet minimalist designs. "Gill distilled Spanish architecture to its purest forms using block massing and simple openings and arches for entries," said McMillen. "We reinterpreted the style to take advantage of the climate and the unique locale by adding outdoor living spaces via cantilevered decks, expansive windows and sliding glass doors, and by using warm sophisticated stucco colors and adding wood siding accents. We further enhanced this transitional style of architecture by blending traditional hipped roof forms to soften the mass with well-placed parapet roofs." Woodson homes are built at an angle to the walkways, maximizing the view and creating setbacks and space for private outdoor areas. Inside, the homes are spacious yet functional and highly efficient. The Gold LEED Certification was obtained, in part, by equipping each residence with a Sun Power 1.4 kilowatt photovoltaic grid-tied power generation system, consisting of six solar panels (upgradable to 12 panels) and an inverter. The system can save homebuyers hundreds of dollars in electricity bills in an average year. Each home includes radiantbarrier roof sheathing, tankless on-demand water heaters, low-E glass, exterior-door weatherstripping, Energy Star certified appliances, low volume plumbing fixtures, low-VOC (volatile organic compound) paints and adhesives, and fire-suppression sprinkler systems.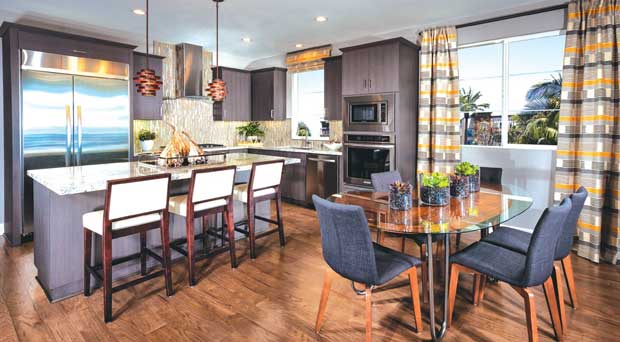 Additionally, the homes are wired with both RG6 coaxial cable and CAT 6 ethernet cable and can be fitted with optional smart-home technology. An electric vehicle charging station is an available option as well. The three floor plans available at Woodson are flexible. For example, space on the first floor can be built out as a bedroom, office, studio, game room or home theater. The second floor of the residences contains an open-concept great room, dining room and kitchen, with the smaller homes offering the option for a third or fourth bedroom on the second floor. The third floor is home to the master suites and additional bedrooms. The challenge, according to McMillen, was to minimize the building footprint to allow for the maximum open space needed for the community and to design the appropriate indoor livable square footage that would make sense for the amount of bedrooms and right-sized living and dining spaces expected by the homeowner. "The unique nature of the footprint, building shape and three-story building height resulted in some structural challenges but the creative design team was more than prepared to turn a challenge into dream luxury living in this incredible community," McMillen said. Kitchens are equipped with granite countertops and stainless-steel appliances, Shaker cabinetry in espresso with concealed European hinges and satin nickel pencil pulls, under-cabinet fluorescent task lighting, gourmet islands with seating and single compartment stainless steel sinks with Insinkerator® garbage disposals. The master suites include compartmentalized baths, dual vanities and walk-in closets. The two-car garages are drywalled, painted and equipped with automatic door openers. "The homes' design provides very comfortable living spaces that use an expansive outdoor deck to enhance the homeowner's entertainment and living experience. The homes feature three to five bedrooms for a growing family but offer the flexibility of home offices and studios for the working professional," McMillen added. TRI Pointe Homes, the first homebuilder to undertake a successful public offering since 2004, was founded in 2009 by a team whose shared vision and more than a century of combined industry experience has already provided homes to more than 28,000 families. Headquartered in Irvine, Calif., TRI Pointe Homes is engaged in the design, construction and sale of innovative homes in major metropolitan areas located throughout Southern and Northern California and Colorado. TRI Pointe's experience extends from entitlement and land development to construction of single-family homes, highdensity products, multi-use infill and masterplanned communities. This experience also increases the value of real estate assets for landowners, investors and other participants.
Stephanie Ornelas is an editor for Builder and Developer magazine. She may be reached at sornelas@penpubinc.com.