Brookfield Embraces Community
Located in the outer suburbs of Washington D.C. in Stephenson, Va., Snowden Ridge was Brookfield Residential's bestselling community this past year. Brookfield Residential is part of an international family of building companies with over 50 years of experience creating homes and communities.
One of which is Snowden Bridge; there are approximately 350 completed homes, ranging from roughly $300,000 to $500,000. "Each section is carefully developed and planned to ensure that Snowden Bridge continues to meet the needs of our customers," Vice President of Sales and Marketing Gregg Hughes said.
There are 11 floor plans available in this master planned community and includes a mix of several styles of homes— from neotraditional single family homes to traditional single family homes in an array of sizes to three-level garage townhomes.
The overall design of the community is Americana-themed which effectively captures design elements from country, lodge, coastal, and touches of some industrial looks with dark metal accents. The theme continues outdoors with the charming exterior home facades, like front porches on some models, which evoke a feeling of a true family-style neighborhood.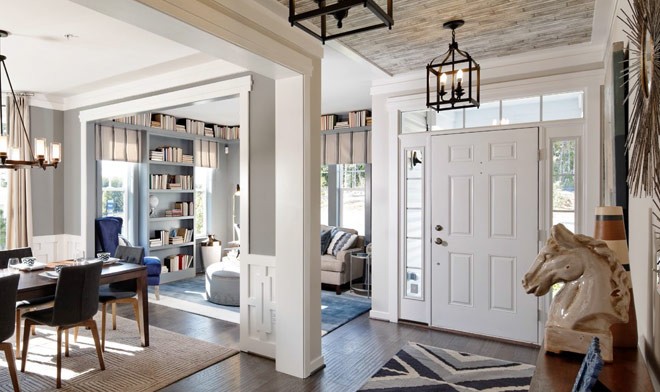 The Buckingham is a single family model starting at roughly $399,000. The home has 4,181 square feet space, four bedrooms, and three and a half bathrooms. The downstairs is complete with a spacious kitchen with granite countertops, family room with a gas fireplace, a separate dining room, and lower level rec room. The upstairs encompasses a master suite with walk-in closet and sitting room.
A floor plan with room to expand is the Granville, which won the award for Best Design and Architecture at the 2014 GALA awards and has been designed to meet the needs of today's families with semi-custom options.
The first elevation begins at roughly $374,000 and 3,000 square feet and can be customized up to 5,100 square feet. The main level includes an enormous Great Room open to a spacious kitchen with a central island and a dining area perfect for a large farm-style table. Upstairs there are spacious bedrooms, an open family retreat, and deluxe owner's suite that can be enhanced by adding a bonus suite over the garage. The finish options on the lower level include a recreation room, powder room, media room, and full guest suite.
"While our style has always set us apart, our drive to excel has led us to expand and redefine the meaning of design for our times," Brookfield Residential President Robert Hubbell said. "Together with our architects and space planners, we have reinvented the American home in ways that will leave you breathless and win your heart at a glance."
To ensure individuality among these designs, Brookfield focused on creating a variation of different aspects of the desired Americana theme. Among the homes there are arts and crafts styles, traditional/colonial looks, and attractive full-front porches. A unique mix of materials and colors simultaneously create distinction and cohesiveness in the community.
"We believe our homes and communities stand the test of time and are a great investment for our buyers," Hughes said. "[People] see the value in how attractive our homes are from the street and how our community stands apart from the competition in this area."
The curved streets of the community and the team's embrace of the natural changes in elevation create a great curb appeal for Snowden Bridge. "This particular area of Virginia provides a perfect natural backdrop for the community of what I feel is a true masterpiece," Hughes said.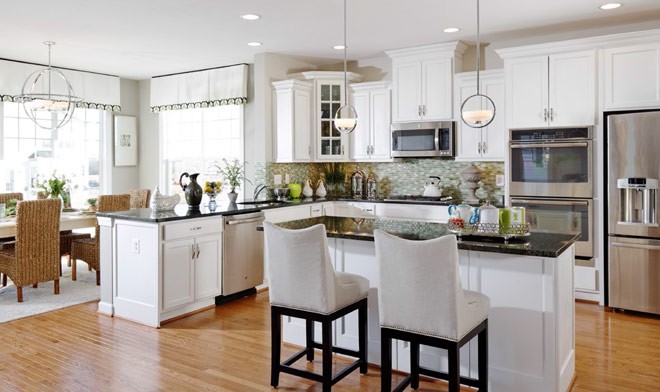 Every home in Snowden Bridge is built with Brookfield Blue standards, in which a wide array of features are designed to increase energy efficiency and reduce costs. Each home comes complete with significant green features like third-party HERS inspection and rating, Low-E windows, 90 percent efficient furnace, Low-VOC emission paints and carpets, WaterSense faucets and showerheads, and barrier foam sealant.
The Winchester area in Virginia is cherished by natives and visitors alike and is rich in history. "We are proud to have been embraced as part of the greater community," Hughes said. "We continue to experience great migration to Snowden Bridge from the surrounding area, which speaks for itself."
Snowden Bridge is an all-inclusive community with easy access to commuter routes, shopping, dining, and entertainment. Some amenities include a pool and splash park, playground, indoor sports center, dog park, green spaces, playing fields, and planned daycare center.
Other Brookfield Residential awards at last month's GALA awards include Best Sales Display for the interactive sales center touchscreen at Wilson's Grove in Gambrills, Md., and Best Interior Design and Merchandising for the Ingraham model at Embrey Mill in Stafford, Va.
Brookfield has incorporated some of the architecture that was created for Snowden Bridge into some of these other locations, and plans to continue developing throughout Virginia, Maryland, and Delaware.
Tamara Philips is the assistant editor for Builder & Developer magazine. She may be reached at tamara@penpubinc.com.