Brookfield Residential Properties: Designing communities with a personal touch in today's marketplace.
On March 31, 2011, Brookfield Residential was created from the merger of Brookfield Office Properties' residential division (Carma Developers LP) and Brookfield Homes Corporation. The entire history of the companies spans back to 1956, when Brookfield Homes was founded.
Now, as Brookfield Residential, they cultivate land for their own master planned communities, sell lots to third parties and design homes on lots it has designed or purchased from others. Brookfield Residential strategically handles assets and local management committees conceive homebuilding techniques relevant for every individual market.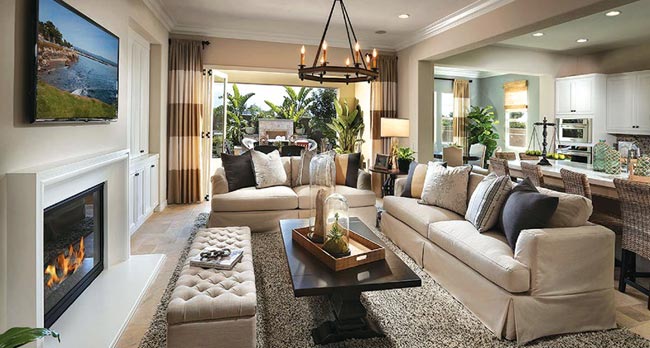 Instead of purchasing land whenever a new master planned community is ready to be constructed, Brookfield Residential already has a large land reserve, which puts them in the ideal position of not having to restock land each year at increasingly high prices. Alan Norris, President and Chief Executive Officer of Brookfield Residential, observed: "We believe that we are one of the best-positioned land and housing companies in North America. Our strategy of 'going long' on land when it was out of favour should allow us to reap the benefit of increasing land values as markets continue to improve."
One such community built upon Brookfield Residential's land reserve is Seaside Ridge, located between the sea and the city of Encinitas. The community has a new selection of 23 luxury homes consisting of opulent one- and two-story floorplan designs. The designs feature homes with up to 5 bedrooms, extended 2 to 6-car garages, covered cabana patios and star-gazer courtyards that welcome spirited entertaining.
The Brookfield Design Studio offers the buyer the chance to put their own personal and unique touch to their home, whether it's flooring and countertop surfaces, or cabinetry choices, finish carpentry, electrical, plumbing, or many other custom features that may be imagined. The design studio succinctly phrases this by saying, "we invite you to dream." Adrian Foley, speaking on his communities also said, "We are excited to have the opportunity to lead the effort to complete [our recently conceived communities], one of the most important and innovative mixed-use [projects] in the country. We look forward to bringing an array of high quality housing options, which will enhance the experience for everyone who lives, works and visits the beautiful [Seaside Ridge community]."