Builders Unite to Create a Paragon Master Planned Community
Builder and Developer magazine readers vote Beacon Park "Community of the Year," and with 10 of the nation's best builders collaborating to create a master planned community, the votes were almost unanimous
By Sergio Flores
D.R. Horton, Taylor Morrison, K. Hovnanian (and more)–oh my!
Beacon Park, developed by FivePoint Communities Management, Inc. and brought forth by Irvine's Great Park Neighborhoods, is truly a paragon of a master planned community. With 10 of the nation's top homebuilders contributing to the project, it is no shock that this highly anticipated project was voted Community of the Year by the readers, contributors, and advertisers of Builder and Developer magazine.
Nestled in the quiet and affluent city of Irvine, Calif., Beacon Park is the second master planned community by Great Park Neighborhoods. Their first project, Pavilion Park, also in Irvine, was met with critical acclaim and consequently prompted a second project with many of the builders from the first project returning. Beacon Park had its grand opening in mid-August to rave reviews. The 10 builders partaking in the project include: D.R. Horton, K. Hovnanian, Richmond American Homes, CalAtlantic Homes (a merger between Ryland and Standard Pacific Homes), Shea Homes, Lennar, Pulte Homes, Standard Pacific Homes, Taylor Morrison, and Warmington Residential.
"Beacon Park will be an exciting extension of the innovative planning and design that visitors and homebuyers have experienced at Pavilion Park," said Emile Haddad, CEO of FivePoint Communities, the development manager of Great Park Neighborhoods.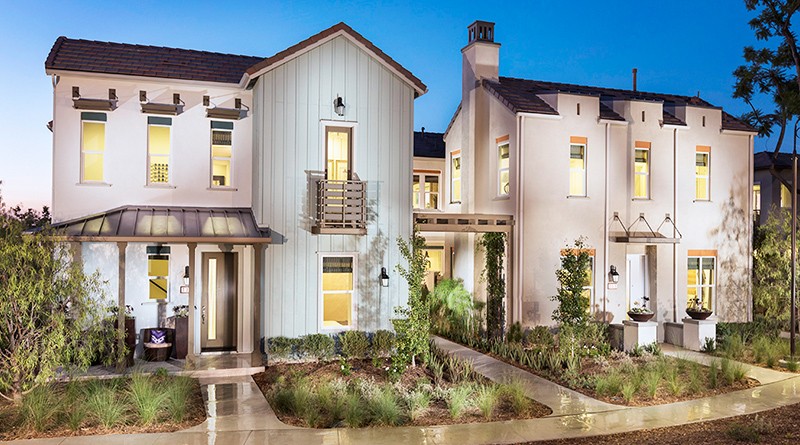 With 10 of the nation's best builders joining together, it is quite difficult to imagine that anything could possibly be left out within this community. Each of these builders brings to the table their own special skills and talents, with decades of experience building homes that reflect the way people choose to live in today's day. The wide eclectic rolodex found in the Beacon Park neighborhood ranges in styles including traditional, modern, transitional, American, European, and even options in courtyard and detached condos, townhomes (three-story or single story flat), and single family homes. Currently the community offers 15 new home collections paired with preliminary floor plans and renderings. Warmington Residential will be opening their collection of homes in early 2016.
"FivePoint has created a unique development environment by offering state-of-the-art neighborhoods. We had great success at Pavilion Park and terrific feedback from our homebuyers. We're excited to be part of this next phase of Great Park Neighborhoods," said Steve Kabel, Division President of K. Hovnanian Homes based in southern California.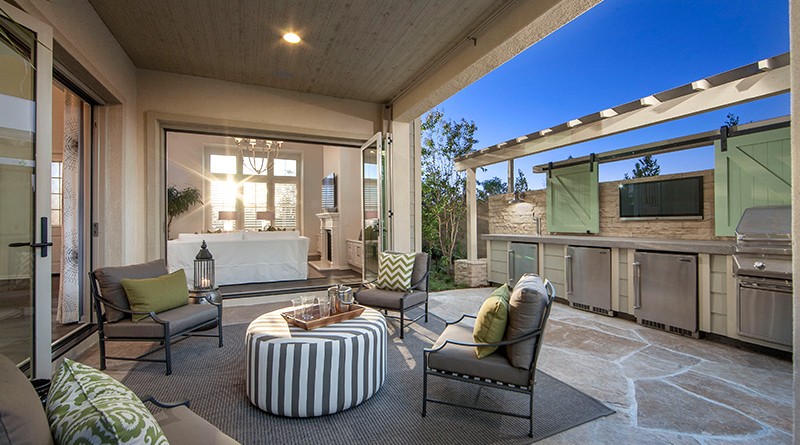 Although the choices are almost endless, Beacon Park can appeal to almost any buyer in the buying spectrum, whether it is a first-time buyer, move-up buyer, or luxury buyer. However, the community and its surroundings do offer an extra incentive for buyers with families. The community is a part of the Irvine Unified School District, a proud host to some of California's top 10 percent public education institutions, including Canyon View Elementary, Jeffrey Trail Middle, and Northwood High. Irvine is constantly being recognized as one of America's safest cities and is well known for their award-winning school district.
In April of this year, the Irvine Unified School District also broke ground on a new K-8 school placed adjacent to the master-planned community. Respectively, the school will be named Beacon Park School and is scheduled to welcome students by fall of 2016. And, to the northeast edge of Beacon Park, Portola High School is also being developed and scheduled to open in fall of 2016, making it Irvine's fifth high school.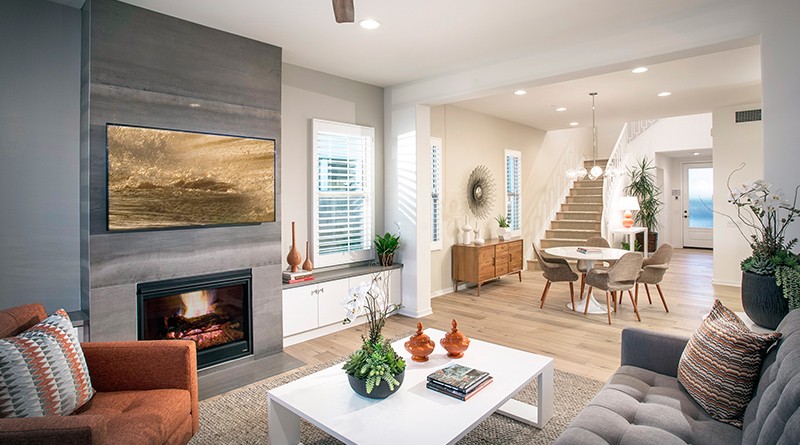 Communal space and residents engaging amongst each other is a primal goal for the community, as envisioned by the developers. Amenities for the neighborhood include covered outdoor sport courts, an outdoor kitchen, three lane pool, spa, pool house and lounge, kid play areas, arts house, bocce court and other outdoor activities hub, walking and biking trails, and a visitor information and community building. And of course at the center of the community is its titular word—an approximately 5-acre neighborhood park for residents to enjoy. These shared spaces were designed to encourage residents to connect with each other and offer a unique one-stop experience that despite the cluster of homes by each respective builder, the atmosphere is inviting and provides a seamless experience for all its residents.
"I'm a believer of what makes a great city is a mixing of everything—diversity," said Haddad. "Our goal ultimately is to come up with a community that's a mixture of everything."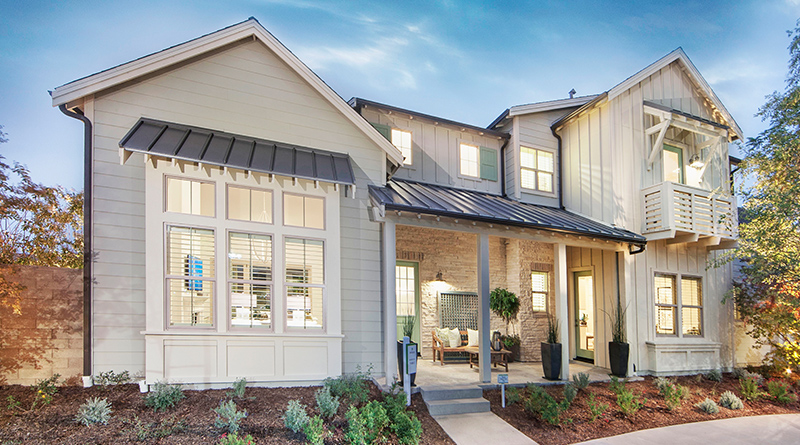 Irvine is a great city, and Beacon Park is in a great location. The community is surrounded with several shopping and entertainment venues and services, such as Woodbury Town Center and Orchard Hills Town Center, mere blocks away. Adjacent to the location is more than 100 acres of natural open space, and is within close proximity to major employment centers in Orange County and Los Angeles, with nearby transportation corridors including I-5, toll roads such as 133 and 241, and John Wayne Airport.
At full build-out, Beacon Park is expected to deliver just a little over 1,000 homes. Every home sold at Beacon Park comes with a brand new orange unisex cruiser, in hopes that they will encourage wellness and community commingling. Residents at Beacon Park will have complete access to the amenities offered by Pavillion Park, and vice versa.
Many, if not all, of these builders are taking on environmental responsibility. The homes allow for efficient placement of solar panels and depending on the builder, offer more energy-efficient and sustainable features. The community is suffused with plants, trees, and trails for exploration to promote an eco-friendly environment. More than 180 heritage trees were rescued from the former Marine Corps Air Station El Toro to include in this community.
Lennar provides the most affordable homes, with their base price at mid-$600s for a 1,661 square foot townhome with 2-3 beds, and 2.5-3.5 bathrooms. For buyers looking for more space, Ryland Homes' Legend collection offers a 4,337 square foot single-family home with 5 bedrooms and 5.5 baths at a base price in the high $1 million.
Great Park Neighborhoods will continue to sculpt out the community and surrounding area, with upcoming phases planned for mixed-use retail, entertainment and office development, and an overall effort to create a balance between quality jobs and housing. In addition senior housing and affordable housing for families are slated for following years.
Sergio Flores is an Assistant Editor for Builder and Developer magazine. He may be reached at sergio@penpubinc.com.