Building Strategically on Arizona Land
By Stephanie Ornelas
Palazzo at the Bridges is a one-of-a-kind project that incorporates dessert-style living with comfortable and luxurious handcrafted design.
Tremendous attention to detail is evident inside and out in these six new plans offered at Palazzo at The Bridges. Elevated included feature levels common to only the most discerning homebuilders, coupled with energy-saving construction (mean HERS Scores of 64) makes owning a celebrated Gehan Home a luxurious as well as smart choice. The growing mecca of San Tan Village is only minutes away, offering premier shopping, dining and nightlife. In addition, living at The Bridges means easy access to the Loop 202 Freeway and Phoenix-Mesa Gateway Airport.
Finished approximately July 2013, the development has roughly 200 units that are currently built with roughly 100 units currently sold/occupied. Mark Moskal, Operations Manager of the Phoenix division, explained the building collaboration between the Owner, Architect and Contractor. "Gehan hired national architect BSB to design product for the move up buyer segment," said Moskal. "Gehan contracts with subcontractors to construct move up production housing." According to Moskal the housing completion will take approximately 2 – 3 years.
Like most master-planned communities, there were extensive building challenges that the project team needed to overcome. "We did need to increase the slab design to accommodate some expansive soils," said Moskal. Our parcel was partially developed, and the improvements had been abandoned for approximately 4 years. We needed to upgrade and modify some of the improvements to bring development to current standards and to accommodate the housing product."
Moskal also explained how the entire master plan had three different owners, and required construction of common improvements (roads, lakes, pumping stations, active and passive amenities, shared retention basins) which each owner was reliant upon to complete development and receive Town of Gilbert sign off. "This required multi party Joint Development Agreements among the owners and several builders who purchased parcels in the master plan," he explained.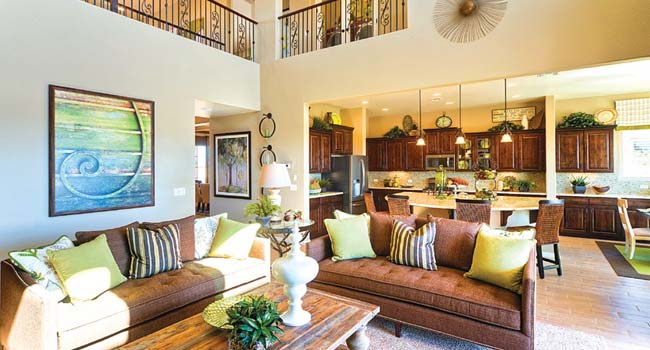 Adding value to the project, Gehan made it a goal to incorporate significant green features in each home. "We build our homes to exceed the minimum Energy Start 3.0 Standard," said Moskal.
According to Moskal, there were the specific building practices used to gain this standard. Along with being 3rd Party Energy Inspected and HERS Rated, the homes include radiant roof barriers, R-38 Blown in attic insulation and an R-19 wall assembly and Tyvek Stucco wrap is used as an air and water barrier.
The homes are also built with 14 Seer HVAC systems with air intake for better air quality, advanced framing techniques, energy efficient lighting, low VOC paint and flooring, exterior kitchen venting, vinyl LoE3 windows and low flow plumbing fixtures to conserve water. These features are what make Palazzo a quality community with high performance homes.
Having been strategically designed with amenities that improve the overall quality of life, Gehan managed to build a community that stands out.
"The builder's homes were specially designed to accommodate the needs of a discerning move up buyer segment looking for more out of their homes," said Moskal. "The product consists of single and two story homes ranging from approximately 2400 to 4300 square feet. All plans create an emphasis on indoor/ outdoor living and have large covered patios the ability to incorporate triple sliding doors, outdoor kitchens and walk decks to take advantage of the Arizona weather and views of the San Tan mountains."

The community is a highly amenitized master planned community that contains lakes, splash pads, large play areas with several play structures, and large waterfalls and streams. Gehan's 25 years of experience into these designs shines through Palazzo.
For over 25 years, the award-winning Dallas-based homebuilder, Gehan Homes, has been assembling homes to the corresponding phrase of homes that are "Designed for Your Life." Lately, they've been making homes that are designed for energy-efficiency by incorporating smart features that lower energy expenditure. Gehan Homes tested 57% more energy-efficient than the typical resale home on the HERS index, which is the accepted industry rating system by which a home's energy efficiency is measured.
"Energy-efficiency is a serious consideration in today's home buying process and homebuyers want to know how that translates into reduced energy consumption and decreased utility bills. We have responded to that need by making significant investments in our energy-saving features and smart designs. These features come standard with every Gehan Home," articulated Timothy Gehan, CEO of Gehan Homes.
In addition to its efficiency, Gehan Homes is also expanding. They've become one of the top 30 builders in the United states and have recently opened their fourth community of new homes in Phoenix at the Palazzo at Palm Valley. There are 46 homesites in the community, and each home can feature one of five energy-saving floor plans that reach from 2,397 to 3,218 sq. ft.
"Our newly designed floor plans are created with the homebuyer in mind. We pride ourselves in the high quality, energyefficient materials we use when building each home, and our commitment to exceptional and smart design makes every Gehan Home personalized to fit the flexibility of a modern family," explains Tim Gehan. The community is only 20 miles from downtown Phoenix and is furnished with all the desired luxuries that fit an active lifestyle, including: hiking trails, a golf course, tennis and basketball courts, a playground and more. Their attention to the necessities of a modern lifestyle and culture is part of what sets them apart.
The Palazzo is just one of the 20 planned communities Gehan plans to build in 2014, and is currently building in over 60 communities across Texas. The prodigious amount of quality work they are doing is a testament to their ability to alter their methods according to the vicissitudes of the market and the homebuyer's needs.
Stephanie Ornelas is an editor for Builder and Developer magazine. She may be reached at sornelas@penpubinc.com.