Building the American Dream for any Lifestyle
By Stephanie Ornelas
With a myriad of options and features, no two Ryland homes are exactly alike. With the help of Ryland's design consultants, homebuyers can transform their new home into a reflection of their personal style and a perfect fit for each lifestyle.
Ryland Homes is the nation's 6th largest homebuilder and a mortgage-finance company. Founded in 1967, Ryland has built more than 310,000 homes and provided mortgage financing and related services for more than 255,000 homebuyers. Consistently recognized by Fortune and Forbes as one of the nation's most admired and best-managed companies, Ryland has a solid national reputation built largely on the talent of each team member.
Most of Ryland's homes boast an impressive RESNET HERS® (Home Energy Rating System) Index: Score of 80. The RESNET HERS® Index (Home Energy Rating System) is an index developed by the Residential Energy Services Network (RESNET) to measure the energy efficiency of a home. The scale is based on the standards of the 2006 International Energy Conservation Code, by which the RESNET HERS Reference Home would score a base of 100. The lower the RESNET HERS Index score, the more energy efficient the home. A typical existing/ resale home score is around 130.
Most new Ryland homes score between 85 and 60 – making them more energy efficient than an existing/resale home and other typical new homes on the market – even those that meet energy-efficiency standards. Ryland's effort to measure their homes using the RESNET HERS Index helps demonstrate how their HouseWorks® program and their partnerships with leaders in energy efficiency ensure that buyers homes not only fit seamlessly into owners' lives, but also into the particular homes' surrounding environment.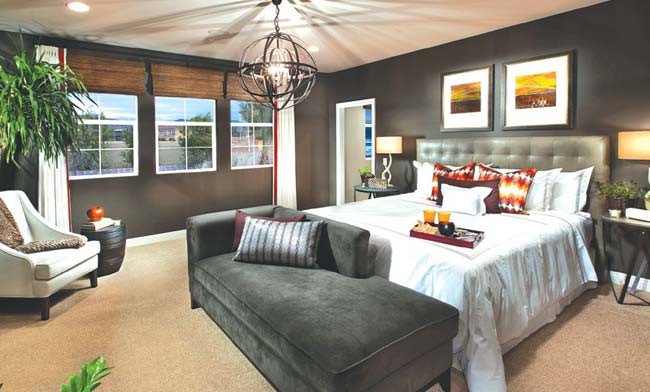 One project in particular is Melrose at Pavilion Park. With large open floor plans and living suites to accommodate multigenerational families, there's no wonder why Ryland is named one of the country's top homebuilders.
The homes in the "La Jolla" plan by Ryland Homes, is located in the community of The Melrose at Pavilion Park. This Single Family plan home is priced from $1,600,060. It has five bedrooms, five baths, is 4,223 square feet, and has a 3-car garage. The models have a second Master suite option downstairs, which is a great feature for a mixed generational family.
Ryland Homes' newly built houses, Acacia at Cypress Village in Irvine, display class and prove to be sustainable and energy efficient. Nestled in a safe neighborhood in the heart of Orange County, the 98-unit project opened for sale in late 2013.
According to Carola Cherief, Vice President of sales and marketing for Ryland Homes,
Acacia offers highly desirable townhomes and flats in Santa Barbara and Monterey architectural styles. Acacia offers four floor plans, single story and two story, with distinctive features including open floor plans, inviting Great Rooms, and covered porches and decks. Each model was given a design name: Urban Retro, Simple Chic, Casual Contemporary, and Eclectic Modern. "These names are in line with the design package options that the buyers are able to choose from for their own homes," explained Cherief.
Richard Douglass, Division President of Ryland Homes explained the importance of this location and why it was chosen for Acacia. "Cypress Village is a very diverse Irvine Ranch Village and Acacia represents the most affordable community there. We loved the overall plan and are excited to have an affordable product for prospective homebuyers," Douglass Said. Another Stellar Project by Ryland is the recently-built community at Rancho Mission Viejo. The homes are nestled in a historic 23,000- acre ranch just up the Ortega from San Juan Capistrano, only 5 miles from the beach. There are three different floor plans for buyers to choose from, and homes are priced from $772,940 to $816,580– with quick move in homes available.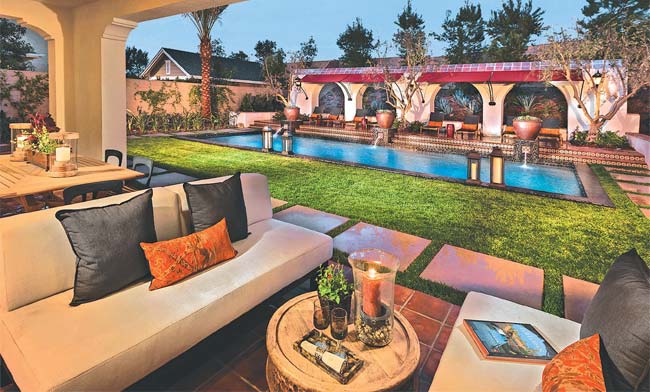 These single family homes are California living, on Orange County's last working ranch. Steeped in California style, the homes in this neighborhood draw upon architectural styles and amenities with both tremendous curb appeal and interior beauty.
With Ryland's HouseWorks®, Ryland's new homes work to preserve the environment, conserve energy and provide more comfort. Ryland's thoughtful planning of neighborhoods and efficiently designed homes helps homeowners save on monthly utility bill and the Earth's resources. Energy and water conservation features include: white or tan vinyl framed windows & sliding glass doors w/dualglazed, Low-E energy efficient glass, radiant roof barriers in attics (to reflect the sun's radiant heat), dual-zoned HVAC systems with upper and lower floor automatic set-back programmable thermostats, 13 SEER Puron air conditioning systems, tankless water heaters, R-30 ceiling insulation, R-13 & R-19 exterior wall insulation, water-saving bath fixtures, fire sprinkler systems, and HomeTeam Pest Defense tubes in the walls.
Ryland's new homes offer much more to homeowners than used homes and rentals in terms of efficiency, quality and features. Homes by Ryland save homeowners money while offering each resident peace of mind. Making a commitment to each homebuyer, Ryland Homes' Warranty Program includes a one-year wall-towall coverage, two-year electrical, plumbing, heating, cooling and ventilation system coverage and ten-year major structural defect coverage.
Headquartered in Southern California, Ryland is one of the nation's largest homebuilders and a leading mortgage-finance company. Since its founding in 1967, Ryland has built more than 305,000 homes and financed more than 255,000 mortgages. With more than 45 years of homebuilding experience and longstanding national strength, Ryland Homes is recognized as a leading homebuilder in energy efficiency and known for providing outstanding quality.
Ryland ensures that each one of their new homes are built to leading industry standards in energy efficiency. New Ryland homes fit seamlessly into their surrounding environments, conserve energy and provide families with more comfort, all while saving families money. From carefully selected sustainable products to the thoughtful planning of communities, Ryland's HouseWorks® program focuses on all aspects of energy efficiency in the building process to create a better home for families and the Earth.
Stephanie Ornelas is an editor for Builder and Developer magazine. She may be reached at sornelas@penpubinc.com.