Building the Dream While Staying Green
By Stephanie Consiglio
Ryland Homes' newly built houses, Acacia at Cypress Village in Irvine, display class and prove to be sustainable and energy efficient. Nestled in a safe neighborhood in the heart of Orange County, the 98-unit project opened for sale in late 2013.
According to Carola Cherief, Vice President of sales and marketing for Ryland Homes, Acacia offers highly desirable townhomes and flats in Santa Barbara and Monterey architectural styles. Acacia offers four floor plans, single story and two story, with distinctive features including open floor plans, inviting Great Rooms, and covered porches and decks. Each model was given a design name: Urban Retro, Simple Chic, Casual Contemporary, and Eclectic Modern. "These names are in line with the design package options that the buyers are able to choose from for their own homes," explained Cherief.
Richard Douglass, Division President of Ryland Homes explained the importance of this location and why it was chosen for Acacia. "Cypress Village is a very diverse Irvine Ranch Village and Acacia represents the most affordable community there. We loved the overall plan and are excited to have an affordable product for prospective homebuyers," said Douglass.
Irvine has grown into what many describe as a "total destination," a community boasting state-of-the-art transportation programs and systems, an enterprising business environment, stellar educational institutions and a team-like lifestyle.
Perfect for families,The Irvine Unified School District (IUSD) consistently ranks among the finest educational systems in the nation. Irvine schools offer innovative educational programs, open-style classrooms, team-teaching, some schools with yearround terms, and excellent community involvement. IUSD educates a diverse student population numbering over 24,000 (K-12), in 22 elementary schools, five middle schools, four comprehensive high schools, and one continuation high school. Irvine's strength is its people. The city is the success it is today because of the more than 242,651 hardworking and community minded citizens who have chosen Irvine as their home. So it's no wonder why this location was chosen for such an attractive project like Acacia. It's modern design and strategic landscaping shows Ryland's efforts to execute successful building techniques from all ends.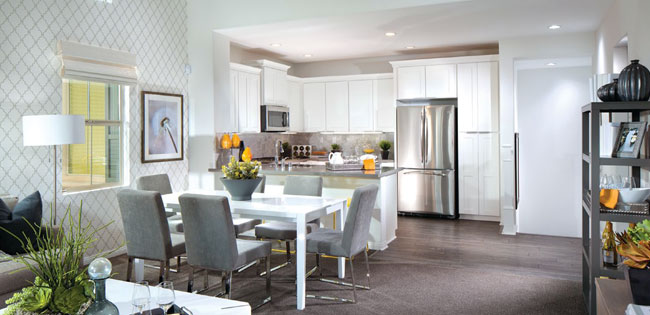 "We have a very diverse portfolio of communities at Ryland. We have some of the highest end communities in Orange County and we are proud that Acacia represents an affordable offering, as well," added Douglass.
Something extremely valuable and worth addressing is Ryland's efforts to build sustainable communities inside and out. With their HouseWorks program, they are able to build eco-efficient communities, enhancing the overall quality of life. The Homes at Acacia were designed with specific energy-saving products and features that cater to the "Green Movement." Each home includes GE ENERGY STAR® appliances, Independently determined HERS® Index, LP® TechShield® Radiant Barrier Sheathing, economical gas forced-air heating furnace with an HVAC system and an automatic set-back programmable thermostat, 13 SEER Puron air conditioning system, energy-saving pilotless tankless water heater, water-saving bath fixtures, dual-glazed, Low-E energy efficient, STC noise reducing windows, energy saving fluorescent light bulbs, low VOC paint, superior fiberglass insulation and Insulated Garage Doors.
Each of Ryland's homes boasts an impressive RESNET HERS® (Home Energy Rating System) Index: Score of 80. The RESNET HERS® Index (Home Energy Rating System) is an index developed by the Residential Energy Services Network (RESNET) to measure the energy efficiency of a home. The scale is based on the standards of the 2006 International Energy Conservation Code, by which the RESNET HERS Reference Home would score a base of 100. The lower the RESNET HERS Index score, the more energy efficient the home. A typical existing/ resale home score is around 130. Most new Ryland homes score between 85 and 60 – making them more energy efficient than an existing/resale home and other typical new homes on the market – even those that meet energy-efficiency standards. Ryland's effort to measure their homes using the RESNET HERS Index helps demonstrate how their HouseWorks® program and their partnerships with leaders in energy efficiency ensure that buyers homes not only fit seamlessly into owners' lives, but also into the particular homes' surrounding environment.
Douglass explained how this particular development not only benefits the builder/ architect but of coarse, the people moving in. "As a builder, it is important to be able to engage in higher density developments, since many times that is the more affordable end of the market. The same is true for architects, who must be masters at all segments of the market. Especially when the market is diverse, as it is here in Orange County," he said.
Like many great projects, Acacia faced some challenges that Ryland Homes had to overcome. The project took time and effort from everyone involved with the building process. According to Douglass, the product is a relatively efficient design. Yet since the one of the features is "stacked flat" units, they take extra care in matters such as noise transmission and mechanical nuances. "We engage in multiple inspections, many by third party experts, as well as extensive testing," he added.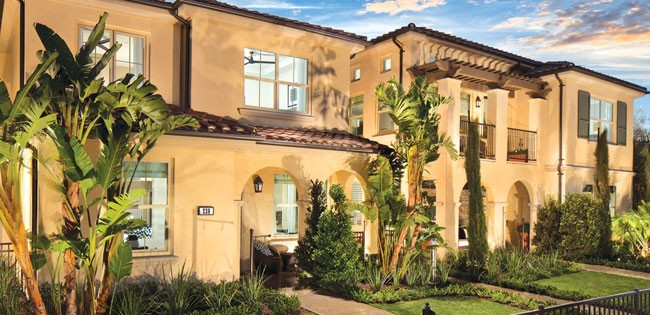 The existing community, Cypress Village, was an extremely huge influence on this project. "We see Acacia as an extension of the existing community. Of course, Acacia residents are able to enjoy the wonderful amenities at Cypress Village, said Douglass. "We especially like the fact that we have a very affordable community, by Orange County standards, in close proximity to transportation and the wide variety of attractions in the Irvine Spectrum and the Orange County Metro environment."
Many of the unique features of this project define Acacia as the California Dream.
"Acacia offers four versatile floor plans ranging from 1,122 sq.ft. – 1,478 sq.ft., including a single story floor plan as well as loft-style living with the main living areas on the second story with high grandiose ceilings and open inviting Great Rooms and kitchens. Acacia's flats and townhomes also have covered porches and decks as well as attached garages," said Cherief.
The development is not only an influence to the community and its residents; it is also an inspiration for future builds. "By building Acacia, we are able to demonstrate expertise in building a relatively high density attached product," said Douglass. "This is important for the future as we explore more attached designs of a variety of dwelling unit densities."
Ryland's new homes offer much more to homeowners than used homes and rentals in terms of efficiency, quality and features. Homes by Ryland save homeowners money while offering each resident peace of mind. Making a commitment to each homebuyer, Ryland Homes' Warranty Program includes a one-year wall-to-wall coverage, two-year electrical, plumbing, heating, cooling and ventilation system coverage and ten-year major structural defect coverage.
Keeping the environment in mind, Ryland Homes is setting the bar for green homebuilding. Each new Ryland floor plan is measured on the HERS® Index and scores better than the typical new home and used home. Ryland Homes meets and exceeds nationally respected standards of energy efficiency. With Ryland's HouseWorks®, their new homes work to preserve the environment, conserve energy and provide more comfort. Ryland's thoughtful planning of neighborhoods and efficiently designed homes helps homeowners save on monthly utility bill and the Earth's resources.
Stephanie Consiglio is an assistant editor for Builder and Developer magazine. She may be reached at sconsiglio@penpubinc.com.