Building with Integrity While Aiming for Success
By Stephanie Ornelas
Lyon Communities takes pride in maintaining consistent quality standards in everything they build. Identifying opportunities that provide attractive returns for their investors is important to the company as well as utilizing their management expertise to minimize risks while maximizing yields.
Founded by Major General William Lyon, USAF Retired, The William Lyon Company is ranked among the top residential development companies in the Western United States and strives to be successful in all aspects while still keeping a good relationship with all who are involved.
In 1988, Frank T. Suryan Jr. partnered with General Lyon to form three multifamily real estate companies specializing in development, acquisitions and property management. These companies are now known as Lyon Communities. With a total commitment to excellence and leadership style of vision and integrity, both Suryan and Lyon carefully developed business strategies and financial disciplines to expand the company.
With that in mind, Builder and Developer is pleased to showcase Apex, a multifamily community located in Malpitas, California. The development and planning for Apex began in 2011 in Milpitas. Conveniently located near the South Bay, Apex residents will have easy access to the Silicon Valley's most vibrant employment centers, including San Jose, Santa Clara, Sunnyvale and Mountain View.
The community is within walking distance to the light rail Great Mall station, close to Highways 880, 680 and 237 and will be close to the new BART station currently under construction. Apex is just blocks from the second-largest retail mall in the region, The Great Mall of the Bay Area, which offers more than 1 million square feet of shopping, dining and entertainment venues.
The project consists of 366 apartments consisting of studio, 1, 2 and 3 bedroom and 1 – 2 bathroom homes.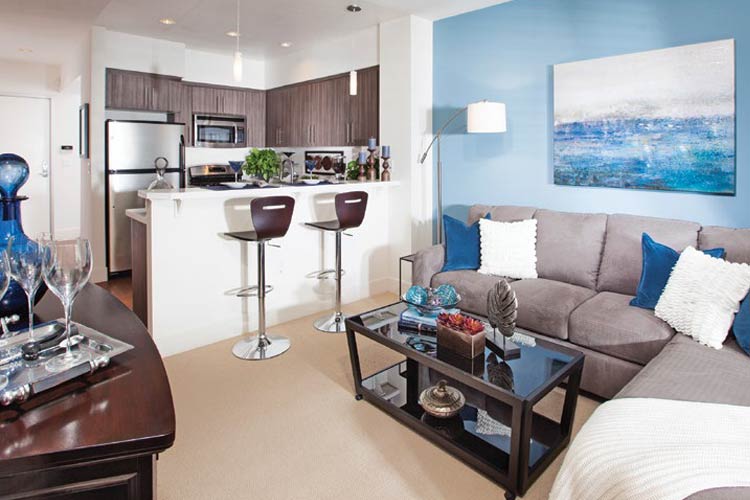 Apex has a range of appliances that make the project sustainable such as, open floor plans with eight to 10-foot ceilings, gourmet kitchens with stainless appliances, quartz countertops and European-style cabinetry, designer fixtures and hardware, oversized tubs and in-home washers and dryers.
The homes also include modern, open floor plans with 8 to 10-foot ceilings, gourmet kitchens with stainless appliances, quartz countertops and European-style cabinetry, designer fixtures and hardware, oversized tubs, in-home washers and dryers, and will be highspeed data ready.
Apex homes include many green features as well that fit well the "Green Movement." High efficiency plumbing fixtures and energy star rated appliances are included in the project. "Drought tolerant landscaping also surrounds the community; we have a rooftop salt water resort pool as well as electric car charging stations available for residents," said Suzanne Maddalon, Senior Vice President of Lyon Communities.
Maddalon explained the importance of building this development. "Building Apex adds to the high quality housing stock in the city of Milpitas and serves a resident base that's discerning and demanding of quality apartments," she said. "The community is close to great schools, the great mall, and the light rail that provides public transportation to many larger area employers."
This development not only benefits the builder but the architect as well and the people moving in. "This project allowed us, the builder, to expand our market share in a growing demographic where we see long term potential. Developing a brand new apartment community in the city of Milpitas has been a great development experience for our entire team and has challenged us to provide vital, yet unique, features and amenities for residents that they would not be able to find elsewhere," she said.
Apex also benefits the residents by offering unique comforts and features that cannot be found at any other community around. The extraordinary rooftop amenities include a salt water pool, spa, fire pits, game room, Wi-Fi café and card room, professional billiards, movie theater, a gourmet demonstration kitchen and fitness center. Other community amenities include multiple e-business centers, conference centers and a pet spa. Apex also has a great location close to the light rail which appeals to the active lifestyle enjoyed by Silicon Valley residents.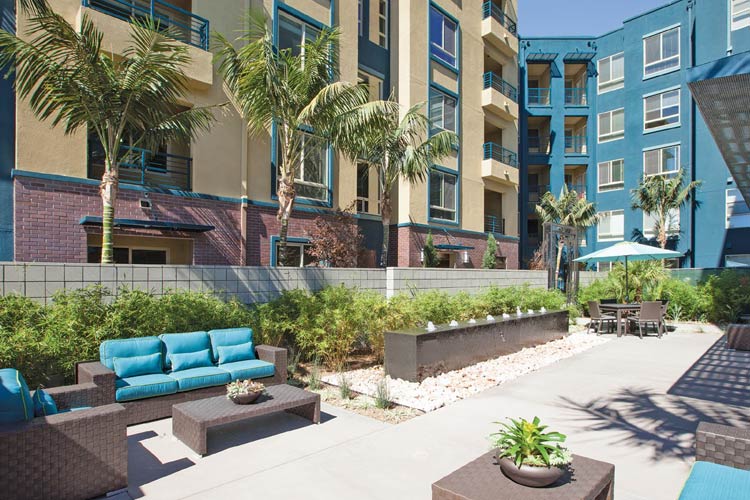 The community is in a high-profile infill location, a extremely large benefit. "We wanted to take advantage of alternate forms of transportation and the light rail and the new BART station are a short walk from our community," said Maddalon. Apex is also in very close proximity to the great mall, bringing in more business.
Club Apex is a uniqe feature that residents are able to experience. "The club provides residents with an array of rooftop amenities that are an instant escape from the day's hectic pace," Maddalon explained. Those include a luxurious resort-style salt water pool and spa with multiple lounging areas and private cabanas, outdoor entertainment area with TV wall, BBQ's and fire pits, a state-of-the-art fitness center, a movie theater, professional billiards and game room, a gourmet demonstration kitchen and Wi-Fi café and card room.
Maddalon went on to explain how this development will influence future builds. "With every development, we hone our design so we can better focus on the needs of our discerning renters. We are rapidly adopting and identifying new opportunities for creative amenities that will offer some of the finest and most innovative rental living experiences in the country," she said.
Located at the southern tip of the San Francisco Bay, the City of Milpitas is a progressive community that is an integral part of the high tech Silicon Valley. With a very diversified resident population of 70,817, Milpitas features quality schools, conveniently located neighborhood parks and shopping centers.
An additional 350 acres are dedicated to regional and community retail centers supporting 3.5 million square feet of commercial shops. The Great Mall of the Bay Area is the largest enclosed mall in Northern California, with approximately 1.1 million square feet of leasable space for retail and entertainment operations. Several local shopping centers serve regional needs for Asian-oriented retail and services.
Milpitas is rich in diversity as well as environmentally-friendly. Thirty-one community parks are maintained by Milpitas, in addition to one dog park and 24 tennis courts. The City provides a multitude of outstanding recreational opportunities, including aquatics, cultural arts and theater, sports leagues and activities, youth programming, and senior activities and services, a great city for community building.
What's in store for Lyon Communities? They currently have a variety of communities under development and in various stages of construction in the Southern California market. "We are applying what we have learned from our existing communities to provide high quality living, cutting edge amenities and residence features that will resonate with today's renter," Maddalon explained.
Expected to open late 2013 is The Marke. The Marke, located in South Coast Metro is a 300-unit apartment community that will offer residents almost a full acre of rooftop amenities including a salt water pool, spa, two bowling lanes, unparalleled fitness facility that will be unlike any other community around, large clubhouse featuring professional billiards, a Wi- Fi café, and so much more.
The family-culture and entrepreneurialspirit that leaks from Lyon Communities results in their success. These results are enhanced by their ability to adapt to ever changing market dynamics and desire to build exceptional homes.
Stephanie Ornelas is an editor for Builder and Developer magazine. She may be contacted at sornelas@penpubinc.com.