By Kim Singletary
While Pulte Homes' latest offering in Tucson, Ariz., Sierra Morado, literally translates to "purple mountains," it's the green features of this community that are grabbing buyer attention. Perched against the backdrop of the beautiful Rincon Mountains, Sierra Morado is a natural choice for outdoor lovers looking for plenty of options to revel in Tucson's more than 350 days a year of sunshine.
"Sierra Morado was designed and built to be green, featuring more than 40 percent open space and boasting rainwater harvesting at the community center," stated Rebecca Lundberg, vice president of sales for the PulteGroup Arizona Division. "With more than 200 acres of undisturbed natural open space, the community was also designed with 13 parks and a four-mile integrated trail system."
Sierra Morado opened in 2004 and has since sold more than 780 of the total 1,256 homes planned. Homes are offered in 12 different floor plans within three different series that span from 1,717 to more than 3,330 square feet and include three to five bedrooms and two to four bathrooms. While each series is focused on its own buyer demographic, all share a common focus on flexibility and living areas that move seamlessly to the outdoors. Here you'll find tree lined streets, shady sidewalks, and the kind of casual, laid back atmosphere that lets a buyer know they've come home.
Among the three series, Sierra Morado's Courtyard Series is aimed at value conscious buyers. Priced starting in the $150,000s, this series features three, two-story floor plans, each with a side yard and rear entry garage and the option of adding tri-panel sliding glass doors that lead out to a trellis patio covering.
The Cactus Series is designed to appeal to every type of buyer, from first-time to move-up, and as such includes both single and two-story homes. Floor plans vary greatly in size and can be easily customized with options from play rooms to guest suites.
Flexibility is also a main feature of the all singlestory Canyon Series, targeted specifically at the move-up buyer looking to customize. With four floor plans that range from 1,933 to 2,569 square feet and optional add-ons including everything from an extra bedroom with teen room to a full guest suite with sitting room that can add more than 300 square feet to a home. According to Lundberg, the guest suite has become a particularly attractive feature "due to multi-generational living accommodations becoming a necessity for many families."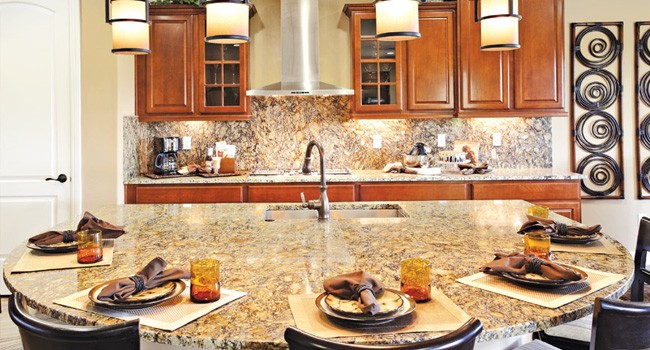 Knowledge like this of the marketplace is something that has come to the PulteGroup as a result of decades of experience. For more than 55 years Pulte Homes, Del Webb and Centex communities have been sprouting up throughout the Arizona landscape, a landscape Pulte is making impressive efforts to protect.
"Pulte Homes has always been a leader in energy-efficiency," Lundberg stated. "It is important to us to build homes that meet all of the livability requirements of our customers as it relates to floor plan layout, design features and energy efficiency. Providing a high level of energy efficiency means our customers have confidence in the total cost of ownership of a Pulte home. Not only are our customers happy, but these features, particularly solar, help reduce our impact on the environment."
Sierra Morado features eco-friendly designs with 20 energy-saving features in every home that help reduce the overall operational cost of the home. The community offers an Energy Star V3.Standard SunPower® 1.4-kW Solar Panel System as a standard on all homes.
Sierra Morado is landscaped with plants and trees native to the desert, such as Mesquite and Palo Verde trees. There is also a small cactus garden located in the community.
Homes at Sierra Morado are available in three distinct exterior elevations: Ranch, Spanish and Tuscan. The best of both worlds, the community includes access to more than 200 acres of open space while remaining minutes from four top area employers and some of the top schools in the region. Sierra Morado is third party certified through Environments for Living, which provides homebuyers with concrete numbers of how much efficiency efforts are saving them.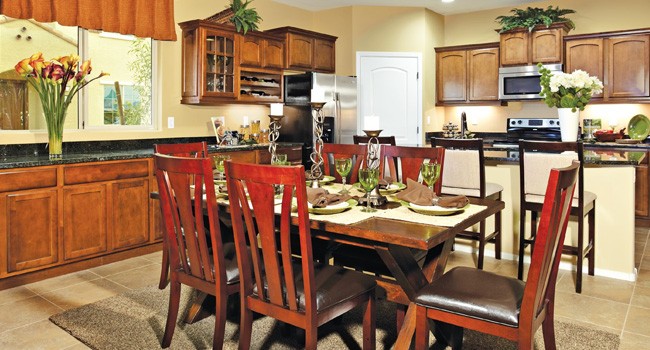 "Solar and other energy efficient features are a sound investment for a new home in a number of ways," Lundberg stated. "Not only do they help to reduce air pollution and demand on domestic resources, they help save a new homeowner on monthly utility bills. Sierra Morado is third-party certified through Environments for Living, so homebuyers can see the benefits of their potential savings and how they are helping the environment through an official energy certification process."
Thanks in part to the 1.4K Standard Solar System, Sierra Morado Homes are rated in the low 60s on the HERS Rating System. Used to rate home efficiency, the HERS system runs from zero to 130.
"Older, less efficient homes typically rate in the upper scale of 100 to 130," Lundberg stated. "The 60 rating received by Sierra Morado homes is equivalent to a utility savings of at least 20 percent based on staying within the heating and cooling guidelines and the energy usages of the family. All the homes in Sierra Morado are standard with Dual pane, triple coated E3 windows and are built to be air-tight with an automatic monitoring system to exchange inside with outside air as needed."
Tucson's hot summers and plentiful sunshine make it an ideal location for features such as standard solar panel systems and radiant barriers — the latter is offered as an option for buyers looking to reduce the temperature radiating through their roof by about 20 degrees.
In addition to parks and trails, Sierra Morado offers some man-made options for fun. The community's 5,000 square-foot community center features a kitchen and meeting rooms for all varieties of get-togethers, while the resort-like community pool features a beach entry, lap pool and plenty of outdoor seating options. And, since a community is all about relationships, residents of Sierra Morado are invited to commune at more than 50 acres of common areas for picnics and barbecues or just watching the kids at the playground.
The fun continues with basketball courts, rock climbing and tunnel areas for the kids, or maybe a bike trip down Tucson's Fantasy Island Mountain Biking Trail, located just minutes away.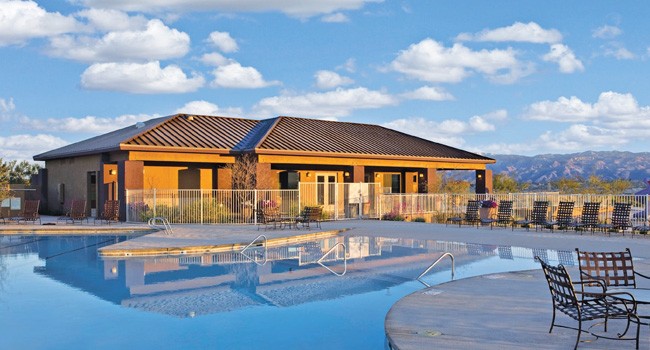 With sales at Sierra Morado going strong, it's clear Pulte Homes' commitment to building green is continuing to pay off. The builder remains an industry leader in this regard, building nearly 70,000 Energy Star® certified homes since the U.S. Environmental Protection Agency created the program back in 1996. Nationwide, approximately 70 percent of the Pulte homes are created to meet these guidelines, and that number is only increasing.
Pulte Homes also became the first home builder in the nation to join the EPA's "Climate Leaders" program. The program works with companies to develop long-term climate-change strategies. Companies commit to reducing their greenhouse gas emissions corporate-wide, both in the shortterm and by developing long-term goals and reporting their progress to the EPA.
Efficiency efforts taking place in Pulte Homes divisions across the country have included reducing jobsite waste and implementing a construction waste recycling program, replacing model home lighting with compact fluorescent bulbs. Not only do compact fluorescent bulbs last 10 times longer than traditional incandescent bulbs, they use about 75 percent less energy and produce 75 percent less heat. This effort alone, the company estimated would save Pulte Homes more than $150,000 if completed in just 14 communities in its Mid-Atlantic division.
Pairing the unique demands of the region with the technology that makes the biggest impact, in New Mexico and Nevada Pulte Homes also began using a "smart" irrigation system that operates not on a timer, but by sensing the weather conditions and moisture needs.
With Sierra Morado, as with all of its communities, Pulte Homes seems to recognize that no matter where they build three things are key: a great location, amenities that go above and beyond, and a broad green, energy efficient focus that saves homebuyers money so they can get out and enjoy not just their house, but the community they're proud to call home.
Kim Singletary is the editor-at-large of Builder and Developer. She may be contacted at ksingletary@penpubinc.com.