Built With Coastal Character Design
Challenged by unique lot sizes, Shea Homes' Ocean Place was inspired by its surrounding environment
By Brian Alvarado
California-based Shea Homes has built over 100,000 homes since its inception in 1968. One of the largest private builders in the nation, Shea Homes builds in California, Arizona, Nevada, Colorado, Washington, Idaho, North Carolina, South Carolina, Florida, Virginia and Texas.
When Shea wanted to make the most of a waterfront project—a 30-home, single-family detached community named Ocean Place in Seal Beach, California—one of its goals was to create a contemporary California coastal theme within the neighborhood.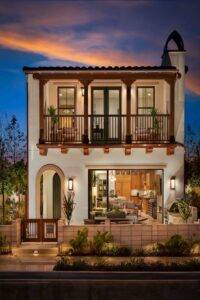 Ocean Place is located on 1st Street in Seal Beach, California and sits next to the San Gabriel River outlet into the Pacific Ocean. Across the river is the Alamitos Bay and Alamitos Marina. The property is just a few minutes walk through the adjacent community park to Seal Beach and only a few more minutes to the Seal Beach Pier. 
After initial planning began in 2017 and a plan set in stone, the builder began thinking of architectural partners it could call on to help bring Ocean Place to life. 
Shea wanted firms that could develop floorplans and exterior designs that allowed for plenty of indoor/outdoor living space, including second-floor decks and roof decks to maximize the opportunity for ocean views and breezes.
After the dust settled, Bassenian Lagoni and JZMK Partners were called on for the exteriors, while CDC Designs took care of the interiors.
"The inspiration (for Ocean Place) came from the site's surrounding environment and Shea Home's vision to create a blend of unique homes that still related to both the coastal character of the location as well as elements of residential styles throughout California's history," said Bassenian Lagoni Architects Vice President and Senior Designer Michael Stone. 
The property is one of the last parcels to be developed with beach-adjacent access. As a result, 10 floorplans were developed in order to offer Ocean Place customers the opportunity to select the home that best fits their lifestyle, with views of the Pacific Ocean. The plans range from about 3,125 to 4,650 square feet, with three to five bedrooms.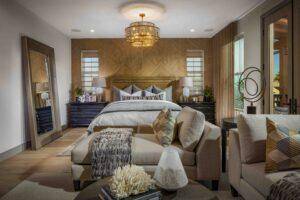 "This community had a handful of very unique lot shapes along with some more standard 30×100 alley load lots," Stone said. "The challenge
was to create different floor plans that capitalized on each lot's unique attributes while also catering to the lifestyle sought by luxury buyers."
With prices starting at $2.2 million, Ocean Place caters mainly to luxury homebuyers, with a mix of empty nesters and young families. 
One specific floorplan that Stone pointed out was Plan 5, as it was one he identified that made the most of an ocean-view compact lot. The plan won a Silver Award at the National Association of Home Builders' The Nationals.
With family living on three levels, Plan 5 offers a classic Santa Barbara elevation with an arched entry and second-level balcony. The entry courtyard setback from the street extends the interior great room, while the kitchen comes with an oversized island that opens to a side court. The floorplan also features a private first-floor guest room with a private bath away from the family gathering area, a front-facing master suite with a private deck, a bonus room and two secondary bedrooms. A laundry room is tucked away on the second floor to prevent noise transmission. The third floor is a roof deck and provides a private retreat.
Connectivity and sustainability were also a focus of the homes at Ocean Place. The builds came equipped with SheaConnect, a suite of smart home features focused on energy efficiency and home automation. Some of the other energy-efficient features included an electric car charging port, ENERGY STAR appliances, a programmable thermostat, LED lighting and tankless water heaters. The units are also solar-ready.
With Ocean Place being complete and all 30 homes built out, Shea has another Southern California project that it's excited about in Redondo Beach. Similar to Ocean Place, The Foundry is a coastal community that features 36 three-story residences. The community held its grand opening in January and is in the midst of sales.
"Location and lifestyle. That's what today's buyers crave most," said Shea Homes Vice President of Sales and Marketing Karen Ellerman. "And life at The Foundry truly offers it all: access to ocean breezes and beach town vibes, plus upscale shopping, entertainment, and oceanfront dining – all at your fingertips."
As Shea Homes continues to find a niche in coastal projects, Ocean Place serves as a standard when it comes to building by the water. With its partnership with Bassenian Lagoni for this project, Shea has proved that it's capable of finding the right pieces when it comes to its development team.
Brian Alvarado is senior editor at large for Builder and Developer.