CalAtlantic Brings Refined Suburb Living to Lake Country
Reserve at LakeView is one of CalAtlantic's finest communities yet, providing refined suburb living in summer home surroundings
By Jonathan Dean
Photography by Alan Stephens, Dingman Photo
Ever since CalAtlantic formed in late 2015, the communities bearing the company's name have been nothing short of breathtaking, as is the case with its beautiful new community Reserve at Lakeview in Cummings, Ga. The Reserve community boasts natural beauty in its classic, Georgian tree canopy covered surroundings and its namesake proximity to a sparkling lake; this gives residents in Reserve a bit of an "away from it all" feeling while still being close to the city life in the very desirable Forsyth County.
"The land is beautiful," said Domenica Haas, marketing manager for the CalAtlantic Atlanta Division. "Most of our home sites back up to a wooded area or a lake. All the sites are very wide, giving a good distance between each home."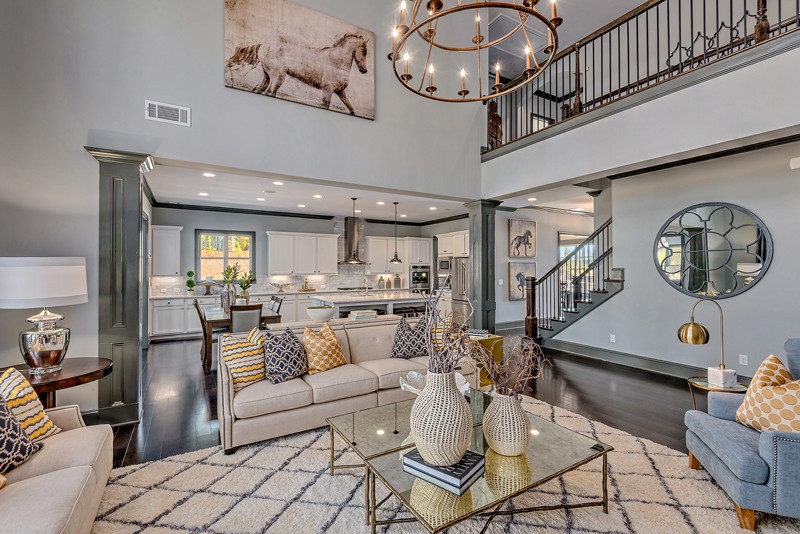 Reserve at LakeView offers 48 premier home sites that come gorgeous and fully-loaded with wonderful amenities in-home. Community amenities include a pool, playground, lighted tennis courts, amenity center, and plenty of lake recreational activities that make the community seem more like a vacation home destination. Just down GA 400, residents can find plenty of shopping, dining, and entertainment options at The Collection at Forsyth, a delectable shopping center that caters to Reserve's leisurely lifestyle. The community is also excellent for families since it is a short distance from Sawnee Elementary, Liberty Middle and West Forsyth High schools.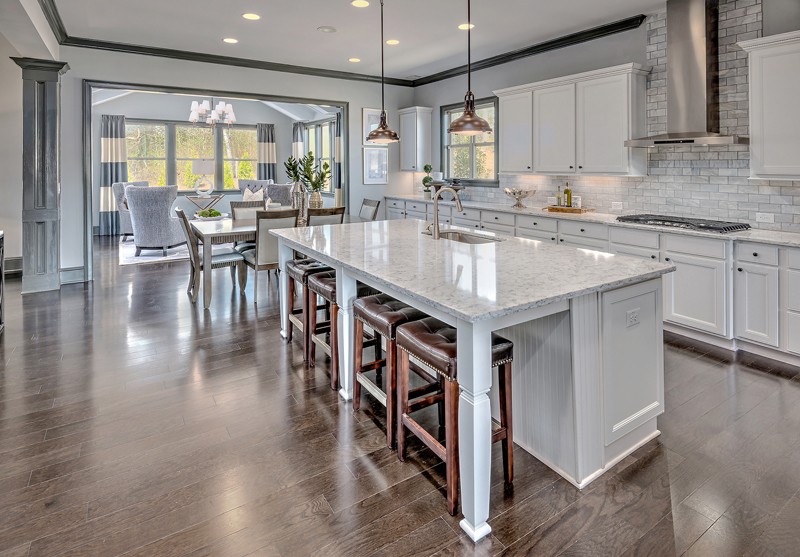 The homes start at $446,900 and come in eight flavors of two-story floorplans: the Montclair with 4 beds, 3.5 baths, and a 2-car garage; the Vanderbilt with 5 beds, 4 baths, and a 2-car garage; the Augusta with 4 beds, 3.5 baths, and a 3-car garage; the Stanford with 4 beds, 3.5 baths, and a 3-car garage; the Wakefield with 5 beds, 4 baths, and a 2-car garage; the Carlyle with 5 beds, 5 baths, and a 2-car garage; the Hollister with 5 beds, 4.5 baths, and a 2-car garage; and the Avery with 5 beds, 4 baths, and a 3-car garage. "Our goal was to offer a range of home floor plan designs for buyers that can fit any lifestyle or to fit any family needs," stated Haas.
Each home in Reserve at LakeView showcases the design artistry of CalAtlantic's architects through the brilliant use of sheer size and elegance. "Our designs inspire awe," added Haas. "The most common word I hear when people walk into our model home is 'WOW'!"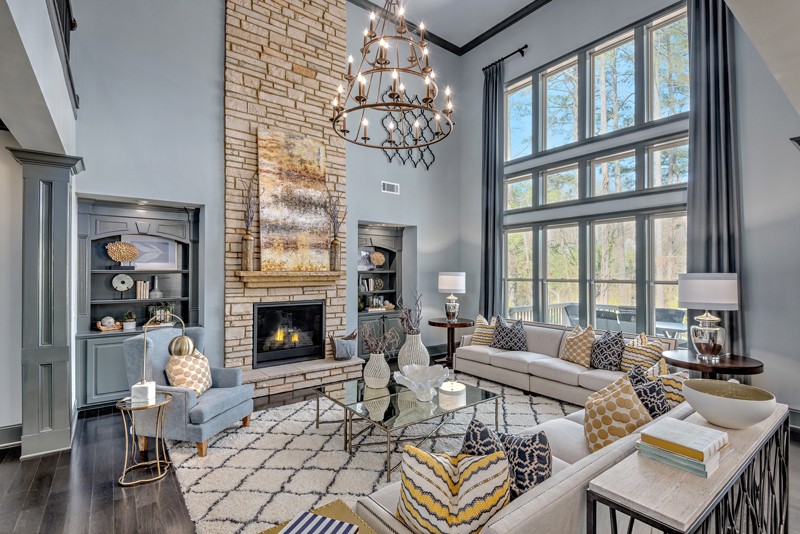 The exteriors are beautifully built with classic brick elevations and siding accents made from stone or shake, along with a stone front porch area that makes for a neo-classic look from the curb. The backyard can be fitted with a concrete patio, wooden deck, or both for entertaining with flair. Each home site is quite large so neighbors have plenty of room between them for children to play and outdoor activities. "We are providing a very tranquil environment with gorgeous homes in an up and coming area," Haas continued. "You pass horses and cows on the way to the entrance; once you enter the community, you are surrounded by trees and views of the lakes."
Inside the home, one can easily see the grand use of space in every room; this is particularly apparent in the great room area with high vaulted ceilings and the almost cathedral-like large paned windows, all of which is viewable from just up the staircase.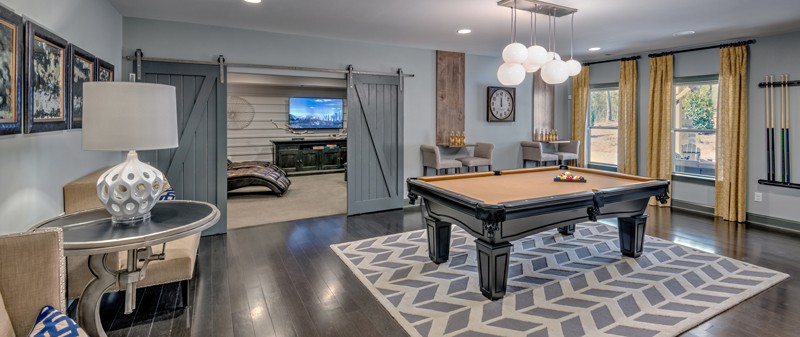 Each room flows nicely into the next to further accentuate the openness throughout the house, and there are plenty of extra rooms to accommodate just about any lifestyle, whether a resident has a growing family or is just simply looking to upgrade to a space that is much more flexible for social life. According to Haas, "move-up buyers are buying our homes [because] they want something that is unique."
Most floor plans have an expansive kitchen that includes a large center island in the chef's kitchen with stainless steel cooking appliances and surfacing. The kitchen leads to a breakfast nook and includes a butler's walk-in pantry for extra storage. Also, most floorplans include a separate dining area for those who like a little tradition in their house design.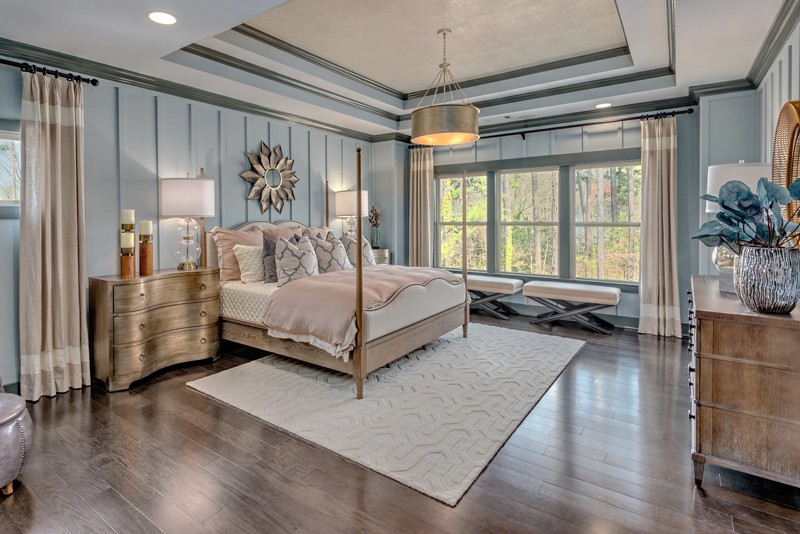 The owner's bedroom and bathroom are something to behold with high tray ceilings, walk-in closet, easy access to one another, and a laundry room within steps of the upstairs bedrooms. The owner's bathroom has a "his and hers" sink combo as well as a sit-in shower and tub for those moments of relaxation. The other bedrooms have their own separate access to the other upstairs bathrooms with separate sinks and their own walk-in closets. Floorplans can also accommodate flexible room spaces such as game rooms, libraries, entertainment centers, studies, and more.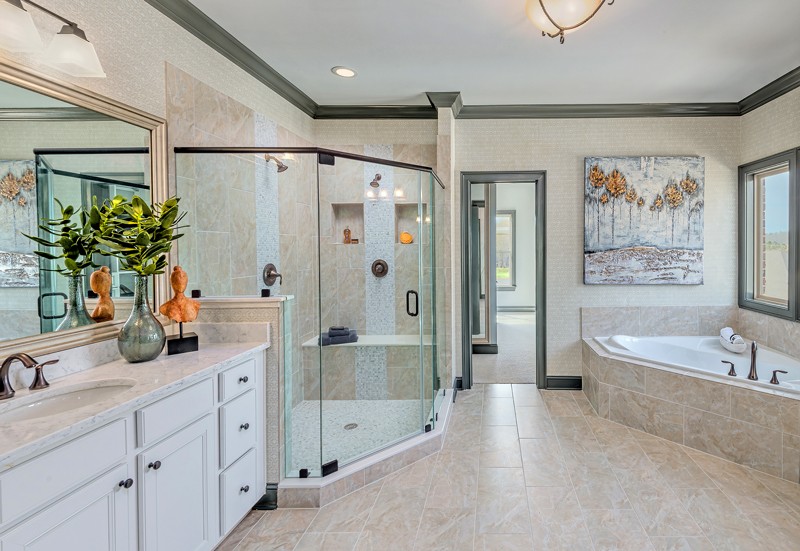 Beyond having great amenities inside the homes, Reserve at Lakeview has also included many green and energy saving features to make life a little more comfortable for residents while also saving them money. Each home is heated and cooled by a dual-zoned energy efficient system by Carrier® and can be adjusted by programmable setback thermostats on both floors. The home membrane is kept at the right temperature no matter the season with the inclusion of R-38 ceiling insulation along with R-13 exterior insulation and R-19 insulation for the basement ceiling. These insulating implementations are part of CalAtlantic's (formerly Ryland's) HouseWorks® system, which also includes the Silverline® double-paned, insulated windows with Low-E glass.
With the initial success of Reserve at LakeView, CalAtlantic has also established Arbors I and II at Lakeview to offer residents more living options. CalAtlantic seems to have found a permanent home in Forsyth County: "Since the Opening of Reserve of LakeView, we have opened 3 more communities in Forsyth County in 2016," said Haas. "We have several more coming soon before the end of 2016."
Jonathan Dean is the Content & Social Media Editor for Builder and Developer magazine. He may be reached at jonathan@penpubinc.com.