Capturing Elegance for a New Market
By Stephanie Consiglio
Tracing their roots back to 1926, the Warmington Company has built years on years of magnificent homebuilding. Warmington Residential is a part of the Warmington Group and as a team they create collaborative real estate companies that are strategically aligned, share resources and years of combined experience. William C. Warmington, great-grandfather of current President and CEO, Jim Warmington, Jr., first gained recognition as a "builder to the stars," and was designing and building custom homes in some of the country's most prestigious Southern California locations like Beverly Hills, Bel Air and Westwood, among others and now they have grown to be currently active in nine diverse markets within California, Nevada and Arizona.
The Warmington name has been recognized for excellence in new homebuilding for nearly 90 years. Over these several decades, The Warmington group of companies remained committed to planning and developing a variety of new home communities and became a reliable and important name in the homebuilding industry for thousands of families. It is expected that in the course of this time, the group of residential building companies have constructed approximately 40,000 homes in core markets throughout California and in Nevada. The Company's extensive knowledge allows the Warmington team to exceed and offer a unified method to its real estate services that include development, construction, acquisition, entitlement, leasing, asset and property management, and at times, disposition.
Now in its fourth-generation, many of the first Warmington custom and estate homes maintain historical significance and are highly sought-after even while a diversity of new homes are being designed and built to accommodate modern tastes, trends and technology. This top company is focused on new home construction and develops and builds a variety of housing types including single-family, multifamily, and apartment communities. With its character for quality and providing stunning architecturally significant homes, Warmington is a recognizable and well-respected title in the homebuilding industry.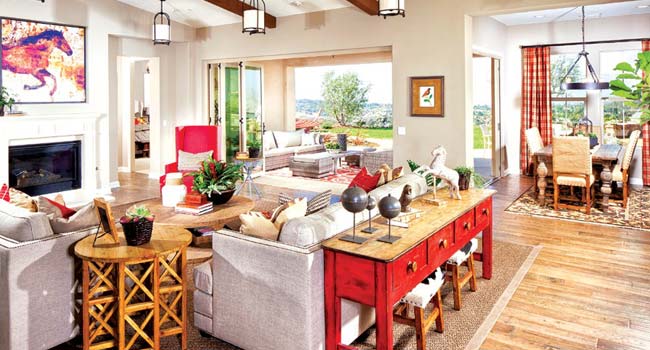 Making a comeback Warmington Residential is taking strides with their new homebuilding projects. A once laid off project by another homebuilder due to the recession, the land was later purchased by Warmington. The luxurious homes for Stellan Ridge in Riverside, Calif., now stand on what a lot for what could have been a completely different neighborhood. They seized the opportunity to build new homes in an existing neighborhood. This large, lavish single-level homes meet the need in the Riverside market place for sophisticated new homes offering the latest design and lifestyle amenities. They are single family detached ranging at 3,608 square feet to 4,131 square feet with 49 total units.
"We came into an established community with a new product and needed to blend our architecture styling with the surrounding homes," said Rebecca Anbardan, marketing director for Warmington Residential. "During the design phase of the process we worked closely with the HOA's design review board to ensure consistency throughout the community."
Stellan Ridge is an all single-story luxury home community with three different exteriors, which include a Spanish heritage, Tuscan heritage and San Juan Capistrano heritage design to match the style of the homebuyer. These homes are designed to offer indoor and outdoor living spaces to accommodate a variety of space options to give buyers the ability to customize the home to fit their lifestyle. These homes include expanded loggias, guest casita, outdoor dining pavilion, pool cabana and multigenerational suite with 1-car garage or up to 6 garage spaces. The homes are situated around the preserved open spaces of the Riverside Land Conservancy giving the community outstanding panoramic views. The enclave of homes are surrounded by the prestigious Overlook area in the hills of Riverside.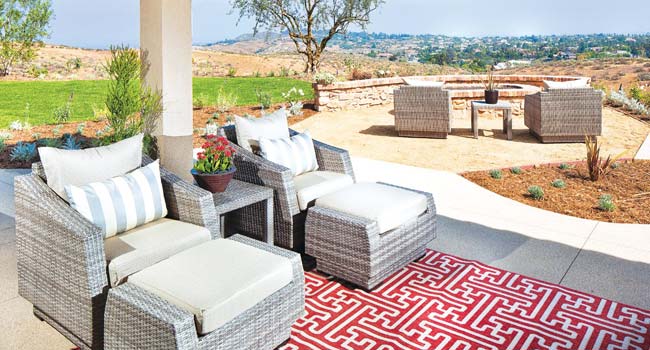 Warmington at Stellan Ridge brings a new flavor to the Riverside market by creating innovative architectural site plans. Homebuyers benefit by being able to purchase a very spacious and luxurious home that they are able to customize through various room configurations to fit their lifestyle without having to go through the process of building a custom home. This is a hilltop location with sweeping views and offers homeowners a very appealing and unique opportunity unlike any other in the Riverside area. The project confirms the desires for single-living with flexibility that accommodates both indoor and outdoor living areas. The builder and architect are sinuously able to showcase their talents by presenting exciting home designs and architecture that reflect today's most desirable features and amenities.
These are distinctive among the rest in both aesthetics and inside wiring. Warmington at Stellan Ridge help reduce homeowners' impact on the environment as well as live in elegance. These homes are built with radiant roof barrier sheathing, water based and low VOC paints, Low-E glaze glass windows, sliding glass doors and sliding bi-fold door systems and gas forced air-heating with energy efficient night set back recessed thermostats and smart Nexia® device control access and energy-saving insulation including R13, R19 in walls and R-30 in ceiling ratings. Energy efficient appliances run throughout the homes comprising of Rheem® tankless water heater with recirculating hot water pump, Metlund® On-Demand hot water recirculating pump that allows for the water heating more quickly, saving energy with less water waste, Energy Star® rated Thermador® dishwasher and dual air conditioning units with energy saving 13 SEER, 11 EER ratings, with R-6 duct work and HERS certified duct leak testing.
The Warmington group prides itself on offering beautiful new homes only in the finest locations. Quality of life, proximity to schools, recreation, employment centers and retail outlets are primary considerations when selecting new locations for our neighborhoods. When Warmington builds a home, each step is meticulous and well-thought out. Warmington's goal is to design homes that most homebuyers don't have access too, especially in the Riverside area. It is important to pay attention to demographics and how they are changing and Warmington has many new communities opening in Southern California and Nevada in the coming months.
By catering to families and focusing on how they live today, combining time-honored craftsmanship with innovative new technologies, and continuing its long tradition of building in only the finest locations, the Warmington group remains among the most trusted and highly sought-after residential homebuilders.
Stephanie Consiglio is an assistant editor for Builder and Developer magazine. She may be reached at sconsiglio@penpubinc.com.