Championing Energy Efficiency Across the Country
By Stephanie Ornelas
Meritage Homes Corporation is one of the largest builders in the country. Having championed the ENERGY STAR Certified Homes program as the baseline for every home it builds, the sustainable homebuilder incorporates ENERGY STAR throughout its marketing and sales materials.
Meritage is receiving ENERGY STAR Partner of the Year – Sustained Excellence recognition for its commitment to educating its employees, industry stakeholders, and the public about the value and benefits of energy efficiency.
Their key 2013 accomplishments set them aside from all other builders. Some of these accomplishments include completing 4,600 ENERGY STAR certified homes in 2013, which will save nearly 36 million kWh of electricity, eliminate over 54 million lbs of CO2, and reduce homeowner utility bills by more than $4.3 million annually.
Championing the construction of homes that earn EPA's ENERGY STAR, as well as EPA's Indoor airPLUS and WaterSense labels is another accomplishment worth talking about. Meritage believes in educating homebuyers about the value and benefits of advanced building techniques and ENERGY STAR certified homes at its more than 75 learning centers throughout the United States and through 40 homeowner education sessions.
Along with training 200 construction staff and subcontractors, as well as 600 sales staff, on ENERGY STAR requirements and other advanced building practices at mandatory management training days at all of its divisions, Meritage augmented its mandatory sales training programs with an advanced energy efficiency course and a Continuous Education Course for Realtors® highlighting the features and benefits of ENERGY STAR certified homes. Meritage has a number of projects that prove to be energy-efficient and sustainable.
Flatrion Meadows in Erie, CO, is one of them. A desirable neighborhood close to everything, this is just one of the many celebrated qualities homebuyers love about Flatiron Meadows. Flatiron Meadows is a community of new, incredibly energy-efficient homes, ranging from 1,779 to 3,306 square feet.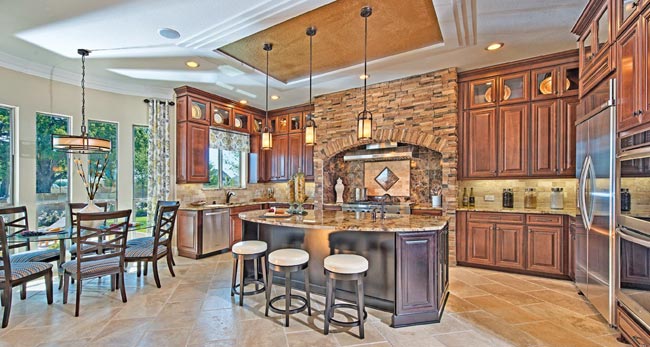 Every home at Flatrion Meadows showcases Meritage's commitment to providing incredibly energy-efficient homes that let homeowners spend their money on better things than utility bills. Believe in building new homes and communities the way they can, and should be built, is what the builder stands by. That's why every Meritage home at Flatiron Meadows is built standard with energy- and moneysaving features.
The Bella Colinas community is another project that emphasizes efficiency and comfort. Tucked away in the serene, rolling hills of Texas Hill Country, Bella Colinas is a new masterplanned community featuring 295 home sites, which was begun in 2013. The focus of Bella Colinas is its pristine landscape. Meritage Homes has taken great pains to maintain the natural beauty of the area by preserving the mature oaks, rather than clear-cutting them during construction as many newer neighborhoods have done. A spacious greenbelt/ nature preserve offers biking and hiking trails.
But this is not to say that the homes have taken a back to seat their setting. Rather, the homes in Bella Colinas share a commitment to energy-efficient construction to preserve the environment, and your energy bills.
The homes in Bella Colinas too, offer green features, enhancing the overall quality of life. Most if not all of the Homes built by Meritage Homes are equipped with energy-star features. The company works to include specific green features in each home that will give residents piece of mind, knowing they are living in a community that is economically sound.
Meritage Homes include spray-foam insulation, ENERGY STAR® appliances, ENERGY STAR® programmable thermostat, low-E2 vinyl windows, CFL lighting and fixtures, weather-sensing irrigation, waterefficient fixtures, dual-flush toilets, low VOC carpets, paints and finishes.
As a leading Homebuilder, Meritage Homes works to be an influence to the community as well as a one of the nation's trusted homebuilders. The company recently renewed its partnership with Operation Homefront, a leading national charity supporting families of service members and Wounded Warriors, to provide three more brand new Meritage homes to the "Homes on the Homefront" program.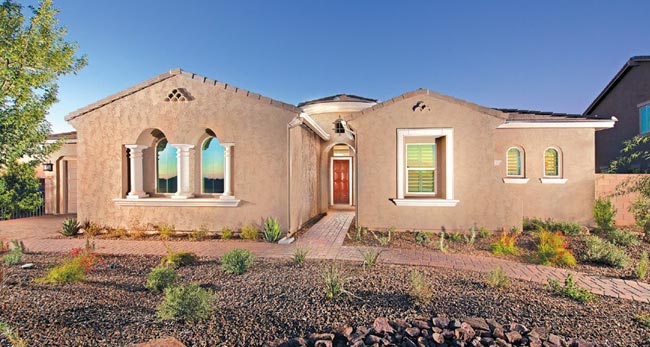 The partnership began in 2013, when Meritage Homes built and donated three new homes to Operation Homefront in Phoenix; Raleigh, North Carolina; and San Antonio. This year's homes to be donated will be built in Meritage communities in Winter Springs, Florida; Lincoln, California; and Houston, Texas.
Operation Homefront will select the recipients for the new homes and announce their names on September 11, with keys to be awarded on Veteran's Day 2014.
"It has been very rewarding to hear how the homes Meritage provided last year have helped relieve the stress and enriched the lives of several veterans and their families," said Steven J. Hilton, Meritage's chairman and CEO. "We are grateful for the service of our veterans and for organizations like Operation Homefront whose mission it is to help them when they return home. We hope to be able to continue assisting them for years to come."
Richard and Kerry Neider in Goodyear, Arizona, received one of the new Meritage homes in 2013, and said, "It has been a lifealtering gift for us. We love our new home and new neighbors, and our children have made many new friends in school. We are already active in the PTA and believe this is an even better school district than the one we left." Aaron and Erica Kumamoto, who received the home in Converse, Texas, have settled into this suburban San Antonio community full of supportive veterans and currently serving families who provide another strong support network. Erica said, "The home we received from Meritage and Operation Homefront has relieved us of many stressors and has allowed Aaron to concentrate on his college studies full-time without the worries of a mortgage."
In Apex, North Carolina, Jeff and Christy Lynch are enjoying their great new home, and have quickly developed what will be lifetime friendships with their neighbors. Christy runs with her neighbors every morning and Jeff is progressing well with his physical recovery since he is so much closer to his doctors. They said, "We couldn't be happier or more thankful to Meritage and Operation Homefront."
The Homes on the Homefront program began in 2012. Since inception, Operation Homefront has placed more than 300 veterans and their families in mortgage-free homes. Meritage is the only new homebuilder to join the program.
"These homes aren't gifts, but an investment in the future of our military families. Meritage Homes understands this value, and we welcome others to help Operation Homefront provide supportive services to these families as they make the transition to home ownership," Knotts added.
Meritage Homes is rapidly moving towards success and shows no sign of slowing down. Having designed and built more than 80,000 homes in its 28-year history, Meritage has a reputation for its distinctive style, quality construction, and positive customer experience. Meritage is the industry leader in energy-efficient homebuilding and has received the U.S. Environmental Protection Agency's ENERGY STAR Partner of the Year for Sustained Excellence Award in 2013 and 2014, for innovation and industry leadership in energy efficient homebuilding. Meritage was the first national homebuilder to be 100 percent ENERGY STAR qualified in every home it builds, and far exceeds ENERGY STAR standards today.
Stephanie Ornelas is the editor of Builder and Developer magazine. She may be reached at sornelas@penpubinc.com.