Christopher Homes Meets the Market's Demands
By Candice Chandler
Photography by Christopher Mayer Photographer
As the market begins to rebound for homebuilders, many consumers are now demanding move-up luxury homes to either provide more space, or to downsize from even larger homes. Wisteria at Rosedale, a masterplanned luxury multi-generational community built and developed by Christopher Homes is designed to give buyers exactly what they're asking for.
"Wisteria is a part of the successful Rosedale master planned community for which Christopher Homes has developed jointly with Brookfield Homes," explained Phil Yasskin, vice president of Marketing & Sales for Christopher Homes. "This master plan was conceived with the idea that the San Gabriel Valley has a pent-up demand for both new housing and a community with many amenities."
Wisteria by Christopher Homes offers a collection of luxury homes that introduce the largest new home designs in Rosedale located in Azusa, California. Wisteria presents single-family detached homes that range from approximately 2,892 to 3,548 square feet, with four to six bedrooms, up to 5.5 baths and two-car garages with storage; residences variously offer an attached private casita and large secondary bedrooms, including some with ensuite baths. Finely detailed architectural themes showcase Cottage, Monterey, Spanish and St. Augustine influences. Homebuyers who desire the freedom and flexibility to shape their home will find Wisteria's first-level bedroom suites and convenient home offices, along with upstairs lofts and bonus rooms ideal spaces as their needs change. The multitude of different styles offer buyers options when it comes to choosing their new home design.
"Wisteria's floorplans are now the largest homes being offered and are upscale as compared to what has been offered to date," Yasskin continued. "There are many home seekers looking for a luxury move-up opportunities as well as and some that desire to scale down from larger homes."
A modern environment coupled with innovative living areas entices homeowners to gather and spend as much time as possible. While the floor plans invite an atmosphere welcoming guests to enjoy recreational time, the unique multi-generational floor plan can also accommodate multiple family members residing under the same roof.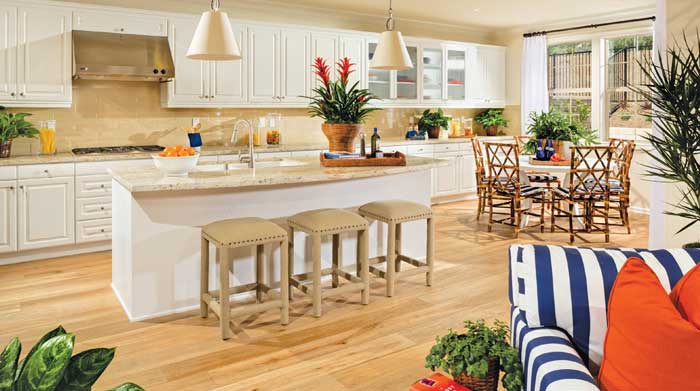 "One plan features two master suites, one on the first floor and the other on the second floor," said Yasskin. "Another plan has a Private Suite of three rooms (bedroom, bath, and parlor) with private exterior access for guests and a lock-off from the main home that afford both privacy and ease of access for the occupant."
While establishing its multi-generational opportunities, Wisteria at Rosedale also offers oversized garages allowing for storage or work areas. Large great rooms, multiple bedroom suites and/or offices, plus upstairs lofts and bonus rooms appeal to the needs of a growing family.
The homes at Wisteria also have an Optional California Room, an area adjacent to the Great Room that extends one's living and entertainment space outdoors. This particular room is a wonderful reflection of Wisteria's desirable lifestyle, as it presents homeowners with a very inviting space to dine, socialize and relax with family and friends in an outdoor setting.
Wisteria's Residence 2 and 2X offer a standard downstairs master bedroom suite that will delight homebuyers who favor this desirable first-floor convenience, while the Residence 2X also showcases a second master bedroom suite upstairs. Residence 3 offers approximately 360 square foot private three-room casita just steps from the activity core of the home, an outstanding layout for families with college students or relatives living with them. Wisteria's optional covered patios include sliding glass walls to extend one's living space outdoors.
"The success of Wisteria in creating flexible plans for different lifestyles will influence other builders to produce similar designs," Yasskin added. Construction on the project began in 2013, and the project adds a new layer of living options to the variety of homes previously offered within the master plan.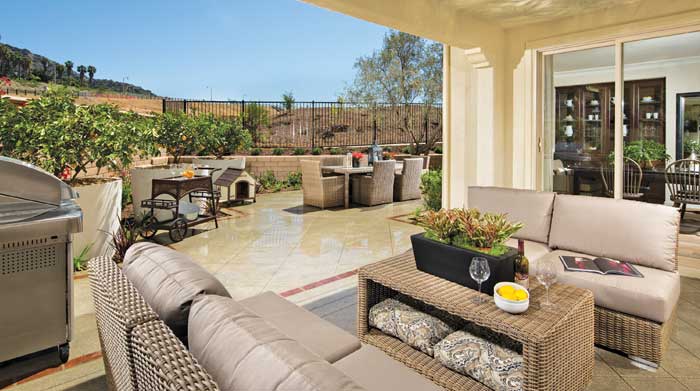 The demand for multi-generational product is fueling the improvement in the new home market. Many families are now seeking homes with these efficient and flexible living features.
Designed by Bassenian Lagoni Architects, each different and unique floorplan appeals to buyers with different intentions in mind. For larger families or those expecting little ones in the future, the more spacious models can provide innovative spaces capable of being utilized for many different purposes by different family members. For those looking to downsize their space, the smaller models cut the square footage without extinguishing luxuriousness.
"Wisteria's homes can accommodate multigenerational family lifestyles and offer maximum living flexibility," Yasskin explained.
The housing market is currently on the rise. Christopher Homes' decision to build homes capable of housing multiple generations isn't just innovative, it's market-savvy. By providing consumers with a purposeful product that has the potential to attract an array of different people, the Wisteria homes at Rosedale are sure to be swept off the market, and fast.
As new construction develops further into a more stable industry, the need for new homes is high, and Wisteria is delivering exactly what consumers are demanding. When asked what was next forChristopher Homes, Yasskin said," We will build more homes with the same concept homes and, if the market demands it, possibly even larger homes than Wisteria."
Builders across all sectors of the industry are heeding the call of consumers, and Christopher Homes' future developments are sure to attract a broad amount of potential buyers.
Candice Chandler is an assistant editor for Peninsula Publsihing. She may be contacted via email at cchandler@penpubinc.com.