Coast to Coast Architecture and Planning
By Scott McCourtney
Builder and Developer magazine and Peninsula Publishing are pleased to award the 2013 Pubby Award for Architect of the Year to KTGY Group, Inc., Architecture + Planning. Founded in 1991 in Irvine, CA, the award-winning KTGY Group is one of the nation's leading full-service planning and architectural design firms.
Known for their entrepreneurial spirit and unique company culture, KTGY devotes considerable amounts of time and money to qualitative and quantitative consumer research. The firm challenges its design teams to use the R&D to develop new and innovative living solutions – all based on proven consumer trends and preferences in both for sale and for rent markets. Based in Irvine, CA, KTGY serves clients worldwide, from its offices in Irvine, Oakland and Santa Monica, CA, Denver, CO, and Tysons, VA.
"It's an honor to be selected among the top firms in the country for the Pubby Award," stated KTGY CEO Tricia Esser. "This recognition is the result of our talented and committed designers and staff, our forwardthinking clients and the strong support we receive from Peninsula Publishing. We are very grateful to all who made this award possible." "We are thrilled to receive Peninsula Publishing's prestigious Pubby Award," said KTGY's Manny Gonzalez, AIA, LEED AP and Principal. "We have a long history of working together and are excited to be working on our second and third generation ABC Green Home with Peninsula Publishing, after the tremendous success of our first ABC Green Home."
2013 was a busy year for KTGY and not just helping us plan for our next ABC Green Homes, but winning many national and regional awards and continuing to design projects that turn heads. KTGY has made quite a name for itself working with developers on how to adapt to the changing tastes of home buyers.
"We are very excited to have new singlefamily neighborhoods that have successfully opened throughout the country during 2013, alongside our mixed-use rental and high density for-sale communities," said Esser.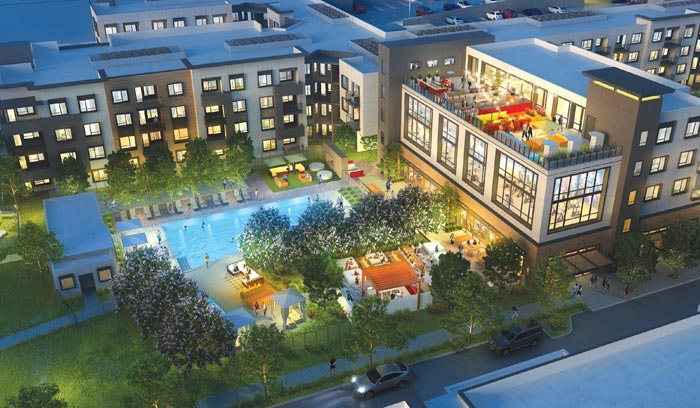 "Never settling for 'what is,' KTGY lives on the forefront of designing what will be," said Nick Lehnert, an executive director with KTGY, and head of the firm's R&D Studio and IDEA Lab. KTGY's IDEA Lab features new alternative solutions for traditional housing configurations that target consumers through the acknowledgement of emerging trends, consumer preference and knowledge of specific markets. A recent R&D IDEA Lab concept was incorporating "IDEA Spaces."
At Big Sky in Audie Murphy Ranch in Menifee, CA, KTGY introduced expandable rooms and IDEA Spaces while Brookfield Homes was the developer. Big Sky features single-family homes situated on large lots and provide flexible idea spaces that expand the lifestyle afforded to the living areas of the home. Another popular R&D design element was KTGY's indoor/outdoor living spaces.
Homes live around a privatized courtyard with more rooms exposed to the outdoor space. Sliding glass doors bridge the line between indoor and outdoor living. Transition to outdoor space via covered patio gathering area is utilized.
Ranging in size from several acres to more than 30,000 acres, KTGY's master plans strike a careful balance between client and community vision, creative design, market needs, environmental considerations, and political sensitivity. KTGY assimilates unique design solutions into well crafted, livable and sustainable communities throughout the United States and worldwide.
The Zero Home in Herriman, UT was designed by KTGY and built by Garbett Homes. It was the first Net-Zero Energy production "smart home" in the U.S. to achieve a Home Energy Rating System (HERS) 0 rating in a Climate Zone 5 (hot/cold temperature variations). It was also the first home in Utah to receive U.S. Department of Energy (DOE) Challenge Home Certification.
The self-sufficient home, which is also Energy Star certified, is solar-powered by Vivint's 10.29 Kilowatt Solar Photovoltaic Energy System and equipped with Vivint's smart home technology, which tracks energy flow in/ out of the home with real-time analytics. The Zero Home is priced in-line with other homes in the area based on price per square foot and features 10 floor plans, 3 to 5 bedrooms, 2.5 to 3.5 bathrooms, full unfinished basement, and a 4-car garage, which includes an electric car charging station. The Zero Home is part of Garbett Home's Bellasol community and is located in the master-planned community of Rosecrest in Herriman, encompassing over 2,500 acres of rolling-foothills and valleys in a quiet setting with panoramic views.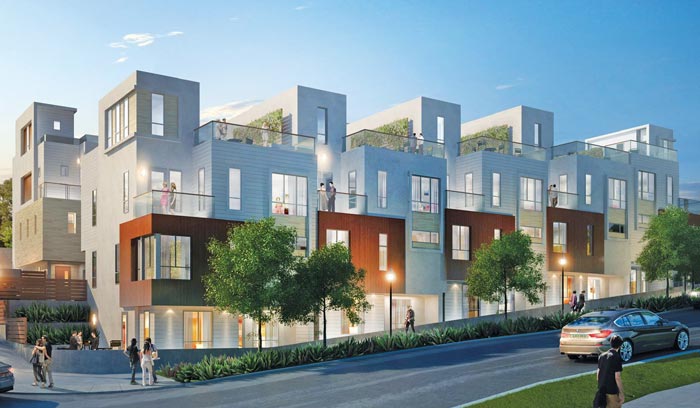 "KTGY values sustainable and 'green' building design as our collective responsibility to the environment and future generations. KTGY is committed to design processes based on principles of smart growth and planning that incorporate natural and reusable resources and preserve open space, resulting in efficient and sustainable buildings and communities. Our commonsense design approach respects the natural environment by minimizing waste, efficiently utilizing resources, and creating built environments that promote healthy and enjoyable living," explains Esser.
KTGY worked closely with St. Anton Partners, Facebook and its employees to design a new state-of-the-art $120 million apartment community in Menlo Park, CA, which meets the needs and tastes of today's sophisticated renters. Located within walking distance of Facebook's existing Menlo Park headquarters and its new West Campus, which is currently under construction, the 394-unit apartment community will feature a large rooftop entertainment deck with three-themed areas; clubhouse with full kitchen and cooking area including outdoor facilities such as a resort-inspired pool, spa and cabana area.
Another great design by KTGY and developed by AvalonBay Communities, Inc., AVA H Street in Washington, DC, was built with a goal to create a financially-feasible marketing advantage. The plan was to have customizable apartments with specialized amenities targeting Gen-Y preferences in an emerging youthful, walkable neighborhood, which offers immediate access to transit and Washington DC's employment, entertainment, dining and cultural opportunities. The 138-unit AVA H Street apartment community was AvalonBay's first ground-up designed community and represents a completely new brand that is squarely targeted to the highly social, superconnected Generation Y demographic.
On top of designing everything from single to multifamily homes, KTGY sets out to push the bar even higher with KTGY's approach to campus master planning and student housing. The design is shaped not only by an institution's tangible setting and physical context but also by the intangible goals and aspirations articulated in its core mission and growth plans. Today's college campuses must balance the learning and living needs of their students by offering an integrated and sustainable living and learning environment. KTGY is setting the standard with designs in every major build field.
To add one more bright spot to the list of success in 2013, in the last 18 months, in addition to KTGY's direct tenant work, KTGY's Retail Studio has completed 22 major mall renovations and repositioning projects including: Northridge Fashion Center in Northridge, CA; Medford Mall in Medford, OR; Bellis Fair in Bellingham, WA; and Pierre Bossier Mall in Bossier City, LA.
Scott McCourtney is an editor for Builder and Developer Magazine. He may be reached at smccourtney@penpubinc.com