Building Community Through Design
Ideas behind shared multi-unit amenities
By Steve Seminelli
The concept of a community clubhouse in multi-unit living is far from novel. It might have been a standalone pool house or a community room for events, but it was not until recently that a focus was made on these shared amenities. It made sense that most of the attention was on the units themselves, as that is where the renter would be living. However, as unit sizes got smaller, there had to be a cause to justify less personal space, and therefore building amenities grew. Lobbies became more spacious and welcoming and theaters became a private event multimedia space. But just having a growing list of rooms is simply not enough. In today's multi-unit landscape, renters are looking to live in buildings that set themselves apart.
For example, at the Kendrick, a luxury multi-family community in Needham, Mass., developed by Toll Brothers Apartment Living, the focus on the renter is equal to that of the community it creates. Collaborating with the development team, the interior designer at Bergmeyer Associates created a tailored approach to focus on the specific needs for tenants.
Amenities often leave a lasting impression on potential residents and their visitors.
Today, multi-family buildings offer the perks and luxury of hospitality spaces like hotels, with the comfort and ease of a home. Amenities often leave a lasting impression on potential residents and their visitors. Using design to elevate a few key areas throughout the building, residents will not only feel more at home, but also get to connect with neighbors and even feel a part of the larger community.
Shared Spaces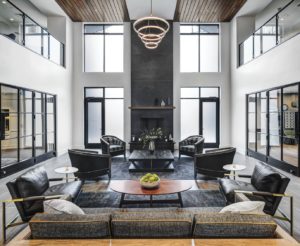 As in any great hotel, the lobby offers the first impression and sets the tone of the rest of property. Multi-unit buildings offer a similar approach, with semi-public spaces focused on comfort and welcoming design. Buzzing with daily life, these spaces are the pulse of a building's community. Depending on the layout and location of the building, the front door or amenity area may not need to be a part of a tenant's daily routine, that is except for mail.
Events and Gathering
Like any home, a kitchen and living spaces are great for intimate family gatherings or hosting on a larger scale. Use the design of amenity spaces as an extension of individual apartments to allow for hosting and gathering. The demonstration kitchen can host a great dinner party while offering elevated appliances and layout, or the operations team can host a building wide social event that spills into the lounges and living spaces. Organizing themed food nights, spotlighting local venders or even a cooking demonstration allows residents to meet and mingle and foster relationships over a meal. Beyond just a kitchen, a bar area is also a great hosting spot with the ability to serve food and drinks from multiple locations.
Art and Community
While setting the tone of the building's ambiance and mood, art plays an integral part of the soul of any community. Adding artwork from locals throughout the building provides a sense of fun and interest to the spaces, and also expresses the local climate.
In buildings like the Kendrick, the entry lounge is brought to life with a playful bunny painting from a Massachusetts artist, Jo Hay, and working with TBAL and art consultant BostonArt, the library is made more sophisticated through the playful use of books, created by a local Needham artist. Art also is a great way to engage the community beyond, from exterior wall murals to lobby or entry expressions.
Common Interests
Amenity design emphasizes on expressing common interests by offering spaces to explore those hobbies deeper. Having a comfortable dog run or pet spa allows you to meet other pet owners, and have your furry companions make friends as well. For those who focus on wellness, amenity fitness centers have grown far beyond just treadmills. From high-intensity workouts and spin classes, to conquering an indoor rock wall, state of the art fitness equipment is organized to meet all levels of training.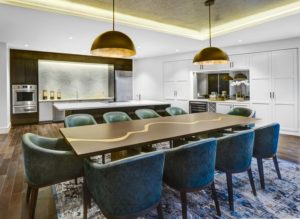 Expanding on these spaces and investing in opportunities to make them special not only ensures that tenants will use and enjoy them, but they will draw people who resonate with these amenities. The addition of a maker's space is starting to show up as well, allowing tenants to explore their interests or try something new without having to worry about making a big investment. Additionally, attending a fine arts course can further offer opportunity for connection without the demand of a party or forced social engagement.
While the evolution of apartment amenity spaces is ongoing, new generations are growing more comfortable with sharing spaces and interacting in many platforms. These spaces feel exclusive yet attainable, as they can be offered in all markets to all kinds of residents. With thoughtful design, any space can appeal to future renters.
Steve Seminelli is an architectural designer at Bergmeyer Associates, in Boston, Mass. His portfolio ranges ground-up community living environments to intimate hospitality spaces. Contact at sseminelli@bergmeyer.com or @bergmeyer_design / @stev_elli on Instagram.