Contemporary Living for the First-Time Buyer
Trumark Homes delivers with this affordable and contemporary community in Ontario, California
By Julia Edinger
Trumark has delivered another community that lets residents experience for themselves the Trumark mission: "enhance the lives of people by creating inspiring living environments." Residents of Centerhouse – whether they are first-time buyers, move-down buyers, or young families – will see that living at Centerhouse is an experience within reach for homebuyers in Southern California.
Trumark Homes has a longstanding practice of delivering communities that provide room for growth, optimal location, and quality care and service. This dedication to detail, to growth, and to connection is what separates a Trumark Homes development from the competition.
Centerhouse is no exception to this standard. With an optimal location for commute and community, optional upgrades that leave room to grow, and exceptional service from the Centerhouse staff, the community exceeds the expectations of buyers.
Transforming the site that would become Centerhouse provided its own challenges, as the land was previously a strawberry field.
"The site was fairly complex from a land development perspective," explained Richard Douglass, Southern California Division President, "Our land managers and engineers have done a great job in solving a host of technical issues, and we are really proud of our expertise in this area."
Transforming an area is not a new feat for Trumark Homes, so turning a strawberry field into a condominium project with contemporary design and accessible financing solutions was within reach. The homebuilding company had a vision and they delivered on it with an experienced team of homebuilding experts.
In fact, the land was actually purchased significantly ahead of the time that the building process begun. The waiting period was carefully planned — and with good intentions. When appreciation and market conditions properly aligned, Trumark was ready to deliver to a previously priced-out pool of prospective homebuyers.
Designing for Diverse Need
Building affordable housing for a wide variety of homebuyers can be a challenge, but the mission grounded the efforts.
The Centerhouse community is made up of 114 attached condos in a contemporary craftsman architectural style. Aesthetic appeal and accessibility complement one another in this development, which was a part of the plan from the project's conception.
"Centerhouse was designed to be architecturally pleasing while remaining affordable to allow first-time homebuyers the possibility of homeownership," said Douglass.
Architecturally pleasing is an understatement. The buildings vary in size on a 7.8-acre property, each including either three or six units, designed with two-car garages. The community includes excellent amenities, such as a pool for residents to enjoy and a walking paseo that goes through part of the community.
Priced from the high $300,000s, these affordable units find the balance between high-density housing and layouts that feel spacious for the families that live in them.
The first and most popular plan has a large deck, two bedrooms, and a layout of about 1,430 square feet. The second and third residence plans have rear yards, three and four bedrooms respectively, and a TruFlex Loft, while the third residence plan also includes an optional den. The second and third plans are 1,554 square feet and 1,946 square feet, respectively.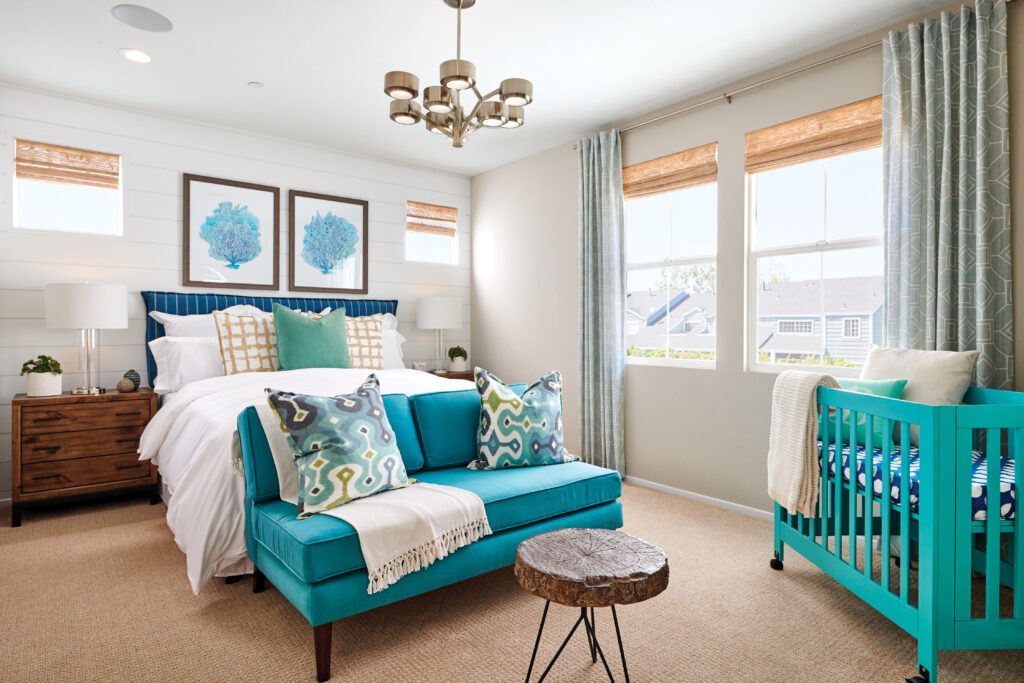 There are a number of customizable features, from energy-efficient lighting, to a variety of color choices for cabinets, countertops, and flooring, allowing homebuyers to personalize each residence. There are also interior design packages at various, affordable price points that buyers can select from to upgrade their cabinetry, backsplashes, countertops, and flooring. It is an extraordinary choice for individuality.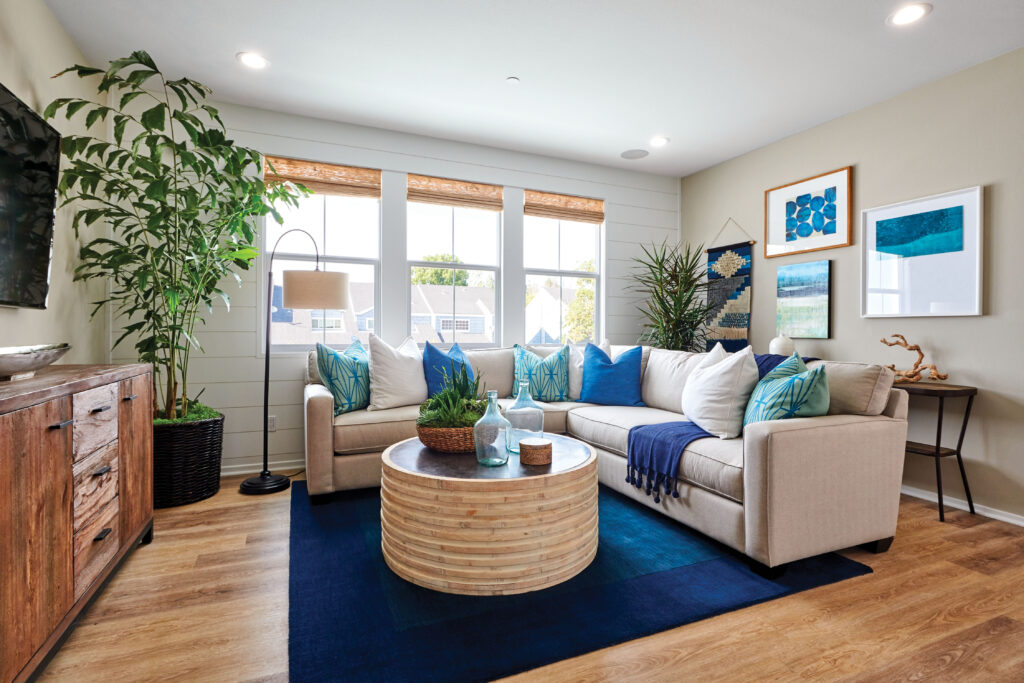 The community has entrances on opposite sides of the community, lending to its accessibility. The community is bordered by single-family and multifamily residences, retail spaces, and commercial spaces. It is also with- in close proximity to CA-60 and the Ontario Airport for convenient commutes and travel.
Access and Affordability
Centerhouse has two preferred lenders that offer a range of financing options for a variety of homebuyers, including FHA, VA, or a three-percent down payment for a conventional loan.
Centerhouse has a low tax rate – approximately 1.1 percent – and the residences are priced under the Federal Housing Administration limits as intended, with a monthly Homeowners Association (HOA) fee of $316. The financing options and the optional upgrades make Centerhouse excellent for families and gives them room to grow.
The community has responded positively to the development.
Said Douglass: "The initial response to Centerhouse has been extremely encouraging, and we are confident that the homes will be quickly swept off the market, thanks in part to our creative financing program putting the dream of homeownership in reach for many." The Centerhouse groundbreaking took place mid 2017. Models were trenched in September 2017 and the Centerhouse grand opening was in April 2018. The final phase of development will be completed in the fourth quarter of 2019 or in the first quarter of 2020.
Still, of the 114 units that will stand at full build-out, 74 total have been sold, 57 of which are closed. The homes are prepped for future upgrades in smart technology and electric vehicle charging, allowing for the home's evolution along with the needs of the homeowners.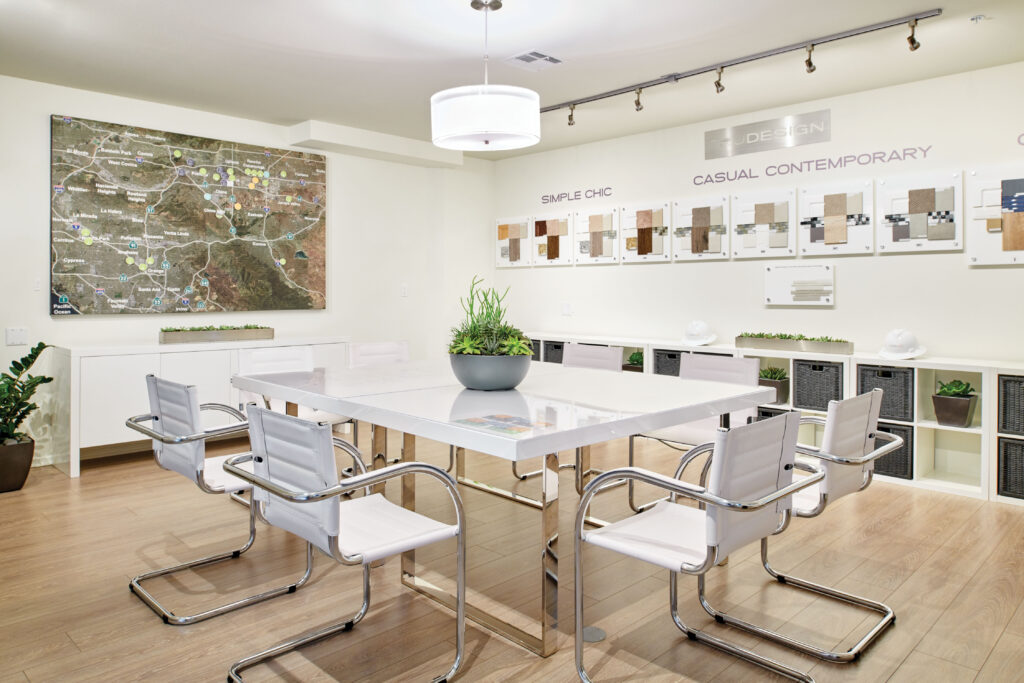 Customization and affordability do not always go hand-in-hand, but that is one of the qualities making the Centerhouse development an ideal residence for such a wide range of homebuyers.
Julia Edinger is the Assistant Editor for Builder and Developer magazine. She may be reached at julia@penpubinc.com.
Photos Courtesy of Tsutsumida Pictures